Robert G. Kaiser has worked at the Washington Post since 1963. He is most recently the author of So Damn Much Money: The Triumph of Lobbying and the Corrosion of American Government.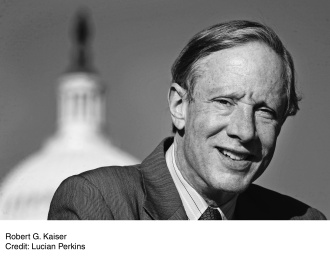 Listen: Play in new window | Download (Running Time: 34:00 — 31.1MB)
Condition of Mr. Segundo: Still waiting for the lobbyists to work out a deal with him.
Author: Robert G. Kaiser
Subjects Discussed: Obama's first executive order, revolving door bans, Tom Daschle's recent troubles, "exceptions in extraordinary circumstances," candidates for office with lobbying backgrounds, Gerald Cassidy, picking a character for a Washington narrative, the birth of the lobbying firm Schlossberg-Cassidy Associates, the Bankruptcy Abuse Prevention and Consumer Protection Act of 2005, Cassidy falling into second place, lobbying problems and the 1994 Republican Revolution, the K Street Project, lobbying and partisan politics, Cassidy's lobbying style vs. Abramoff's lobbying style, Tom DeLay, safe seats, John Lewis, Richard Lugar, Chuck Schumer, the likelihood of an equitable earmarking system, Columbia's early lobbying efforts with the chemistry lab, peer review, attempting to sort out differing accounts concerning the Tufts Nutrition Center, Jean Meyer, Edward Bernays and why his influential essay, "The Engineering of Consent," took a few decades to catch on in Capitol Hill, Joe McGinnis's The Selling of the President, Roger Ailes, the abandonment of objective reality over the past 45 years, the Jim Wright ethics investigation and whether or not Cassidy was culpable in Wright's downfall, Newt Gingrich's rise, and the potential for a return to the comparatively virtuous pre-Nixon Congress.
EXCERPT FROM SHOW:
Correspondent: You also bring up one moment in the book, where you depict Senator John Stennis — the man, of course, who wrote one of the first Senate ethics codes; in fact, the first Senate ethics code. And who had not raised more than $5,000 for all of his campaigns in the past. Now here he is up for reelection in 1982. And he needs to raise $2 million. He is now forced to accept this devil's bargain. This leads me to wonder whether, in fact, there is even room for a Sam Rayburn type of Congressman anymore. Whether it's even possible for someone of any ethical core to be in this deeply ingrained system. If John Stennis can't do it, then who can?
Kaiser: Well, it's one of my favorite stories in the book. I'm glad you noticed it. But all these things are complicated. For example, in today's Congress, in the House, we have 435 members. Probably 200 of them — or even 220 — are in totally safe seats. That is to say, they can win reelection without campaigning at all probably. Or very minimally. And that's because of the impact of, now, two generations of very aggressive gerrymandering. We call it redrawing of the districts and state legislatures every ten years after the census is done, in which both parties have accepted the same rule of thumb that the ideal outcome is to maximize the number of safe seats for our side and minimize them for the other side. You remember this episode in Texas, which actually lead to DeLay's downfall, when he overplayed his hand on this subject and got the Texas legislature as soon as it was under Republican control to add four more Republican seats from Texas. Which he got away with initially. But he eventually got indicted for it. And that, I think, was the beginning of the end for DeLay.
Anyhow, there are opportunities because of these safe seats for people who don't raise any money. And they don't participate in the corrupt system at all. Which is an interesting footnote. It just means that a large portion of members are exempt from the usual pains and tribulations of trying to raise all this money. Not true in the Senate, where everybody is theoretically more vulnerable in a way. They all try and raise the dough.
Correspondent: But if there are so many safe seats, is it possible that there could be some sort of Sam Rayburn type in a safe seat? Someone who refuses to, of course, accept any money. Pays his own way, as Rayburn did.
Kaiser: John Lewis of Atlanta. The great leader of the civil rights movement and fascinating figure, who I know slightly. I heard him preach on Sunday before the inauguration in a black church in Washington, which I just went to by chance. I didn't realize he was going to be preaching there. He gave a remarkable presentation. But John Lewis has a very safe seat in parts of Atlanta. He's a revered figure. I have no idea how much he raises for his elections. I should probably check that out. But Lewis is a good example of a distinguished citizen in Congress who is not corrupted by this system, as far as I know. And there are people who build up a kind of invincible status. Richard Lugar of Indiana would be a really good example of this. Lugar: former mayor of Indianapolis, Rhodes Scholar, good citizen. Conservative Republican. Nixon Republican originally when he came to town in the 70s. Lugar wins reelection, as he did this time, by huge majorities and doesn't have to do any bad stuff, I don't think, to raise money. There are a number of such figures who could fulfill your definition, I think, of a Sam Rayburn-like independent man. But they are the exceptions certainly.
Listen: Play in new window | Download (Running Time: 34:00 — 31.1MB)