Notes from a Brooklyn Bunker:
In the summer of 2020, while editing The Gray Area, Edward Champion re-emerged from podcasting retirement to begin a series of ten to twenty minute improvised riffs during the pandemic on a variety of topics. There were thirty-four episodes in all that aired through September 2020. These wre removed on the morning of September 26, 2020.
The Bat Segundo Show
Except as otherwise noted, all interviews are conducted by Our Correspondent, an intrepid and sometimes excitable journalist sometimes answering to the name "Ed" who often asks unusual, detailed, and highly specific questions of authors. The interviews are all conducted in person. Books are read in full before talking with each author.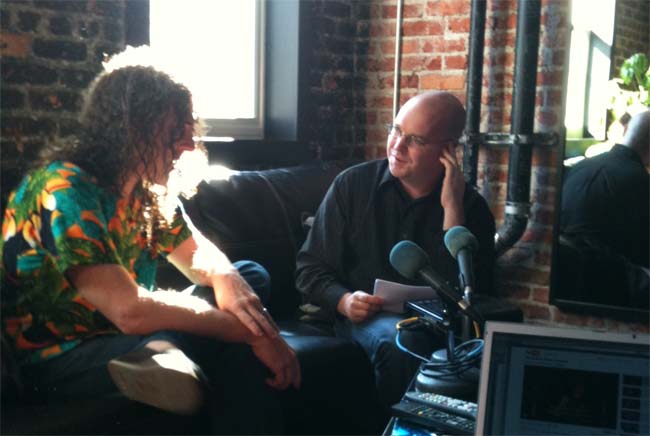 Shows from 2014
551. Merritt Tierce: There are 2.4 million waiters and waitresses now working in America. Why have our narratives failed to confront the realities of working in a restaurant? Merritt Pierce, author of Love Me Back, joins us to discuss working-class narratives, the male gaze, abortion, and women as second-class citizens. This show also includes a strong critique of 2 BROKE GIRLS and one of the most startling on-air gaffes in Bat Segundo's history. (MP3)
550. The Cultural Redemption of Stefan Zweig: Anthea Bell and George Prochnik: This special two hour episode of The Bat Segundo Show details the life and work of Stefan Zweig in considerable detail. It may be the most epic radio program ever devoted to Stefan Zweig. It includes interviews with translator Anthea Bell and George Prochnik, author of The Impossible Exile. (MP3)
549. Amanda Vaill: Martha Gellhorn and Ernest Hemingway headed to Spain to help the Loyalists during the Civil War. Gellhorn was to transform into one of the 20th century's best war correspondents. Hemingway needed to have his romanticism crushed to write a masterpiece. They are two figures in Amanda Vaill's Hotel Florida. This conversation examines how the Civil War changed not only the trajectory of Spain, but the future of world culture. (MP3)
548. Mimi Pond : Cartoonist Mimi Pond spent a good chunk of 1978 working as a dishwasher and a waitress in an Oakland diner. Thirty-six years later, she's collected her experiences in the graphic novel, Over Easy. This 40 minute conversation examines that experience, looking into the difficulties of accurately portraying that era in a politically correct age and how a crisp glimpse into working-class life is generally more reliable than nostalgia. (MP3)
547. Joanna Rakoff: Joanna Rakoff spent 1996 working as an assistant for the Harold Ober Associates, overhearing the likes of J.D. Salinger and Judy Blame talking shop. This 75 minute conversation, which discusses Rakoff's memoir My Salinger Year, gets into some of the underlying privilege and protective family dynamics which led Rakoff to get a later start as an adult. (MP3)
546. Paula Bomer III: Author Paula Bomer has dedicated her fiction career to staring inside the abyss and seeking the human. We discuss her new short story collection, Inside Madeleine, and discuss everything from Flannery O'Connor's notion of the grotesque, how sex defines relationships, boarding schools, how modest surrealism can reveal urban identity, and scatological moments in high literature. (The episode's introduction includes some thoughts on the recent passing of Maya Angelou.) (MP3)
545. Porochista Khakpour II: In this wide-ranging 79 minute conversation, Porochista Khakpour discusses how she fused the romantic with the grotesque for her second novel, The Last Illusion, birds as an inevitable cultural symbol, growing up as an Iranian immigrant, quirky and pragmatic attitudes to death, Kafka and Kierkegaard, and academics who misinterpret authenticity, (MP3)
544. Nikil Saval: Was there ever an age in which the office provided reasonable security for the worker? Is it possible for the office worker to be given respect and adequate compensation in the 21st century? We talk with Nikil Saval, author of Cubed, to figure out how a system designed to pit office workers against each other went wrong. It turns out that misguided philosophy, austere architectural developments, and a carefully manufactured belief culture against organized labor are all part of a very complicated narrative we all take for granted. (MP3)
543. Evie Wyld: Evie Wyld is the John Llewellyn Rhys Prize-winning and Granta 20 author of All the Birds, Singing — a novel that is arguably more alive than most of the dull literary books about flatware and chalices at pretentious dinner parties. Our conversation gets into how work defines even the natural landscape, the relationship between insects and humans, and why kangaroos are quite dangerous. (MP3)
542. Yiyun Li II: In this vivacious chat with MacArthur fellow Yiyun Li (and on the occasion of her latest novel Kinder Than Solitude), we discuss nothing less than the mysteries that humans impose upon the universe, Li's secret life as an accordion player, why poison is the most passive-aggressive murder technique, how Americans are exacting more care in discussing the uncomfortable, and how storytelling can encourage people to talk about the truth. (MP3)
541. Ben Tarnoff: More than a century after his death, Mark Twain is often portrayed as a jolly and avuncular figure. Yet the truth is that Twain was a savage wit and an incendiary figure, and it took this free-spirited iconoclasm to push expression forward. We talk with Ben Tarnoff, author of The Bohemians, to discuss how California writers (including Twain, Bret Harte, Charles Warren Stoddard, and Ina Coolbrith) defied the East and reinvented American literature during the 1860s. (MP3)
540. Islamophobia, Extremism, and the War on Terror: Arun Kundnani: Twelve and a half years after 9/11, Islamophobia remains alive and well. Where did it come from? Why does it perpetuate in American and British culture? And what effect does it have on our democratic values? To get some answers to these questions, we talked with Arun Kundnani, author of The Muslims Are Coming. It turns out that prominently positioned people continue to reinforce Muslim stereotypes, encouraging law enforcement agencies to adopt flawed radicalization models that are not predicated upon reality. These prejudicial policies have caused innocent Americans, whose only crime is to practice Islam, to be harassed, needlessly harangued by authorities, and falsely imprisoned. This 67 minute conversation investigates these issues at length. (MP3)
539. Dinaw Mengestu: MacArthur Fellow Dinaw Mengestu's novels have been needlessly categorized as "immigrant fiction" when his work is about so much more. On the publication of his third novel, ALL OUR NAMES, Mengestu unpacks these issues with us, discussing how journalism helped him to peer into revolutionary turmoil, writing about quiet African immigrants, the American perspectives that are often overlooked, the depths of emotional trauma, and contemporary fiction's relationship with the postcolonial. (MP3)
538. Dorthe Nors, Save NYPL, and Blake Bailey: In this triple-decker edition of Bat Segundo, we talk with author Dorthe Nors about Denmark, emotional connections to animals, the dangers of self-destruction and how folks songs fused with Swedish existentialism can produce an original voice, investigate Mayor Bill de Blasio's silence on saving New York libraries and report on a protest, and talk with Blake Bailey about switching from literary biography to memoir. (MP3)
537. Julia Angwin: Why are we so consumed with providing every moment of our lives to a faceless corporation who will share this data with other companies without our consent? What makes the NSA worse than the Stasi? And to what extent are we determined to become enslaved by convenience? We talk with journalist Julia Angwin, author of Dragnet Nation, about these dilemmas, the inevitability of mutually assured disinformation, and why the black helicopter lifestyle is becoming more legitimate. (MP3)
536. Dave Itzkoff and Translated Literature: Mad as Hell: This one hour program looks into two "mad as hell" scenarios. We talk with journalist Dave Itzkoff about Mad as Hell, the making of Network, Paddy Chayefsky's colorful personality, and why something that seemed so absurd forty years ago became so real. We also investigate a controversy at Open Letter Books which may reveal an emerging ecosystem in translated literature of smaller publishers being abused by agents on the make. That segment features Open Letter's publisher Chad Post, Scott Esposito, and Michael Orthofer. (MP3)
535. Sarah Churchwell: Nearly ninety years after its publication, The Great Gatsby remains a fluid and endurable masterpiece. In Careless People, Sarah Churchwell tackles F. Scott Fitzgerald's great novel with an approach somewhere between an avid reader and a obsessive scholar. This vivacious and jampacked conversation, which covers everything from old menus to famous murders to the interplay between Scott and Zelda, reveals that Gatsby is so rich that just about any literary interpretation is possible. (MP3)
534. Jenny Offill: If we leave out a few words, how does the story change? How are human instincts for speculation encouraged by a minor elision? Who really knows the story? Jenny Offill explores these ideas and more in her new novel, Dept. of Speculation. We discuss the virtues of twisted quotes, the narrative frameworks that can be extracted from poetry, the risks of self-consciousness, and the importance of a contrarian impulse. (MP3)
533. Diane Johnson: Diane Johnson is best known for her comic novels centered around France: Le Mariage and Le Divorce. But before all this, many years before, she wrote a darker novel called The Shadow Knows that attracted Stanley Kubrick's notice. Johnson has published a new memoir, Flyover Lives, that details her thoughts on her ancestors, growing up in the Midwest, her life, and her work. Our vivacious and variegated chat gets into the current state of Franco-American relations, forgotten writers, the Methodist practice of being frightened into being good, America's migratory impulse, the demise of the American rail system, foodies, California history, and the considerable references and ideas that Johnson and Kubrick consulted for their work on The Shining. (MP3)
532. Okey Ndibe: Nigerian fiction writing is stronger than ever. But how does Nigeria's protean identity, often described as "stranger than fiction," affect contemporary fiction? In this one hour conversation, we hash out these questions with Okey Ndibe, author of Foreign Gods, Inc., discussing Nigeria's census problems, its many religions and languages, and how all of these fascinating complexities are often overlooked by Americans. (MP3)
Shows from 2013
531. Victoria Wilson: Barbara Stanwyck was one of the most legendary Hollywood stars that the 20th century has ever known. Veteran editor Victoria Wilson, author of a very large biography on Stanwyck, reveals Stanwyck's remarkable work ethic, her toughness, her shyness, how Zeppo Marx encouraged her to go into comedy, the moralistic assault on unmarried couples living together, and nude appearances at surprise birthday parties. (MP3)
530. Blake Bailey II: Literary biographer Blake Bailey and Our Correspondent may be the only two people in the United States who have read everything Charles Jackson has published. Who was he? Well, in 1944, Jackson wrote The Lost Weekend — a pioneering masterpiece that was among the first to depict the devastating effects of alcoholism in fiction. But seven decades later, Jackson has been largely forgotten, outshadowed by the Billy Wilder movie. We spend 73 minutes pinpointing Jackson's forgotten legacy and considering the risks of waning literary posterity. We also talk about Bailey's work on the Philip Roth bio, as well as his forthcoming memoir, The Splendid Things We Planned. (MP3)
529. Alissa Nutting: Alissa Nutting's Tampa was one of the most controversial books of 2013. It is also one of the best books of the year. In this bold and variegated 76 minute conversation, we reveal how Celeste Price was created, the torment it brought Nutting in life and after publication, and why America remains needlessly hostile to fictitious viewpoints which dare to reveal the truth about human aberration. (MP3)
528. Elissa Wald: What happens when you meet somebody and all of your assumptions proved to be wrong? That's precisely what happened with this conversation with Elissa Wald, author of The Secret Lives of Married Women. She's a novelist who wrote a noir novel without reading any noir and who depicted class violence without being conscious of it. The result is one of the strangest conversations we've ever aired, a chat that absolutely fails (which is entirely our fault) before hobbling back to an unanticipated grace. (MP3)
527. Simon Winchester II: In 2007, we aired an infamous program with Simon Winchester, in which he argued with us over the finer points of local history. His new book, The Men Who United the States, shifts the action to a bigger stage, taking on the entire United States. With greater historical stakes, the affable Englishman returns for a conversational rematch six years later. This program features an affably argumentative and cheerfully divergent chat between two wildly energized men united by the common belief that history is always worth returning to. (MP3)
526. Wendy Lower: More than seven decades after World War II, we're still deeply uncomfortable about the idea that women under the Nazi regime committed barbaric acts. We talk with Holocaust scholar (and National Book Award finalist) Wendy Lower about the realities she confronts in her new book, Hitler's Furies. How much are the women who were socialized under Nazi policies to blame? Why did the postwar courts allow these women, some of whom massacred children, to return to society without consequence? (MP3)
525. Terry Teachout II: Duke Ellington was a composer who ranked alongside George Gershwin, influencing everyone from Jimi Hendrix to Thelonious Monk. We talk with biographer Terry Teachout about Duke's legacy, his sexiness, his philandering, his politics, the way in which he exploited poor Billy Strayhorn, and his indelible hold on American music. (MP3)
524. Eleanor Catton: What if a 900 page novel incorporated Zeno's dichotomy paradox, the golden ratio, set its action in 1865 and 1866 while aligning character temperament to astrological signs and planets, and incorporated massive strands of storytelling? Well, The Luminaries does just this. In this wide-ranging 71 minute conversation, we talk with Booker Award-winning novelist Eleanor Catton about the benefits of an overly planned structure, considering reader intentions, Douglas Hofstadter's Gödel, Escher, Bach, how old newspapers reveal history in unique ways, the Otago Gold Rush, mystery novels, Shakespeare, eccentric forms of tax evasion, and the real impact of politics and history on everyday lives. (MP3)
523. J. Michael Lennon: It's easy to dog on Norman Mailer for his indiscretions, which include stabbing his wife and Jack Henry Abbott. But he was also one of the most fiercely impetuous, wildly original, and unapologetically emotional writers the 20th century has ever known. We talk with Mailer's biographer, J. Michael Lennon, to discuss the conflicts and contradictions within Mailer's legacy. (MP3)
522. Samira Kawash: This is the second of two shows devoted to Halloween. Did you know that there was once a chocolate bar called the Chicken Dinner? That cigarette companies once considered candy to be a threat to discretionary spending? Or that candy was used by the military for safety purposes? We didn't either, until we read Samira Kawash's Candy: A Century of Panic and Pleasure. We discuss the serpentine history of candy with the Candy Professor herself! (MP3)
521. Paul Harding II: Over the course of a few centuries, prayers for the dead have transformed into less uptight celebrations. But what candor did we lose in the transformation? In the first of two shows devoted to Halloween, we discuss this American relationship to grief and impermanence with Pulitzer Prize-winning author Paul Harding. The talk revolves around Harding's second novel, Enon, and gets into candlepin bowling, the oneiric morass inside the skull, our national history of religiosity, and John Cheever. (MP3)
520. Nicholson Baker II: Nicholson Baker returns to our program for a rip-roaring 78 minute conversation. We discuss Traveling Sprinkler, the many parallels between Baker and Paul Chowder. There is quite a bit of music and audio talk, vivacious arguments for and against Robin Thicke, a lively dialectic on whether or not Algebra 2 should be an educational requirement, and a vital discussion on alternative names for sexual organs. (MP3)
519. Kathryn Davis: Life and narrative both require resolution. But when we stick to our conclusive guns, what do we give up in knowing other people? Kathryn Davis has dared to answer these questions in her provocative new novel, Duplex, and our conversation bounces around Leibniz's notion of the multiverse, the intersection of religion and technology, and how a fluid fictional universe creates new possibilities in life. (MP3)
518. Greg Sestero and Tom Bissell: The Room is widely considered to be one of the worst films ever made. Yet ten years after its release, it is a cultural phenomenon and has even inspired a video game. We talk with Greg Sestero (Mark from The Room) and Tom Bisssell, co-authors of The Disaster Artist, and probe into director Tommy Wiseau's mysterious past. discussing the film's unanticipated debt to Patricia Highsmith and the terror of shooting extremely long and extremely troubling sex scenes. (MP3)
517. Daniel Woodrell: In this rare long form interview, acclaimed author Daniel Woodrell discusses how William Kennedy's novels provided inspiration for The Maid's Version, Ozark vernacular, what people get wrong about stew, how one can know all of humanity by living in a small town, Tony Danza's boxing skills, film noir, avoiding tough guy cliches, and his experience as a Marine. (MP3)
516. Jesmyn Ward II: In the aftermath of Trayvon Martin, why do so many young black men continue to die? Why are we doomed to repeat a savage American cycle? Jesmyn Ward's new memoir, Men We Reaped, tries to answer this dilemma by looking into how five needless deaths, including her own brother;s, informed her own life. Our 40 minute conversation looks into how stories can get people to care, enduring racism, defending yourself, and why mediocre white culture keeps getting a pass. (MP3)
515. Eric Schlosser: In the mid-20th century, nuclear missiles were maintained with flimsy safeguards and rapidly failing technology. How close were we to Dr. Strangelove? And how safe are we today? We talk with investigative journalist Eric Schlosser, the author of Command and Control, to discuss our remarkably reckless military history, which culminated in several close disasters, and what this means in an age driven by terrorism and religious fundamentalism. (MP3)
514. Alissa Quart: In the second of two related programs devoted to the American epidemic of gravitating to mainstream culture in an age of limitless choice, we talk with Republic of Outsiders author Alissa Quart about how outsiders and iconoclasts have been appropriated by institutional forces. Why have we shifted to a culture hostile to original voices? Why is it all about being liked? And how does cosplay, transphobia, animal rights, and Mad Pride fit into all this? (MP3)
513. Kiese Laymon: In the first of two related programs devoted to the American epidemic of gravitating to mainstream culture in an age of limitless choice, we talk with Kiese Laymon about how his novel, Long Division, and his essays have responded to this problem. We discuss hip-hop, the rich Mississippi tradition of storytelling, "the worst of white folks," and why America is terrified of rich and variegated cultural engagement. (MP3)
512. Norman Rush: In this wide-ranging 70 minute conversation, we talk with acclaimed novelist Norman Rush (author of Mating, Mortals, and Subtle Bodies) about revolution, James Joyce, Botswana, his friendship with Thomas Disch, why his characters are seduced by quacks, and countless other subjects. (MP3)
511. Maggie O'Farrell: In 1976, Britain faced the greatest water shortage of the 20th century and the feelings are eerily resonant of current climate change. How can fiction make sense of all this? We talk with Costa-winning author Maggie O'Farrell about her latest novel, INSTRUCTIONS FOR A HEATWAVE, discuss how research often springs from personal experience and the idea of the disappearing patriarch, and get into the thorny realities of families. (MP3)
510. Travis Nichols: How do you sustain a 220 page novel told from the perspective of an online troll leaving an endless blog comment? We discuss the poetics of abuse with Travis Nichols (author of The More You Ignore Me), along with seductive caesuras, family members who disown you by email, and the largely illusory idea of self-declared misunderstood geniuses. (MP3)
509. Mark Slouka: Mark Slouka avoided historical cliche by looking at 1968 from the vantage point of a small town and tapping into unanticipated emotion. We discuss Slouka's novel, Brewster, whether Sherwood Anderson's influence can be revived in 2013, and get into the subject of leisure — specifically, its current absence from American life. (MP3)
508. Gabriel Roth: Gabriel Roth talks with us for an hour about his debut novel, The Unknowns, San Francisco culture between the two dot com booms, his Bay Guardian days, the unanticipated influences of My Little Pony and brony culture, avoiding the lad lit label, and writing about what you know. (MP3)
507. Anchee Min: Anchee Min toiled in Chinese labor camps, was punished and labeled as an outcast, and escaped to America. This one hour conversation covers how she overcame hardships, stared down loneliness, found solace in Michael Jackson, worked five jobs, and made it as a bestselling novelist. (MP3)
506. Matt Bell: Matt Bell, author of In the House Upon the Dirt Between the Lake and the Woods discusses James Joyce lookalikes, how to encourage imagination, labryinths in fiction and video games, Nethack, the problems with depicting the quotidian, and how language creates mystery. (MP3)
505. Periel Aschenbrand II: Periel Aschenbrand, one of Bat Segundo's very first guests, returns to our program after eight years, to discuss her latest memoir, On My Knees, thank you notes, being introduced to Philip Roth as a "great writer," judging other people, demonizing relatives in a book, and dental hygienists who may have killed their spouses. (MP3)
FYE 7. Unemployment: This program looks into whether or not the jobs are really coming back. Are we avoiding a serious problem that we don't have the courage to stare in the face? To what degree are we repeating history? We meet a man who motivates the unemployed in library basements, get experts to respond to Chairman Bernanke's recent claims that unemployment will fall between 5.8 and 6.2% by 2015, discuss the finer points of Beveridge curves with economics professor William Dickens, chat about how the last four decades of labor developments have contributed to the unemployment crisis with Down the Up Escalator author Barbara Garson, discover a company that protected the unemployed against discrimination with the National Employment Law Project's Mitchell Hirsch, and learn about discrimination and how local labor policy reveals national labor policy with Dr. Michelle Holder of the Community Service Society of New York. (MP3)
504. Claire Messud II: Claire Messud returns to our program to discuss her latest novel, The Woman Upstairs, unlikable characters in fiction, why angry women aren't featured in fiction, technological impediments, the millennial generation, Shel Silverstein's songwriting career, James Joyce, and how fiction can be dangerous in a surveillance state. (MP3)
503. Roxana Robinson: Roxana Robinson talks with us about her latest novel Sparta, veterans, why soldiers don't have a common experience, self-preservation vs. digital culture, Georgia O'Keeffe, playing tennis in inflatable courts, and how socioeconomic investigation into America's ills often occurs by accident. (MP3)
502. Lisa Hanawalt: In this one hour conversation, artist Lisa Hanawalt discusses her collection My Dirty Dumb Eyes, informs us of the appropriate method to neigh like a horses, describes the bizarre business politics she observed at a toy fair, delineates the trappings of pop culture, tells us how to contend with online trolls, and even offers a few sartorial views. During the majority of this conversation, Our Correspondent is licked copiously by Ms. Hanawalt's extremely friendly dog. (MP3)
501. Lauren Beukes II: We talk with Lauren Beukes, author of The Shining Girls, about what it takes to find empathy in detestable characters, why fictitious sociopaths tend to be fond of Canadian Club, the benefits of lacerating villains, the proper ways to explain backstory in narrative, being vengeful, parallels between South African and American history, why Beukes sets her American novels in the Midwest, and how research creates ambiance. (MP3)
500. Elliott Holt: In this one hour conversation, Elliott Holt discusses her debut novel, You Are One of Them, her feelings about The Eagles, Chekhov vs. Dostoevsky, living in Moscow, the baleful babushkas in the swimming pool, whether advertising is an inevitable reality in crumbling nations, and her reluctant feelings about the literary star system. There is also a brief attempt at a Boris and Natasha impersonation. (MP3)
499. Jack Butler: This rare interview with Jack Butler, author of Jujitsu for Christ, discusses Southern writing, mixing the funny with the repulsive, Mississippi humidity, living in shanties, and combating desperation. (MP3)
FYE 6. Bullies: Bullying is the most common form of violence in America. We talk with poet Shane Koyczan, Sticks and Stones author Emily Bazelon, and Dr. William Copeland about bullying's long-lasting effects. We also explore cyberbullying with distinguished author James Lasdun and journalist Camille Dodero. (MP3)
FYE 5. Rebels: We examine why rebels get the short end of the stick. We talk with historian Jeanne Theoharis about how Rosa Parks's rebellious life has been swept under the carpet of modern American history, examine Pussy Riot's rebellious legacy with many of the band's supporters, and chat with a rebel journalist about a mysterious shooting in Missouri and the pros and cons of assumption. (MP3)
FYE 4. Aid: Giving aid to nations and people who desperately need help has been an American staple for more than a century. Yet in 2013, aid has become more beholden to red tape and incompetence than ever before. This week, we go to Staten Island to talk with the organizers and volunteers of Occupy Sandy to find out how they helped people when others could not and get a sense of their philosophy. We talk with Jonathan Katz, the only full-time American journalist stationed in Hatii during the 2010 earthquake and reveal how billions of dollars given by Americans to help the impoverished and the homeless ended up in the wrong place. (MP3)
FYE 3. Cycles: Are our lives and our culture locked within cycles? Are we aware of it? Should we be aware of it? Or is there a certain folly in paying too much attention? Our quest for answers has us talking with bike shop owners and a Finnegans Wake reading group. We reveal how Raiders of the Lost Ark caused two teenage boys to become consumed by a relentless cycle of remaking the movie they loved with limited cinematic resources. We also talk with Scottish novelist Ian Rankin about how he returned to Inspector Rebus and got caught up in cycles he couldn't quite describe and Lesley Alderman, the author of The Book of Times, who shows us how being aware of time doesn't necessarily preclude you from finding enticing new cycles of existence. (MP3)
FYE 2. Guns, Part Two: Last week, we examined the Second Amendment's history and the seductive allure of guns. This second of our two part program includes our efforts to contact the National Rifle Association, reveals how gun-related crimes have affected human lives, and shows how a flood of affordable large magazine semiautomatic pistols altered the course of American history. (MP3)
FYE 1. Guns, Part One: Aurora, Sandy Hook, Virginia Tech. We're shocked by the massacres and the loss of life, but how did we get to this? This is the first of a two part program examining guns at length. This is the first episode of our thematic and investigative program, Follow Your Ears. (MP3)
498. Michael Apted: This 30 minute radio special features an interview with Michael Apted, director of the Up movies, focusing on the latest installment, 56 Up. (MP3)
Shows from 2012
497. J. Robert Lennon II: This is the final episode in the original run of Bat Segundo: a conversation conducted live at McNally Jackson concerning Lennon's novel, Familiar. (MP3)
496. Chris Ware: The celebrated Chicago cartoonist and illustrator discusses his wildly conceptual and staggeringly beautiful collection, Building Stories, the virtues of shapes and forms on paper, whether comics can compete against technology to grab attention, and the ideal way to explicate human behavior. (MP3)
495. Benjamin Anastas: Benjamin Anastas was down and out: a once celebrated novelist reduced to dragging spare change down to the bank. So he wrote a memoir called Too Good to Be True. Anastas talks about flea markets, why New York is an unhealthy place for a writer to live, Fitzgerald and the Manhattan skyline, and writing chapters that cause you to burst into tears. (MP3)
494. Jami Attenberg: (MP3)
493. Peter Davison: He is best known as the fifth Doctor Who. But did you know that Peter Davison had secret aspirations to become a musician? We get the inside scoop on "No, not the mind probe," learn of the pressures that Davison had thrust upon him during his Who tenure, and get some tips on how to hold up wobbly sets.(MP3)
492. T.C. Boyle V: (MP3)
491. Ross McElwee: The famed documentary filmmaker behind Sherman's March talks about abandoning film for video for his latest personal journey, Photographic Memory. (MP3)
490. Gilbert and Jaime Heranndez: After thirty years of Love and Rockets, the dynamic duo discusses how to find extreme character qualities, why The Dark Knight Rises is a con, creating a universe ruled by women, and how drawing children with big heads can create new forms of storytelling. (MP3)
489. Liv Ullmann: (MP3)
488. Andrea Arnold: Arnold, the director of what is arguably the most liberal adaptation of Wuthering Heights ever committed to cinema, discusses how to find a Yorkshire moth wrangler, the naturalistic limitations behind her camera style, improvisational sheep, and how adding profane lines to the Bronte classic is a form of uncanny reverence. (MP3)
487. Cole Stryker: (MP3)
486. A.M. Homes III: (MP3)
485. Steve Stern: (MP3)
484. Lynn Povich: (MP3)
483. Jeffrey Ford III: The ever affable Ford returns for a third Bat Segundo appearance, just in time for his short story collection, Crackpot Palace. This lively conversation gets into the absurdity of war hero worship, how speculation leads to unexpected mimesis, Charles Laughton's strange career, and moments in life when animals go crazy. (MP3)
482. Ariel S. Winter: Winter discusses The Twenty-Year Death, a triptych of mystery pastiches based on Raymond Chandler, Georges Simenon, and Jim Thopmson. He reveals why Chandler is the most difficult to emulate, poems that are in dialogue with other poems, and working with Hard Case Crime's Charles Ardai as editor (MP3)
481. Paula Bomer II: Ideas about being a "good mother" continue to oppress certain affluent sectors of the United States. Bomer returns to our program to discuss Nine Months, her iconoclastic challenge to what mothers and women should be, why people have viewed her fiction with disgust, why parents dope their kids up on Adderall as a solution to poor grades, and the importance of emotional candor. (MP3)
480. Martin Amis II: Not long after moving to Brooklyn, renowned novelist Martin Amis returns to our program to discuss Lionel Asbo. Amis reveals his thoughts on Occupy Wall Street and the massacre of Sunni Muslims in Syria, discusses the physical deterioration depicted in his fiction, clarifies his impetuous words in a 2006 interview, and reveals the truth about his lost book, Invasion of the Space Invaders. (MP3)
479. Lisa Cohen: Esther Murphy, Mercedes de Acosta, and Madge Garland are three remarkable cultural women who were left behind in the 20th century. We discuss this trio's forgotten legacy with All We Know author Lisa Cohen and reveal the compulsive plane-catching it takes to keep culture preserved and alive. (MP3)
478. Laura Lippman II: The celebrated novelist returns to our program to discuss And When She Was Good, how talk show radio bumpers provide unanticipated literary inspiration, defining characters through opportunity, adultery in a McDonald's drive-thru, a Princeton study which concluded that $75,000 was the magical income for happiness, Tom Clancy's ego, and how a little bit of information can turn an accountant into a creep. (MP3)
477. Marjane Satrapi & Vincent Paronnaud: The writer/directors of Chicken with Plums discuss what it takes to turn a graphic novel into a film, why vulgarity and bad taste is important, naming characters after nations, and Satrapi's tendency to use silhouettes in her visual style. (MP3)
476. Katie Kitamura: The Gone with the Forest author discusses the benefits of broken language and short sentences, Jean Rhys, V.S. Naipaul, and how removing one's voice from fiction reveals unanticipated human truths. (MP3)
475. Julie Delpy: On the occasion of her latest film, 2 Days in New York, the French actress and filmmaker discusses eccentric behavior, Franco-American relations, what French people do with thermometers, being an obsessive, finding the right toothbrush sound, Belvedere Castle, and romantic fairy tales. (MP3)
474. Megan Abbott II: Novelist Megan Abbott returns to our program to discuss Dare Me, the niceties of cheerleading culture, using Richard III as a loose narrative structure, serial killers, and tennis espionage.(MP3)
473. Uzodinma Iweala: How do we make sense of epidemics? Author Uzodinma Iweala discusses the importance of oral storytelling, how cultural stereotypes continue to impact AIDS awareness in Africa, needless fear and hysteria, and unexpected parallels between the United States and Nigeria.(MP3)
472. Andrew Shaffer (aka Fanny Merkin): We were very fortunate to meet author Fanny Merkin, who is either a very affluent author of a bestselling trilogy or a guy who wrote a very shrewd parody. This one hour conversation discusses the appropriate gestures for world domination, pescatarians, self-destructive writers, and why it's sometimes important to wear a kilt. (MP3)
471. John Lanchester: It's one thing to anticipate a credit crunch before it happens, but how do you plan a novel around it? The author of Capital discusses outlining, using Scrivener, and why people who live in close geographical proximity don't talk with each other. (MP3)
470. Karolina Waclawiak: The author of How to Get Into Twin Palms discusses Polish identity, the surprising paucity of Polish restaurant sin Los Angeles, the collapse of bingo parlors in Brooklyn, and the virtues of not talking with people. (MP3)
469. Jennifer Weiner IV: The always delightful Jennifer Weiner returns for her fourth appearance on the show, which is the longest, the most wide-ranging, the funniest, and the most forthright. It took us four shows of patient inquiry to get some of the answers, but we discuss Jen's need for more, her obsession with the New York Times, gender roles, daddy issues, and why ambition is sometimes considered a dirty word for women. (MP3)
468. Frank Partnoy: We greatly enjoyed talking with the law professor and author of Wait. Our conversation details how experiments with chess players, Jon Stewart's pause before a joke, and misunderstood incarnations of thin slicing share common qualities about how we wait around and expect magical moments to happen. (MP3)
467. Alix Ohlin: In our ongoing effort to talk with Canadians, we meet up with the author of Inside and Signs and Wonders and discuss how to find a literary voice and stretching empathy (or what remains of it) onto a larger canvas. (MP3)
466. Brian Francis Slattery II: The affable dystopian novelist returns to our program to discuss Lost Everything, literary ambiguity, approaching a dilemma from a religious and a secular perspective, the value of human life, and Race for Your Life, Charlie Brown. There is also a rather remarkable interruption early in the show when a friendly gentleman hoping to construct with a hammer intrudes upon a conversational thread deconstructing various shades of irony. (MP3)
465. Jess Walter II: The author of Beautiful Ruins reveals the "trashy" novels he turns to for inspiration, discusses Richard Burton's dissolution and our growing addiction to technological "hits" in the morning, and reveals how "bad writing" often hits at emotional truth more persuasively than the literary sheen. (MP3)
464. Sarah Polley: The long-time Canadian thespian discusses Take This Waltz, her second stint in the writer/director chair. But the conversation shifts into unexpected topics such as Toronto's gentrification, adulterous metaphors, how men react, and the importance of living with flawed people. (MP3)
463. Jesmyn Ward: The National Book Award-winning author of Salvage the Bones talks with us about America and mythology, the physicality of characters, insensitive reactions to Hurricane Katrina, and the unstoppable emotional force that comes when telling the truth. (MP3)
462. Elizabeth L. Cline: What is the impact of cheap disposable clothing? Does America require an army of fashion alterers and traveling seamstresses? And how is haul video culture responding to and exacerbating the problem? This conversation with the author of Overdressed attempts to answer these questions. (MP3)
461. Emily St. John Mandel: In our continuing effort to include as many sharp Canadians as we can, we talked with Emily St. John Mandel about her three novels. The talk gets into the freedom of not knowing where you're going, fictitious cars, and there are efforts to introduce the word "dequirkify" into the English language. (MP3)
460. Alison Bechdel III: Our third conversation with the magnificent Alison Bechdel, which discusses Are You My Mother and gets into Donald Winnicott, Virginia Woolf, and the risks of mainstreaming culture, is our most unusual of the trio. This show also contains perhaps the highest-pitched "What?" from Our Correspondent during a late moment. (MP3)
459. Samuel R. Delany: The great Samuel R. Delany has one of the most interesting minds (and one of the most interesting beards) in today's literary world. This conversation, conducted on the occasion of Delany's ambitious 800-page novel, Through the Valley of the Nest of Spiders, gets into transgressive behavior, people who are diaphanous to the forces of history, and Peter Jackson's King Kong remake as Wagnerian epic (among many other variegated topics). (MP3)
458. Timothy Noah: This cheery yet candid discussion on income inequality gets into the collapse of the American labor movement, the drop-off in upward mobility, declining wages, and whether American exceptionalism has a natural expiation date. (MP3)
457. Florence Williams: The author of Breasts discusses their complicated history, reveals some of the untold chemicals that may be permanently altering women's bodies, and responds to Our Correspondent's rather odd and audacious ideas about a human dairy industry. (MP3)
456. Molly Crabapple: Entrepreneurial artist Molly Crabapple spent an entire week holed up in a hotel room covering the walls with her drawings. But what kind of drive and sacrifice did it take for Crabapple to establish her Dr. Sketchy schools? What comes of a young artist's financial desperation? (MP3)
455. Robert A. Caro: The legendary biographer and truly old school journalist discusses The Passage of Power, the latest volume in his ongoing series of books devoted to Lyndon B. Johnson. Why did Bobby Kennedy and LBJ loathe each other? And what does a man's character say about the way he holds onto power? (MP3)
454. Stewart O'Nan II: Our interview with the author of The Odds, conducted live at McNally Jackson, features O'Nan belting out Heart lyrics while reading his work, gets into the need to chronicle fast food restaurants, and even sees O'Nan reading a few choice bits from his notebook. (MP3)
453. Annalena McAfee: It sometimes takes a journalism novel to discuss the state of journalism. And in this case, it helps that the author is a former journalist. This conversation gets into everything from women war journalists to narcissistic protagonists to the benefits of having a notable husband as an in-house editor. (MP3)
452. Eric Kandel: Our Correspondent talks with his first Nobel laureate, who is kind enough to discuss The Age of Insight, the connections between art and neuroscience, the James-Lange theory, faces and the inferotemporal cortex, and whether reductionist approaches to science are necessary. (MP3)
451. Jeanette Winterson: This jam-packed and highly energetic half hour with one of the most pleasantly eccentric writers to come out of England, ostensibly predicated on discussing the memoir Why Be Happy When You Could Be Normal?, gets into some fascinating conversational territory indeed — including how Winterson once stole a cat to teach a moral lesson, the pros and cons of getting unexpected marriage proposals, the absurd sounds of sentence, and why it's important to say yes to life. (MP3)
450. Tom Bissell, Part Two: In the second of our two-part career interview with Tom Bissell, the conversation shifts into unexpected personal territory as both Bissell and Our Correspondent ponder what it really means to have a relationship with words in 2012, how much one should embrace outsiders, and how obsessions sometimes get in the way of what you're really meant to do (whatever that might be). (MP3)
449. Tom Bissell, Part One: In the first of a two-part career interview with one of today's most underrated nonfiction writers, we establish Bissell's peripatetic history, discuss his recent creative shift into video games, and even double down on Ghostbusters references. (MP3)
448. Jonah Lehrer: In this one hour interview with the popular science writer, we ask the author of Imagine why he takes shortcuts in his writing, coax him to elaborate on several studies, discuss WH Auden's experiments with Benzedrine, and get some hard answers to recent criticisms of his work. (MP3)
447. Steve Erickson II: The California author returns to our program to discuss These Dreams of You, the best cuts off David Bowie's Berlin Trilogy, and why he believes writing is ideally "a community of one." (MP3)
446. Nancy Cohen: The historian (and author of Delirium) discusses the ongoing assaults on women's and gay rights, challenges Thomas Frank's What's the Matter with Kansas?, and reveals why Republicans and Democrats alike have been diffident to act over the last several decades. (MP3)
445. Maggie Anderson: The author of Our Black Year spent an entire year of her life on the Empowerment Experiment, purchasing only from black businesses. How did this experiment reveal unspoken truths about race and the economy and black unemployment? And is such a correction of the economy within the reach of the working-class? (MP3)
444. Alain de Botton: In this provocative conversation with the affable philosopher, we discuss Mr. de Botton's latest book, Religion for Atheists, ask questions concerning pragmatic applications, and pick Mr. de Botton's brain on matters ranging from South Park to whether or not advertising is necessary. (MP3)
443. Louis Hyman: Until we met historian Louis Hyman, we had no idea that frightening gnomes were involved in getting people to sign on for financial instruments they didn't entirely understand. But the story doesn't stop there. We discuss the history of credit and reveal how fundamental ideas about how regular Americans spend money shifted in less than a few decades. (MP3)
442. Catherine Chung: The author of Forgotten Country discusses the difficulties of Korean American identity and how flying ghost monks led her to discover the makings of a fictional family. (MP3)
441. Hari Kunzru, Part Two: Our epic conversation with the Gods Without Men author continues with discussion of how genre has been appropriated by literary authors, Michael Moorcock, geodesic domes, early personal computers, and the relationship between religion and freedom expression. (MP3)
440. Hari Kunzru, Part One: In one of the most epic conversations in the program's history, the author of Gods Without Men discusses everything from simulacra to the appeal of cults to the Angry Brigade to Robert Coover to the ethical difficulties with transforming anecdotes to fiction. And Kunzru and Our Correspondent are only just getting started. (MP3)
439. Adam Wilson: Our second Adam in a row is the author of Flatscreen, who discusses his love for Frederick Exley and Saul Bellow and expresses his hope that he can work a corner of American literature that involves the Slanket. (MP3)
438. Adam Johnson: What does it take to create fabulist fiction about Kim Jong-Il — one of 20th century's greatest fabulists? This conversation with the author of The Orphan Master's Son describes how photography and his trips to North Korea helped him to pin down the veracity. (MP3)
437. Sara Levine: This discussion with the author of Treasure Island!!! gets into unreliable narrators and Robert Louis Stevenson. But our efforts to express exuberance fall flat. (MP3)
436. Sara Benincasa: We talk with the comedienne and author of Agorafabulous, learning just what it takes to get out of the bed and live with agoraphobia. And in addition to snappy repartee, we also find out every dish that Sara knows how to cook. (MP3)
435. Arthur Goldwag: This may be the most easygoing conversation we've ever had about such an intense subject. We talk with the author of The New Hate about political extremism, the conspiracies of Revilo P. Oliver, and how confused and incoherent ideologies went mainstream. (MP3)
434. Liz Moore: How do you generate emotional sincerity without being sappy when you're writing a novel about a 600 pound protagonist? We ask the author of Heft this questions and more, and even geek out about Joyce's Dubliners. (MP3)
433. Agnieeszka Holland: The much heralded Polish filmmaker discusses In Darkness, Holocaust movies, what it takes to recreate the sewers, and the Downfall meme. (MP3)
432. Stephen Fry: In this wide-ranging one hour conversation with the very smart and very charming author of The Fry Chronicles, we discuss everything from language to education to British moral standards to the sounds of fax machines. And apparently, we're the only program that had the guts to ask this noted Apple acolyte about Foxconn. (MP3)
431. Deborah Scroggins: How did one woman find favor within the intellectual community through her extremist sentiments? And why did another woman flock to extremism? These are just some of the tricky questions we ask in relation to Aafia Siddiqui and Aayan Hirsi Ali in this jam-packed 35 minute conversation with journalist Deborah Scroggins. (MP3)
430. Susan Cain: Can the world be divided between those who are introverted and those who are extroverted? Are introverts oppressed? What of the shades in between? We discuss these questions (and bring up numerous psychological precedents) with Quiet author Susan Cain. (MP3)
429. Elliot Perlman: With tremendously ambitious novels hitting the bookshelves after a gap of many years, Elliot Perlman may very well be Australia's answer to Jonathan Franzen (in the best sense). But we learn during our one hour talk that Perlman is very much guided by emotional sincerity and wanting to share in a particularly stylistic way. (MP3)
428. Thomas Frank: Our first show during an apocalyptic and presidential election year is with the very sharp political journalist Thomas Frank, whereby the many fascinating corruptions of the two-party system are hashed out in gleeful detail. (MP3)
Shows from 2011
427. William Kennedy: After many fruitless efforts to find a quiet place to talk, Our Correspondent and the legendary Ironweed author get to talking for a good hour about machine politics, journalistic squalor, Kennedy's relationship with Hunter S. Thompson, and fiction driven by bullet-like dialogue. (MP3)
426. Joyce Carol Oates: For many years, we tried to get the legendary (and prolific) writer on our program. At long last, we finally did. But an unanticipated moment involving Otto Penzler and a malfunctioning heater nearly felled the talk. Fortunately, this didn't stop Our Correspondent and Ms. Oates from discussing the history of tragic narrative, the allure of vacuuming, organized crime, and the pleasures of reading letters (among many additional angles). (MP3)
425. Dennis Cooper: Cannibalism, formal language, stylized violence, and connections between punk and literary. What does it mean to be a literary outsider in 2011? We broach this question and more with Dennis Cooper, whose latest novel, The Marbled Swarm, is, oddly enough, published by a mainstream publisher. (MP3)
424. Charles Yu: This is the first (and hopefully not the last) conversation in which we discuss the issue of schubbiness in contemporary fiction. The author is Charles Yu, author of How to Live Safely in a Science Fictional Universe, and the conversation proves to be just as goofy and nonlinear as Yu's novel. (MP3)
423. Wayne Koestenbaum: If poet and culture writer Wayne Koestenbaum is to be believed, there are apparently more angles to humiliation than one might think. But can a man who holds his crush on Alec Baldwin above any political concerns be truly believed? Judge for yourself in this provocative interview. (MP3)
422. Alan Hollinghurst: It turns out that the Booker Prize-winning author of The Stranger's Child has a sense of humor in person. There's much to chew on hear about pre-Great War poets, getting reviewed by James Wood, relationships between young and old people, and the paucity of verbs describing laughter in English. (MP3)
421. Téa Obreht: The Orange Prize winner and National Book Award finalist discusses The Tiger's Wife, Emir Kustarica, Stewart O'Nan, whether death is inherently funny, the adult shock of learning that your favorite childhood authors (such as Rudyard Kipling) were imperialists, and whether an author turns into Smeagol upon winning a major book award. (MP3)
420. Lawrence Weschler: How applicable is Masahiro Mori's "uncanny valley" theory? Talk with the very smart social theorist Lawrence Weschler long enough and you learn that it extends to film editing, the way that streets are arranged on a city grid, and anti-nuclear protests. But those are only a few of the many topics stuffed into this head-whirling conversation. (MP3)
419. Diana Abu-Jaber: There are few novelists who can write about food more tantalizingly than Birds of Paradise novelist Diana Abu-Jaber. But this one hour conversation also gets into gutterpunk culture, whether fiction has the obligation to solve problems, American autodidacts, and Elizabeth Taylor as an unanticipated literary inspiration. (MP3)
418. Weird Al Yankovic: In this high-octane conversation, the master parodist and comic performer (who is a lot more than the guy who made "Eat It") discusses a wide range of topics, including Freytag's triangle, keeping up with emerging artists, having his material co-opted by tort reform lobbyists, edgy animators, and William Shatner. (MP3)
417. Anne Enright: The Booker Prize winner talks with us about her Celtic Tiger-themed novel The Forgotten Waltz, anatomical hydraulics, what might happen if 12-year-old girls were put in charge of the world, and partitive noun phrases. (MP3)
416. Roger Corman: On the occasion of a new documentary (Corman's World), the legendary filmmaker discusses how his infamous cost-cutting approach might be applied to other ares of American life, the difficulty of making independent films in America, why he gave up directing, and the undervalued nature of contemporary films. (MP3)
415. Susan Orlean: The famed canine was so popular that he even merited a mention in Finnegans Wake. Why has Rin Tin Tin endured for so long? We talk with noted journalist and New Yorker staff writer Susan Orlean, investigating why dogs (and especially German shepherds) proved so popular in the wake of the Great War. (MP3)
414. Yannick Murphy III: Murphy returns to our program to discuss The Call, a novel told almost entirely in daily veterinarian log format. The (MP3)
413. Nick Broomfield: The controversial documentary filmmaker discusses Sarah Palin: You Betcha, Lily Tomlin's insecurity, why he puts himself in front of the camera, and why his work is so interested in an amateurish aesthetic. (MP3)
412. Sheila McClear: Unable to get a job after moving to New York, the author of The Last of the Live Nude Girls began working as a peep show dancer. This one hour conversation investigates the pros and cons of the dying Times Square industry and gets into the reality of what one must do to survive in an increasingly unforgiving economy. (MP3)
411. Alexander Maksik: Can one's fall from grace be a liberating experience? The author of You Deserve Nothing answers these Camus-inspired questions and more.(MP3)
410. Alex Shakar: The first of many 2011 conversations involving guests who have first names beginning with "Al," this show features the author of Luminarium. (MP3)
409. Lauren Beukes: The Arthur C. Clarke Award winner discusses Zoo City, establishing streetcred, a personal belief system as a peer review process, and being the "head writer" of your own novel. (MP3)
408. Dana Spiotta II: In this live conversation conducted at McNally Jackson, Spiotta returns to our program to discuss Stone Arabia. (MP3)
407. John Banville/Benjamin Black: The Booker Prize winner assists us in sandwiching two men (Banville and Black) into one voice, informing us on literary fiction's ghetto nature and the disastrous status of being a "writer's writer." (MP3)
406. Jesús Ángel García : We were unsure if the author of badbadbad was going by a real name or possessed a criminal record. But we talked with him anyway about craft, dubious claims from restaurants, and responding to bad reviews with death metal. (MP3)
405. Miranda July: The quirky filmmaker discusses The Future and reveals the very unintentional nature of her work. (MP3)
404. Megan Abbott: In this lively one hour show, we meet up with the Edgar Award Winner to talk about rhythmic balance in sentences, the best way to use similes, life in a pre-Amber Alert era, the relationship between sex and observational judgment, and forelocks as an essential element of a Megan Abbott novel. (MP3)
403. Emma Forrest: This intense chat with the Your Voice in My Head author discusses (among many other things) the questionable application of a General Zod metaphor to your daily life. (MP3)
402. Edie Meidav II: The delightful Ms. Meidav returns to our program to talk about California novels, visual pleasure, needlessly psychoanalytic readings, and Jerry Brown's assaults on California parks. (MP3)
401. James Marsh: In this candid conversation, the documentary filmmaker known for Man on Wire discusses Project Nim, Harry Harlow, dramatic reconstructions, and phony indignation from moviegoers. (MP3)
400. Aimee Bender II: After many years, Ms. Bender returns to our program, much as one attends a high school reunion, to discuss The Particular Sadness of Lemon Cake, people who love making food, Hemingway's iceberg theory, childhood poetry, and the vital question of whether or not the United States is suffering from a short attention span epidemic. (MP3)
399. Janet Reitman: Reitman spent five years of her life studying Scientology. In this chewy one hour conversation, we talk about the Church's IRS battles, Paul Haggis's defection, the Church's homophobia, Lisa McPherson's mysterious death, offshoot groups, and continued efforts to target potential Scientologists. (MP3)
398. Mara Hvistendahl: This discussion on global population issues with the author of Unnatural Selection gets into the implications of the global gag rule, women who are dependent on their husbands for immigration status, Paul Erlich, the impact of cheap ultrasound machines flooding the East, and gender imbalance in China. (MP3)
397. James Gleick: In this heady installment, the surly yet sharp author of The Information discusses Claude Shannon's legacy, Norbert Wiener, dissipated energy contained within information, numerous paradoxes, and extreme Newtonianism. (MP3)
396. Adam Hochschild: The author of To End All Wars talks with us about the little-discussed pacifism movements during World War I, writers who contributed to propaganda, Bertrand Russell's imprisonment, and the positive qualities one might find within Douglas Haig, the Great War's worst general. (MP3)
395. Tayari Jones II: How can one find ambiguity within an extended family or a story in a large bundle of pages? Can ridiculous boyfriends offer compelling dialogue? We pursue these questions and more in this brisk chat with the Silver Sparrow author. (MP3)
394. Daniel Clowes: It is quite possible that this is the only interview with the famed cartoonist (Ghost World, Eightball) to ask about the usage of CHOFF CHOFF in a panel. It is also quite possible that this is the only conversation we have on record that deals with the seminal issue of eating in visual mediums, and bald spots in comics, and angry Southerners who object to the word "Jesus," and so forth. (MP3)
393. Ross Perlin: Unpaid internships may be the bane of capitalist society, but this jam-packed one hour conversation with the Intern Nation author reveals the true depths and horrors of how they are exploited. (MP3)
392. Lynne Tillman: We talk with the author of Someday This Will Be Funny and American Genius about neurotic women protagonists, apothgematic moments, and how architecture often reveals people's positions in life. (MP3)
391. Jaimy Gordon: The surprise National Book Award-winning author of Lord of Misrule discusses the use of television in fiction, the pre-Internet storytelling culture, and loving horse racing despite its corruption. (MP3)
390. Ian Rankin: He's the bestselling author of the Rebus mysteries. But on the occasion of The Complaints, we talk with Ian Rankin for one hour about autobiographical connections in his fiction, his addiction to Twitter, Muriel Spark, the regrettable dilemma of crime fiction sources who retire, and the modest revitalization of vinyl. (MP3)
389. Carol Emshwiller & Sharifa Rhodes-Pitts: In this special double episode, we talk with the legendary fantasy writer Carol Emshwiller on the occasion of her 90th birthday and discuss developments in Harlem with Sharifa Rhodes-Pitts. (MP3)
388. Holly Tucker: As it turns out, the history of blood transfusion is loaded with unusual developments. We question historian Holly Tucker about claims that the English are liars, early experiments upon the poor and vulnerable, connections between architecture and medicine, and whether or not early scientists enjoyed torturing dogs. (MP3)
387. Michael Crummey: We talk with the award-winning Canadian writer about Galore and his mixed feelings about magical realism. (MP3)
386. Deb Olin Unferth: We meet Deb Olin Unferth in a Vegan restaurant to discuss Revolution, South America, memoir writing, and chronicling the unique voice, and the conversation is interrupted by a strange man who decides to photograph us because Our Correspondent accidentally mentioned that he was, in part, carnivorous. (MP3)
385. TC Boyle IV: Our fourth conversation with the mighty Tom Boyle finds the poor man with a cold. Thankfully, he is not Frank Sinatra and has much to say about human-animal relations in relation to When the Killing's Done. (MP3)
384. Insulted by Authors: What drives a man who has set up a website whereby he stands in line and asks an author to insult him? Quite a lot, actually. Bill Ryan discusses his difficulties with humorless authors, Rick Moody's conditional signing, Banksy, and being inclusive of quirky ideas in a marginalized medium. (MP3)
383. Aminatta Forna: We talk with The Memory of Love author about writing about Sierra Leone without naming the country, spending two weeks in an operating theater for research, and the inspiration that comes from breaking an Achilles tendon. (MP3)
382. Adrian Tomine: The famed cartoonist discusses the grotesque reality of Chris Ware's funny cats, drawing people who read books in New Yorker illustrations, the commonalities between subcultures from the 1990s and digital culture, and how to keep one's spirit alive through Scenes from an Impending Marriage. (MP3)
381. Eduardo Porter: The somewhat smarmy author of The Price of Everything talks a good deal about economic impact, but Our Correspondent learns that Mr. Porter may not be as keen on capitalism's consequences as he is. (MP3)
380. Toby Ball: The author of The Vaults tells us how to build an alternative universe, and the pleasant conversation is interrupted by two children who ask Our Correspondent and the author about the microphones on the table. (MP3)
379. Karen Russell: In this vivacious and free-wheeling conversation, the Swamplandia! author discusses how she arranges her ideas, the Seven Remaining Houses in Stiltsville, the scarcity of quirky plots, and the early introductions to Sesame Street. (MP3)
378. Jessie Sholl: What's it like to have a parent as a hoarder? And why doesn't America want to talk about this problem? The brave memoirist spills details about the sordid details of packrats. (MP3)
377. Gregg Araki: The quirky independent filmmaker talks about Kaboom!, getting pigeonholed as "the teenage movie guy," and how cinematic moments are often detailed by landscape. (MP3)
376. Misha Angrist: This deadpan hour with the tenth person to participate in the Human Genome Project gets into three card poker, Kirk Maxey's strange fate as a sperm donor, the risk of genetics perpetuating bad ideas about the underclass, and how to combat the institutional mindset. (MP3)
375. Paula Bomer: The author behind Baby discusses the perception of mothers, Mary Gaitskill, the risk of being declared offensive, and brutal birth scenes. (MP3)
374. Elia Suleiman: The Palestinian filmmaker discusses The Time That Remains and the risks that come from being known for a highly watched YouTube clip outside of its original context. (MP3)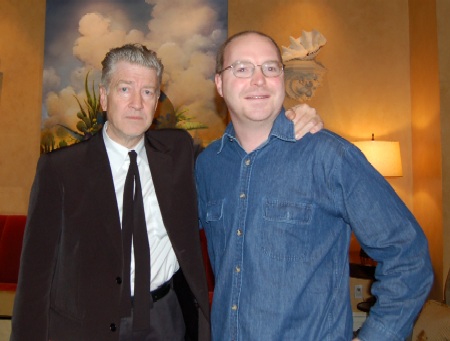 Shows from 2010
373. Mike Leigh II: The pugnacious British filmmaker returns for a second round to discuss Another Year. (MP3)
372. Andrew O'Hagan: When writing a novel about Marilyn Monroe's dog, we learn, in talking with the author of The Life and Opinions of Maf the Dog, that it is often vital to have footnotes which reflect the dog's height and station. (MP3)
371. Paul Murray, Part Two : In the second part of our live conversation at Word Brooklyn with the author of Skippy Dies, Murray reads from his novel and answers additional questions from both Our Correspondent and the audience. (MP3)
370. Paul Murray, Part One: In the first part of our live conversation at Word Brooklyn with the author of Skippy Dies, we discuss incoherence as a bold aesthetic move, the importance of having a big nose, Team Fortress 2, and Celtic Tiger. (MP3)
369. Paolo Bacigalupi: How do you continue to write after you've had four novels rejected? And how important is manipulative violence in a speculative narrative? We discuss these vital questions and more with the author of Ship Breaker and The Wind-Up Girl. (MP3)
368. Cynthia Ozick II: In our second hour-long interview with Ms. Ozick, we meet at her home to discuss Henry James, Graham Greene, and whether a novel should present itself to the reader as history. (MP3)
367. Susan Straight: We talk with the gritty Riverside author about wrapping bacon around a gunshot wound and how to depict uncomfortable modes of survival in contemporary fiction. (MP3)
366. Isabel Wilkerson: The author of The Warmth of Other Suns discusses the Great Migration, class divide, and other aspects of 20th century black history. (MP3)
365. Tom McCarthy II: McCarthy returns to our program to talk about C, several permutations relating to the third letter, and numerous other topics relating to the apparent avant. (MP3)
364. Paul Harding: We talk with the Pulitzer Prize-winning author of Tinkers about the precision of description, the benefits of 19th and 20th century fiction, and how text within the text can distract the reader from the text. (MP3)
363. Yiyun Li: The author of The Vagrants and Gold Boy, Emerald Girl and MacArthur fellow talks with us about how conceptual collision and very quiet thinking are pivotal to delivering her distinct fiction. (MP3)
362. David Rakoff II: In our second conversation with the James Thurber Prize-winning essayist, there are almost as many unusual moments as our first conversation. In fact, Our Correspondent and Rakoff look up the word "vitiate" in the dictionary a second time, just to be sure that they've learned something over the years. (MP3)
361. Andrew Ervin: The author of Extraordinary Renditions discusses the intersection of politics and fiction, and challenges Our Correspondent on the professed hypocrisy he detects. (MP3)
360. Neal Pollack II: The underrated satirical writer returns to our show after many years to discuss why he has turned to yoga and whether he has entirely set aside the anger that motivated his early writings. (MP3)
359. Joe Dante: On the occasion of The Hole, the underrated film director candidly discusses the difficulties of getting financing during the recession, the artistic compromises one makes for projects, and his early days with Roger Corman (who we ended up interviewing later on Show #416). (MP3)
358. Matthew Sharpe II: It isn't every day that you encounter a novel with a rather creative usage of a pool cue against a gentleman's head. Matthew Sharpe returns to our program to discuss the inherent absurdity of fictive violence and how specificity can drive narrative. (MP3)
357. Scarlett Thomas II: How do the Cottingley Fairies, Teilhard, and go-nowhere slackers relate to each other? In this sprightly one hour interview with the author of Our Tragic Universe, we discuss the dangers of misreading and creating systems by necessity within a novel of ideas. (MP3)
356. Mary Roinette Kowal: You wouldn't think that puppetry and fiction would have a lot in common at first glance. But in our talk with the Hugo Award-winning novelist (puppeteer), we learn about the commonalities. We also discuss just what it takes to create an Austen-based language on the page. (MP3)
355. Allegra Goodman: Have dot com novels reached their creative limit? Or are they the new form of the historical novel? The novelist Allegra Goodman is laconic on these questions, but we do discuss whether linguistic vacuity made the writing of The Cookbook Collector easier. (MP3)
354. Prince of Broadway & Adam Langer II: In this double interview show, we discuss low-budget filmmaking with the makers of Prince of Broadway and Adam Langer returns to our program to discuss literary cons, whether or not he is a "publishing insider," and the limits of ragging on notable individuals. (MP3)
353. Daniele Thompson: It's very difficult for us to turn down a French woman as a guest. And when the guest is as classy as Daniele Thompson, the pleasure is redoubled. This conversation circle around Change of Plans, the use of physical space, and what America can learn from France about chilling out. (MP3)
352. Gary Shteyngart II: The normally excitable author became strangely subdued and gloomy when we asked him serious questions about his work. But does Shteyngart's super sad ruse contribute to the technological problems he is railing against? (MP3)
351. Vincent Cassel & Rachel Shukert II: Two very sexy people in the same show! Vincent Cassel is a highly energetic and charming actor who discusses what he does to never play the same role twice. Rachel Shukert is unapologetic about memorializing relationships and hygiene, but is quite considerate about disclosing the particulars. (MP3)
350. David Mitchell III: In our third conversation with the author who imbued our program with its namesake, David Mitchell and Our Correspondent discuss The Thousand Autumns of Jacob de Zoet, are kicked out of a hotel by security, and run against the limits of reader-friendly literary fiction. (MP3)
349. Adam Ross: Just how much is embedded in Ross's novel, Mr. Peanut? Quite a lot actually. This detailed talk gets into Escher, obscure Hitchcock actors, the bliss of recurrence, John Hawkes, and postmodern kitsch. (MP3)
348. Ken Russell: We were fortunate to talk with the late, great, and misunderstood bad boy of 1970s British cinema as he was touring various cities with his films, which included The Devils, Tommy, and Altered States. How did the infamous nude wrestling scene from Women in Love come about? And what was Russell's friendship with Oliver Reed like? We discover these answers and more. (MP3)
347. Sally Potter: We talk with the director of Orlando (1992, based on the Virginia Woolf novel) on the occasion of its 2010 re-release, discussing the sexism of the literary world, having to write bad poetry, and working with Tilda Swinton. (MP3)
346. Jennifer Weiner III: Our third hour with the lovely Jennifer Weiner becomes a strange diplomacy of sorts, whereby Our Correspondent points out that Weiner and Richard Russo are on the same team and that certain hostile literary forces that which to stifle certain types of books can be ignored. (MP3)
345. Dan Chaon: The author of Await Your Reply and You Remind Me of Me discusses Nabokov's influence, how one can web together a variety of literary references, the Midwestern landscape, and Charles Beaumont's "The Howling Man." (MP3)
344. Dan Ariely: Noted behavioral economist Dan Ariely talks with Our Correspondent after staying up for quite some time without sleep. The conversation enters vital questions relating to relative value, social norms, maximum threshold, and the downside of customized markets. (MP3)
343. Marcy Dermansky: The author of Bad Marie talks about coincidences in life and fiction, battling copy editors over quirks, the necessity of unusual characters, and being the person at the party who gets introduced to other people. (MP3)
342. John Waters: In this rapid-fire 40 minute talk, the notorious filmmaker (and author of Role Models) discusses Charles Manson, Tennesee Williams, hotboxing, his need to plan everything, dutifully filing taxes, taking buses to observe people, and sitting in first class (among many other subjects). (MP3)
341. Reed Cowan: We talk with the director of 8: The Mormon Proposition about assaults on gay marriage, the difficulties of corroborating this with the LDS, and whether Mormons can ever understand civil rights. (MP3)
340. Gary Rivlin: This comprehensive one hour discussion with journalist Gary Rivlin gets into how predatory lending has overtaken America, credit unions, overdraft fees, and why banks continue to gouge the working class and the middle class. (MP3)
339. Kathryn Schulz: F. Scott Fitzgerald believed that a first-rate intellectual could hold two opposing ideas in his head at the same time. Why then do so many people cleave to the idea of being wrong? We try to answer this question and more with the author of Being Wrong, getting into Thomas Kuhn, the dangers of empirical evidence, and how this affects everything from insignificant everyday actions to the life-changing. (MP3)
338. Ander Monson II: Experimental Midwestern author Ander Monson may insist that he's not a memoirist, yet in discussing Vanishing Point, cultural taxonomies are ineluctable. (MP3)
337. Daniel Okrent: Bathtub gin and speakeasies? Mere cliches when considering just how Prohibition changed America. This breezy conversation with the author of Last Call reveals how Walgreen's and Al Capone alike were able to expand their business while American drinking changed severely from its previous heights. (MP3)
336. Joseph Wallace: This somewhat wonky talk with the Diamond Ruby novelists gets into the 1930s and baseball, and reveals how invention often springs from deep and devoted research. (MP3)
335. Barry Gifford: The grizzled mystery author discusses his Sailor & Lula novels, explains to us how not to be a victim, and reveals how much of a control freak he is. (MP3)
334. Julie Orringer: Multiple years of research is just the beginning when it comes to an intricate 200,000 word novel about the Holocaust. This detailed talk with the author of The Invisible Bridge gets into obscure words, Nabokov, swapping tips with writers at colonies, and plunging into Budapest. (MP3)
333. Robin Black: Why do short story writers — especially those who are older women — get such a bad rap? In this one hour show with the author of If I Loved You, I Would Tell You This, Robin Black discusses carnal reticence, how one can learn from Mrs. Dalloway, twos and threes within stories, and a character's relationship with the human face. (MP3)
332. Adam Thirlwell: The bright young author (and translation enthusiast) of The Escape discusses Yiddish opera, Walter Benjamin, the difficulties of finding "Beckettian style" in the untranslated Beckett, reading naughty phrases before 500 people, Caligula, and salacious gossip. (MP3)
331. Juan Jose Campanella and Allison Amend II: In this special two-for-one program, the director of The Secret in Their Eyes reveals how to stitch shots into a singular visual through CGI and non-cinematic passions, while the glorious Allison Amend returns to our program to discuss train accidents, Harvey House restaurants, and the glee of killing animals in historical fiction. (MP3)
330. Julie Klausner: The author of I Don't Care About Your Band discusses dismal men, Kermit the Frog, human archetypes contained within vaudeville, and women who love scrotums. (MP3)
329. Nell Irvin Painter: Why did so many racists specializing in junk science get tenured at Ivy League institutions? Well, who better to discuss these controversial questions than the historian and author of The History of White People? (MP3)
328. Marisa Meltzer: Women changed the face of music during the 1990s, with Liz Phair and Kathleen Hanna offering a compelling punk and feminist alternative to the male-dominated mainstream. What happened? And are there signs that some of these early shakeups can be revived? We discuss these questions and mroe with the author of Girl Power. (MP3)
327. Chang-Rae Lee: Why did Chang-Rae Lee take two additional years to deliver his novel, The Surrendered, to his publisher? How does an author contend with false starts? And why is violence so fascinating? (MP3)
326. David Shields: We duked it out with the author of Reality Hunger for one hour and came away thinking that he was a very sad and lonely man (or at least he presented himself to us this way). Sure, we understood his hostility to some forms of fiction and his polemical approach, but if you're going to rail against the "pretense of authenticity," shouldn't you be a little more authentic? Nevertheless, Shields demonstrates his great skill in dismissing fiction he hasn't read. (MP3)
325. Sam Lipsyte: "I was screaming cryptic lines that couldn't be heard because the guitar were too loud." In our discussion with the author of Home Land and The Ask, we track these early rhythmic developments to the present day, getting into how stock phrases such as "home invasion" present new possibilities for satire and fiction, and how movement in fiction occurs when you paint yourself into a corner. (MP3)
324. Marilyn Johnson: Why don't libraries get the proper respect that other America institutions get? This meaty discussion with the author of This Book is Overdue! reveals just how dangerous these oversights are to our future. (MP3)
323. Justin Taylor: The author of Everything Here is the Best Thing Ever is skeptical about our vital questions concerning hair, but he is happy to discuss Gary Lutz and the Gordon Lish school of writers. (MP3)
322. Kevin Sampsell: In this one hour interview, we talk with the author of A Common Pornography about fatherhood, rash speculation on football players wearing a jersey with the number 63, why some people don't know about Pee Chee folders, and the difficulties of connecting with people on Facebook. (MP3)
321. Christian Berger: If our Haneke interview wasn't enough for you, we've also talked about The White Ribbon with his cinematographer, who describes grayscale limits in post-production, Barry Lyndon, and Haneke's insistence on darkness. (MP3)
320. Sue Grafton: The noted abecedarian mystery novelist talks about the difficulties of reconciling real crime with fictional crime, Nabokov, and the gray ares of moral conduct. (Interview conducted by Sarah Weinman.) (MP3)
319. Gail Godwin: The author of Unfinished Desires attempts to explain religious fiction to Our Correspondent, who is neither a religious man nor a headmistress or nun in the 1950s. (MP3)
318. Peniel Joseph: Historian Peniel Joseph (Dark Days, Bright Nights) discusses Stokely Carmichael, the radical trajectory of Black Power during the 20th century, and what much of this means in an Obama presidency. (MP3)
317. Katharine Weber II: The quirky novelist returns to our program to discuss her latest novel, True Confections, and the conversation concerns itself with candy, factories, and The Madagascar Plan. (MP3)
Shows from 2009
316. Michael Haneke: The famed filmmaker talks about The White Ribbon and the role of the cinematic spectator, with help from translator Robert Gray. (MP3)
315. Ken Auletta: In this hard-hitting colloquy, longtime New Yorker journalist Ken Auletta discusses his latest book, Googled, and his view on engineering mindsets are challenged by our correspondent. (MP3)
314. Terry Teachout: The Wall Street Journal theater critic and biographer chats about Pops, Louis Armstrong, and the unexpected results that emerge with a Freedom of Information Act request. (MP3)
313. Laurel Snyder: In a conversation that reveals much about the YA market's ever-shifting nature, Laurel Snyder discusses Any Which Wall, the etymological origins of "bleckish," and the likelihood of finding an old lady on a unicycle within a subway station. (MP3)
312. Rebecca Solnit: In this controversial interview, the famed thinker talks about A Paradise Built in Hell. But the talk takes a defensive turn when Solnit is asked to clarify evidence in relation to shootings in New Orleans. (MP3)
311. Marjorie Rosen: The author of Boom Town reveals some of the characteristics of Bentonville, Arkansas — the small city that remains the home for Wal-Mart headquarters. (MP3)
310. Nicholas Meyer: The screenwriter and famed director of Star Trek II contends with the unanticipated political prescience of his material and learns that his frequent flyer miles have accidentally found their way into the University of Iowa archive. (MP3)
309. Brian Evenson: The unclassifiable Brian Evenson talks with us about his most recent books, Fugue State and Last Days, and Our Correspondent attempts to determine how one goes about writing a strange scene that elicits disparate emotional reactions. (MP3)
308. Lawrence Block: Long-time mystery writer Lawrence Block discusses Step by Step, his memoir about walking. (Interview conducted by Sarah Weinman.) (MP3)
307. Michael Muhammad Knight: The rabble-rousing author of The Taqwacores. (MP3)
306. Laurie Sandell: We talk with Laurie Sandell, who chronicled her father's many prevarications for her graphic novel, The Impostor's Daughter, and pondered chicken recipes, whether or not writing is the proper way to exorcise demons, and the authenticity of contemporary memoirs. (MP3)
305. Dick Cavett: When we informed an acquaintance that we had interviewed television broadcasting legend Dick Cavett, the acquaintance replied, "I thought he was dead!" We haven't talked with the acquaintance since. But Cavett is still quite alive, quite witty, and brimming with anecdotes. He was kind enough to sit down and talk with us and we had a lot of fun. There's even an unexpected interruption by a John Jay professor. (MP3)
304. Maggie Estep: The needlessly misunderstood Maggie Estep sits down to talk with us about her latest novel, Alice Fantastic. The talk veers into animals, unexpected speculation into celebrity activities in Woodstock, and the penchant for littleness within Estep's fiction. (MP3)
303. Philip Alcabes: What could be more appropriate to the odd Segundo canon than a fun-filled conversation about the three Ps (pandemic, plague, and pestilence)? We talk at length with Dread author Philip Alcabes about the psychiatric and biological underpinnings of people freaking out and what science might be able to do about it. (MP3)
302. Lizzie Skurnick II: When Lizzie Skurnick first appeared early on our program, we didn't really know what we were doing. So we felt compelled to invite her back and discuss the Wide, Wide World of YA. This unusual conversation concerns itself with redheads, television rape, and features a moment that has been described as "finger pointing" in some circles. (MP3)
301. Richard Russo II: The jolly Richard Russo returns to our program to discuss That Old Cape Magic. We both try to figure out why some critics have called Russo a "misogynist" and attempt to pinpoint Bon Jovi's enduring appeal at weddings. (MP3)
300. J. Robert Lennon: We were very honored to have J. Robert Lennon, one of the most underrated American writers, as our 300th guest. This conversation mostly concerns Castle and Pieces for the Left Hand, but it also gets into talk about trusting the subconscious and the benefit of naps on finishing a novel. (MP3)
299. Douglas Rushkoff: Douglas Rushkoff may very well be our most needlessly contentious guest. In attempting to ask Rushkoff critical questions about his book, Life, Inc., and pointing to certain hypocrisies in his arguments, we were forced to ask Rushkoff if he believed Maslow to be a pyramid scheme. (MP3)
298. China Mieville II: China Mieville returns to our program to discuss his descent into mystery with The City & The City But this time around, the discussion enters into a lot of unexpected chatter about Lacan, multiculturalism, theory, readers who cling to rigid interpretation, and text as part of a social totality. (Includes video excerpt.) (MP3)
297. Ellen Ruppel Shell: In connection with an elaborate roundtable discussion of Ellen Ruppel Shell's Cheap, we talk with the author at length about a very complicated subject that effects every American. Are you really getting a deal when you walk into that outlet store? Are we all trapped within a pricing scam? And what can any of us do about it? (MP3)
296. Sarah Wendell and Candy Tan: The team behind Smart Bitches, Trashy Books gathers with us to talk about Beyond Heaving Bosoms and many issues pertaining to the romance genre. There are numerous asides and several naughty puns, as one would expect from this rambunctious duo. (MP3)
295. Percival Everett: In this rare interview with the gifted and laconic author, Percival Everett reveals how little he cares about the reader and suggests that he doesn't really know how to write a novel. (MP3)
294. Hal Niedzviecki II: In our continuing efforts to talk with Canadians, we catch up with Niedzviecki when he's in town and get into a number of fierce (but friendly) arguments about whether online culture is debilitating humankind. The conversation got so animated that Our Correspondent was accused of talking in a "disturbing" manner at the 24 minute mark by a third party. (MP3)
293. Guy Maddin: If you somehow aren't familiar with the famed Canadian filmmaker, then perhaps this wild conversation with the man behind My Winnipeg will inspire you to not only pursue Maddin's considerable and distinctive backlist, but it may have you reassessing your own relationship with your roots. (MP3)
292. Mark Kurlansky II: A mere 72 shows after his first appearance, the prolific Mark Kurlansky returns to our show with two more books! In one jam-packed 25 minute burst, we discuss Zola, the Federal Writers Project, strange Nebraskan ditties involving weiners, popcorn queens, fury involving mashed potatoes, class and cornbread, and the mint julep controversy. (MP3)
291. Laila Lalami II: The former blogger and author returns to our program to talk about Secret Son, censorship in Morocco, and the difficulties posed by Chekhov's gun.(MP3)
290. Kathleen Collilns: While Our Correspondent may not be terribly comfortable with Rachael Ray, numerous television junkies are. But what does the cooking show mean? How did we get from the comparatively sedate offerings of Julia Child to Emeril's "Wham!"? We talk with Kathleen Collins, author of Watching What We Eat, and talk taxonomies, how The Food Network managed to kill PBS, and whether cooking show alternatives are even possible. (MP3)
289. Javier Calvo and Mara Faye Lethem: The author and translator of Wonderful World also happen to be married to each other. So we took the time to talk with both of them about translation, heightened narrative, and whether a working relationship such as theirs might lead to divorce. (MP3)
288. Arthur Phillips: Can novels predict weather patterns? Arthur Phillips seems to believe that they can. But don't let the author of The Song is You fool you into thinking that what he writes about reflects his personal life. We discuss the tricky aspects of getting fiction right, an unintentional homage to the 1980s band Re-Flex, and William Gaddis. (MP3)
287. Sarah Waters II: Sarah Waters returns to our program to discuss The Little Stranger and whether an underused genre like the ghost story might be sufficiently employed in an allegory about Old World values and English suburban development in the mid-20th century. (MP3)
286. Michelle Goldberg: In this fairly intense conversation, the author of The Means of Reproduction discusses the difficulties of present population issues, imperialism, American hypocrisy, and communicative failings for an underdiscussed issue that effects all of us. (MP3)
285. Nelson George: We talk with hip-hop journalist, filmmaker, and memoirist Nelson George about growing up in Brooklyn, the gentrification of Fort Greene, and the journalism world of the 1970s. (MP3)
284. Blake Bailey: It isn't every day that you talk with a literary biographer, particularly one as thorough and as funny as Blake Bailey, who serves up a good deal of dirt about John Cheever. It also isn't every day when you meet a literary biographer fond of talking in funny voices and possibly more crazier than Our Young, Roving Correspondent. (MP3)
283. Atom Egoyan: Because we were contending with time constraints, we did our best to squeeze about 40 minutes of information into this fast-talking, high-concept 30 minute interview. Thankfully, the acclaimed Canadian filmmaker was happy to play along. Even when we asked him about his obsession with scenes set in airports. (MP3)
282. John Wray: John Wray is a very intense and serious literary writer, and he was sure to keep things very intense and serious in our conversation with him about his novel Lowboy. (MP3)
281. Alex Rivera: Is the writer-director behind Sleep Dealer really a commercial filmmaker? Or does he have a dormant passion for the avant-garde that he's keeping from us? We find out. (MP3)
280. Laura Lippman: In this thoughtful one-hour conversation with mystery novelist Laura Lippman, we talk about process, the Oz books, and the burdens of reading an entire novel aloud. (MP3)
279. Carl Wilson: What does it mean to love Celine Dion? Carl Wilson thinks he has a few answers about the way we appreciate culture. (MP3)
278. Esther Rots and Dan Geesin: We talk with the filmmaker and the sound designer behind the Dutch film, Can Go Through Skin, and discover the physical and moral costs of directing a rat. (MP3)
277. Ursula Meier: In this conversation (conducted in French and English), we talk with the director of Home and find out just what it takes to create a freeway on film. (MP3)
276. Heather Armstrong: The blogger behind Dooce and author of It Sucked and Then I Cried discusses motherhood, how her audience factors into business decisions, and whether having a baby is pretty much a book of commentary. (MP3)
275. Tatia Rosenthal: The animator behind $9.99 geeks out with us about process, character proportions, magical realism, self-help books, and color coordination. (MP3)
274. Adam Del Deo: We talk with one of the directors of Every Little Step about the recent revival of A Chorus Line, uncovering a few controversies in the process. (MP3)
273. T.C. Boyle III: In our third conversation with T.C. Boyle, we discuss The Women, Frank Lloyd Wright, the relationship between art and morality, and why cruelty is necessary in contemporary fiction. (MP3)
272. Andrea Peyser: The New York Post columnist has ired a lot of people, but we talk with her on the occasion of her new book, Celebutards, and discover (eventually) that she also has positive things to say about the entertainment industry. This podcast also includes a strange passive-aggressive moment from a woman who hands Our Young, Roving Correspondent a note reading CAN YOU PLEASE TALK QUIETER? (MP3)
271. Tony Stone: Writer/director/editor/actor/producer/caterer Tony Stone discusses his Viking film, Severed Ways, which involved real chickens being killed before the camera, a number of contemporary parallels, and getting a cinematic act of defacation just right. (MP3)
270. Eric Kraft, Part Three: Having been kicked out of one place, Eric Kraft and Our Young, Roving Correspondent reconvene at an adjacent bar to conclude their prodigious three-part conversation, where the talk turns quite jocular and enters into strange tangents that involve a Boston Phoenix restaurant critic, Jean Shepherd, the relationship of socks to a writer's output, and the jokes that the Krafts wish they heard in bars. (MP3)
269. Eric Kraft, Part Two: The second part of our conversation with Eric Kraft gets into cultural and literary reference and explores the virtues of spontaneous writing and unusual daily routines. There is also discussion about CD-ROMs, cross-referencing, hyperlinks, and the future of the book, before Mr. Kraft and Our Young, Roving Correspondent are ignobly kicked out of an establishment. (MP3)
268. Eric Kraft, Part One: The first of a rip-roaring three-part conversation with Eric Kraft, the author of the Peter Leroy books. This segment gets into the many characters of the Peter Leroy universe and examines many issues pertaining to the relationship between the real and the imaginary. (MP3)
267. Charlie Huston II: In our second conversation with mystery writer Charlie Huston, we delve quite heavily into the art of the sentence and alternating rhythms in prose, while also getting Huston's definitive views on the roundhouse punch and the culinary horrors of Slim Jims. (Includes video excerpt.) (MP3)
266. Catherynne M. Valente: The fantasy writer discusses Palimpsest, the burdens of genre and publishing, geek outreach, ebooks, and having semiotics for breakfast. (MP3)
265. Neil deGrasse Tyson: The famed astrophysicist led a charge to demote Pluto from planetary status. This conversation investigates the controversy, while touching upon the celebrity culture of astronauts, budgetary cuts, and the dangerous asteroid Apophis. (MP3)
264. Robert G. Kaiser: In this pithy conversation, we talk with veteran Washington Post reporter Robert G. Kaiser about Edward Bernays, lobbying, insider politics, and numerous other Beltway issues. (MP3)
263. Nick Antosca: This lengthy conversation with writer Nick Antosca concerns itself with Antosca's novel, Midnight Picnic, and somehow manages to fuse the subjects of dogs being hurt in novels with the present publishing apocalypse. (MP3)
262. Shauna Reid: The proprietor of What's New, Pussycat? and Dietgirl discusses how writing helped her to shed hundreds of pounds in five years. But how does one find the individual courage to do this amidst considerable societal factors? (MP3)
261. David Denby: The New Yorker film critic has declared war on snark, pointing to a certain strain of writing that he feels is disruptive to current discourse. But is he fully apprised of present journalistic realities? This lengthy conversation considers two lengthy essays in response to Denby's book, finding a few answers and an unanticipated interruption from a stranger. (MP3)
260. Azar Nafisi: The Iranian memoirist talks with us about two of her books, Things I've Been Silent About and Reading Lolita in Tehran, and discusses how the relationship between the personal and the political emerges from submerging into life, literature, and writing. (MP3)
259. Chazz Palminteri & Robert Celestino: We talk with the tough actor and the streetsmart director behind Yonkers Joe, attempting to discern from Mr. Palminteri if specific directors have made him feel uncomfortable. (MP3)
258. Norah Vincent: Norah Vincent has infiltrated gender roles and asylums. But does her latest book, Voluntary Madness, offer a sufficient journalistic response to the mental health issue? (MP3)
Shows from 2008
257. Patricia Cornwell: We talk with the bestselling author of the Kay Scarpetta series and learn the circumstances in which Postmortem became an unexpected hit, while likewise veering into odd asides about Judd Apatow's films, reporters who follow authors into restrooms, and the current state of financing forensic science. (Interview conducted by Sarah Weinman.) (MP3)
256. Allison Amend: The author of Things That Pass for Love talks with us about the criteria for a "golf story," the burdens of faith and language, the two unpublished novels hidden beneath her bed, Zima, and the regrettable labels that pop up when you're a woman writer. This interview also features the first question asked in Pig Latin. (MP3)
255. Paul Schrader: The renowned screenwriter talks with us about his latest film, Adam Resurrected, where we attempt to corroborate Peter Biskind's claims about Schrader bringing a loaded gun to studio meetings, ask Schrader about having esteemed actors pretend to be dogs, and get a very gloomy pronouncement about the current state of the film industry. (MP3)
254. Nacho Vigalondo: The friendly and energetic director of Timecrimes talks with us about the advantages of working outside the Hollywood system, explains how he "found the monster" within his feature film debut, and reveals how a number of unplanned ideas created further ambiguities within his film. (MP3)
253. Christopher Plummer: As an actor, Plummer scarcely needs any introductions. But he talks with us about his life, his career, and his memoir, In Spite of Myself, offering numerous thoughts on Shakespeare, William Shatner, and why the legendary radio writer Arch Oboler couldn't hack theatre. (MP3)
252. 2008 National Book Awards: Our Young, Roving Correspondent offers reports from the floor of this year's needlessly swank ceremony. Interviews include NBA winners Annette Gordon-Reed and Mark Doty. There are thoughts on how one wrestles with Walt Whitman and efforts to determine why Candace Bushnell is at the ceremony. (MP3)
251. Alex Beckstead: In this intensely journalistic and provocative interview with independent filmmaker Alex Beckstead, we talk with Beckstead about his documentary, Paperback Dreams and the current state of independent bookstores. Was Andy Ross simply a bad businessman? Or have today's independent bookstores failed to account for the needs of today's consumers? And to what degree is community and a countercultural environment essential to an independent bookstore? (MP3)
250. Alison Bechdel II: The wonderful Alison Bechdel returns to Bat Segundo to talk about Dykes to Watch Out For, the groundbreaking comic strip that presented the titular dykes as regular people. We discuss Bechdel's influences, probe into the future of cartooning, and ask whether Bechdel has some artistic responsibility to break her hiatus in light of recent developments in California. (MP3)
249. Porochista Khakpour: The author of Sons and Other Flammable Objects talks with us while doodling, but this doesn't distract her from discussing the burdens of universality, David Foster Wallace, and how 9/11 has transformed contemporary fiction. (MP3)
248. David Rees: The man behind Get Your War On discusses his unexpected success lambasting the Bush Administration (and other assorted topics) through clip art. We likewise uncover a bureaucratic plot by the U.S. government to control the white space used by cartoonists. (MP3)
247. David Heatley: The graphic novelist David Heatley discusses his remarkably candid memoir, My Brain is Hanging Upside Down, and Heatley, in turn, answers remarkably candid questions from Our Young, Roving Correspondent about how far one should go in personal comics, paneling, political correctness, and the appropriate number of Ns one should include in a grunt. (MP3)
246. Alec Foege: In a lengthy interview, Alec Foege discusses his book, Right of the Dial, detailing the many ways in which ClearChannel has kept a tight control on the American radio industry and the scope of free expression itself. (MP3)
245. Neal Stephenson: Neal Stephenson is the author of many long and intriguing novels. We talk with him about Anathem, determining the ideal number of people to sit around a dinner table, plunging into Godel and Husserl, dredging up My Dinner with Andre, and finding out the necessary ingredients to spin a heady yarn. (MP3)
244. Kiyoshi Kurosawa: If you're a snob, you might call Kiyoshi Kurosawa a reformed horror film director. If you're not, you might view his latest film, Tokyo Sonata as a natural development in a very interesting career. With the aid of a very helpful translator, Kurosawa talks about some of Sonata's themes and confesses his fear of being compared to Ozu. (MP3)
243. Charlie Kaufman: The Academy Award-winning screenwriter of Being John Malkovich and Eternal Sunshine of the Spotless Mind talks with us about his directorial debut, Synecdoche, New York. We quibble with how to define ideas, talk Beckett, and delve into some of the existential inspirations behind Kaufman's heady motion picture. (MP3)
242. Pale Young Gentlemen: Michael Reisenauer — the dashing young songwriter of the Madison, Wisconsin band Pale Young Gentlemen — reveals just what it takes to be an independent musician these days, performing melodic rock on the road with a good deal of unwieldy string instruments. But he also reveals his creative intuition, as well as the unexpected origin of a particular percussive sound on "The Crook of My Good Arm." (MP3)
241. Megan Hustad: As the economy continued to slide into oblivion in late 2008, it made a good deal of sense to talk with the author of How to Be Useful in these gloomy times. What we didn't anticipate were tangents into the prisoner's dilemma, game theory, and the Machiavellian form of social cooperation . (MP3)
240. Marilynne Robinson: In a rare audio interview, the much-celebrated novelist behind Housekeeping and Gilead discusses her most recent book, Home. We learn Robinson's take on the parable of the prodigal son, talk about Marxism a bit, and discuss a good deal of food — particularly, Robinson's love of toast. (MP3)
239. Jerzy Skolimowski: Our coverage of the New York Film Festival continues with Polish filmmaker Jerzy Skolimowski, who discusses Four Nights with Anna, the first film he's made in seventeen years. Skolimowski also talks with us about his painting career, the "easy money" in acting, and collaborating with Roman Polanski on the Knife in the Water script. (MP3)
238. Mike Leigh: The renowned British filmmaker behind Naked, Secrets & Lies, and Life is Sweet talks about his latest film, Happy-Go-Lucky, accuses Our Young, Roving Correspondent of being "a fundamental, unreconstituted top-rate intellectual," and gets fesity yet precise over his films. (MP3)
237. Bonnie Tyler: You might know her as the singer behind such FM ballads as "Vernal Equinox of the Mind" and "Holding Out for a Supervillain" (although we're not certain we entirely have the titles right), but did you know that Bonnie Tyler was a bawdy joke teller and very much into archaic technology? We didn't either. In this far reaching interview, we discuss everything from the origins of "Total Eclipse of the Heart" to the state of the music industry. (MP3)
236. Markos Moulitsas: The man behind the progressive website, The Daily Kos, talks with us about his new book, Taking on the System. But fireworks ensue once the subject turns to reporting rumors and conjecture as journalism. (MP3)
235. Daniel Levitin: Former music producer and cognitive theorist Daniel Levitin talks with us about the six types that every song can be categorized in. But what of songs, such as Metallica playing at Abu Ghraib, played outside their initial intention? (MP3)
234. Courtney Humphries: The author of Superdove explains the origins, interpretations, and man scientific experiments involving pigeons, and even gives us a few indications on what pigeons taste like. These urban birds may have been B.F. Skinner's folly, but we unferret a few clues as to why they still retain their scientific enigma. (MP3)
233. Brent Spiner: He may be known as the guy who played an android whose name rhymed with "potata," but Spiner makes his case to us as a song man, talks about his struggling years as an actor, and discusses wrestling, Rutger Hauer, and a number of extraordinary claims. (MP3)
232. Sarah Manguso: The noted poet and author of Two Kinds of Decay discusses a variety of literary topics and principles of writing. She even offers us a new way of referring to paragraphs and dwells on the subject of paranoia. (MP3)
231. Paul Auster: On the occasion of his latest novel, Man in the Dark, we met with Paul Auster at his Park Slope home to discuss a dizzyingly array of subjects. We even ask Auster about the ongoing concern for money within his novels. (MP3)
230. Jenny Davidson: YA novels remain championed by some and trivialized and scorned by others. We talk with the author of The Explosionist and explore a considerable array of current arguments and opinions related to these many controversies, while also pinpointing what it takes to write a novel of ideas for younger readers. (MP3)
229. Ross Raisin: Debut novelist Ross Raisin discusses God's Own Country, but not without a considerable digression into Yorkshire dialect and the role that stylized language has in shaping perspective. (MP3)
228. Ethan Canin: In his most recent novel, America America, Canin juxtaposes two Americas: one predicated on politics and the other on sincerity. This interview, conducted at a very early hour in the morning, has Canin and Our Young, Roving Correspondent ponder didacticism, the crazed physical behavior of Lyndon B. Johnson, and the current state of politics. (MP3)
227. Kathryn Harrison: Harrison investigated a murder in her book, While They Slept. But when an author becomes involved with those who survive a terrible crime, where is the ethical line drawn? (Interview conducted by Sarah Weinman.) (MP3)
226. Mike Edison: He was the editor and publisher of High Times. He played in bands. He wrote erotic novels. And when writing his memoir, he named names. The author of I Have Fun Everywhere I Go talks with us about why he dissed so many people in his book, among many other subjects. (MP3)
225. Peter David: With a twelve-year run on the Hulk and numerous other writing credits, Peter David may be one of the most prolific comic book writers working today. He discusses his novel, Tigerheart, and explains why just about every form of writing is derivative. (MP3)
224. Sen. Mike Gravel and Joe Lauria: The two authors of A Political Odyssey discuss the rise of the American military industrial complex, with the former 2008 Democratic presidential candidate revealing why he appeared in a conceptual campaign commercial and hung out with Obama Girl. (MP3)
223. Faye Flam: The former Philadelphia Inquirer sex columnist discusses her book, The Score, touching upon gender distinctions, science, and why so many guys spend thousands of dollars on dating seminars. We get some answers. We maintain some mysteries. (MP3)
222. Nam Le: The author of The Boat discusses the many settings he places his short stories in and why some folks in the literary community are having difficulty accepting his eclectic range. (MP3)
221. Grandmaster Flash and Karen Abbott: We talk with living legend Grandmaster Flash and uncover details about how the DJing landscape has changed over the past thirty years. We also talk with Sin in the Second City author Karen Abbott about the Everleigh sisters and Chicago bordellos in the early 20th century. (MP3)
220. Mark Kurlansky: Mark Kurlasnsky is a reporter and microhistorian who knows a good deal about Gloucester, fish, and many other subjects. We get into the nitty-gritty of Gloucester, discuss the ethical implications of fishing technologies, and even manage to talk about the Luminists. (MP3)
219. Thomas M. Disch: In his last face-to-face interview recorded just ten days before his unfortunate suicide, the legendary poet and speculative fiction writer Thomas M. Disch discusses death, literary posterity, and Philip K. Dick. (MP3)
218. Andre Dubus III: This rather wild interview with the author of The Garden of Last Days not only features an interruption by a hotel catering manger, but includes a startling theory by Our Correspondent about the meaning of beverages within Dubus's novels. (MP3)
217. Rachel Shukert: What's it like to grow up Jewish in Nebraska? Shukert, the author of Have You No Shame?, provides some ideas on this and many more subjects. We talk with her about what it means to write truthfully, where the boundaries are between public and private perception, and even get her to confess to a few unexpected early crushes. (MP3)
216. Mort Walker: In this somewhat controversial interview, we talk with the creator of Beetle Bailey about the origins of his characters, the shrinking space of newspaper comics, and why Walker hasn't referenced Iraq or included women soldiers in his comic strip. (MP3)
215. Christian Bauman: This conversation with In Hoboken writer Christian Bauman resulted in Bauman and Our Correspondent getting kicked out of a diner. Is In Hoboken a folk novel or a rock 'n roll novel? And how does one negotiate economic realities within fiction? (MP3)
214. Ralph Bakshi: Legendary animator Ralph Bakshi (Fritz the Cat, Heavy Traffic) dishes dirt on a good deal of topics: the role of music in his films, why he gave Thomas Kinkade his first big break, and whether America as we know it is dead. (MP3)
213. Steven Greenhouse: Steven Greenhouse, a labor reporter for The New York Times and the author of The Big Squeeze, discusses labor issues and the many societal factors that have led to the worker's reduced stature over the past few decades. But can the blame be laid entirely upon businesses? (MP3)
212. Fiona Maazel: Yes, Virginia, there is a superplague novel in which everybody doesn't die! Fiona Maazel, former managing editor of The Paris Review, discusses the distinctions of her take on the topic, Last, Last Chance, amidst noisy grinders and occasional surveillance. (MP3)
211. Ed Park: We uncover the quiet exuberance of Ed Park, an editor at The Believer and the author of Personal Days. The conversation segues into B.S. Johnson, Park's unfinished novels, Harry Matthews, Harry Stephen Keeler, and many other excitable subjects! (MP3)
210. Cynthia Ozick: A few days before her 80th birthday, living legend Cynthia Ozick is startled to learn that there's more to her fiction than she realizes. But this doesn't stop her from expressing enthusiasm about Lionel Trilling and many other literary topics. (MP3)
209. Sloane Crosley: We talk with essayist Sloane Crosley, the author of I Was Told There'd Be Cake, and demonstrate that there's more to Crosley than shiny hair. (MP3)
208. Tobias Wolff: The celebrated writer discusses (and sometimes avoids discussing) his latest short story collection, Our Story Begins. We delve into some of the science and circumstances of how Wolff writes his stories. Various theories are offered to Wolff, with bemused and insightful responses. (MP3)
207. David Hajdu: We discuss Hajdu's latest biography, The Ten-Cent Plague, examining the early 20th century era of comics and the legislative and cultural forces that worked against these writers and artists. There's also a lengthy discussion on how Hajdu located his subjects and organized his findings. (MP3)
206. Sarah Hall: In this comprehensive, nearly 70-minute interview with Booker Prize finalist Sarah Hall, Hall discusses the common characteristics and narrative development in her first three novels, with a particular emphasis on her dystopic novel, Daughters of the North/The Carhullan Army. (MP3)
205. Errol Morris: The Academy Award-winning documentary filmmaker discusses Standard Operating Procedure and delineates the sensory differences between many forms of images and the audience judgment that comes from such distinctions.(MP3)
204. New York ComicCon 2008: Floor coverage of New York ComicCon 2008 touches upon a variety of strange subjects, including how Duncan exploits yo-yo players, the naughtiness of Archie, and the obscenity trial of Mike Diana. Includes interviews with Jeffrey Brown, Scott McCloud, and Kyle Baker. (Some interviews conducted by Eric Rosenfield.) (MP3)
203. Chen Shi-Zheng & Liu Ye: The actor and director of Dark Matter discuss the intricacies of performing a scene with Meryl Streep and how the Gang Lu school shooting translated into narrative. (MP3)
202. Brad & John Hennegan: The filmmakers behind the documentary, First Saturday in May, discuss the Kentucky Derby, horse racing, and how they set about covering all this madness. (MP3)
201. Mark Sarvas: The man behind The Elegant Variation talks shop about his debut novel, Harry, Revised and also addresses Our Young, Roving Correspondent's concern for a bizarre bit of erection-based prose. (MP3)
200. Nicholson Baker: In this very special 75-minute podcast, author Nicholson Baker outlines how he came across an alternative perspective for World War II with Human Smoke. He also discusses his aborted musical career and the very specific concern for detail found within his novels. (MP3)
199. Richard Price: Richard Price talks about writing Lush Life, the gentrification of New York, and explains his involvement writing the Michael Jackson video, "Bad." (Interview conducted by Sarah Weinman.) (MP3)
198. Jennifer Weiner II: The lovely Jennifer Weiner returns to talk about the books of Cannie Shapiro. But something unexpected occurs. We not only reveal that Weiner is a closet Trekkie, but we try to encourage her to get in touch with her inner geek. (MP3)
197. Michio Kaku: Sometimes, it takes an especially smart string theory physicist to sort out whether phasers, force fields, and the Death Star are physical possibilities. We talk with Physics of the Impossible author Michio Kaku about why newspapers continue to believe in perpetual motion machines and the relationship between science fiction and science fact. (MP3)
196. Jennifer 8. Lee: The author of The Fortune Cookie Chronicles goes into great length about the cultural history of Chinese restaurants. (MP3)
195. Elizabeth Crane II: We learn many things in our second conversation with Elizabeth Crane: she likes exclamation marks, she's shaken off the DFW yoke, and she's quite happy! (MP3)
194. Lydia Millet II: Reunions continue when Lydia Millet returns to our program to talk about How the Dead Dream. (MP3)
193. Marshall Klimasewiski II: In a live conversation at McNally Robinson, Our Young, Roving Correspondent finally meets up with the LBC nominee, talking at length about his short story collection, Tyrants, and his troubling fixation upon balding characters. (MP3)
192. Mimi Weddell & Jyll Johnstone: Mimi Weddell is 93 years old, but she's still going strong as a film actress. We talk with her and filmmaker Jyll Johnstone about the documentary, Hats Off. (MP3)
191. Jeffrey Ford II: Edgar winner Jeffrey Ford returns to our program in an alcohol-enhanced but no less thought provoking discussion about The Shadow Year and his inverted take on the great American novel. (MP3)
190. Bill Plympton: The legendary Oscar-winning animator Bill Plympton is often forgotten in his native country. We talk with Plympton about the wild motifs in his work and what it means to stay alive as an independent animator. (MP3)
189. Will Leitch: We talk with Deadspin.com blogger Will Leitch about his sports polemic, God Save the Fan, and get particularly controversial about Leitch's controversial claims. (MP3)
188. Terry Sanders: The Academy Award-winning documentary filmmaker talks about Fighting for Life, his investigation into the military doctors now practicing amidst constrained conditions in Iraq. (MP3)
187. Stephen Chow and Jiao Xu: Our first bilingual podcast involves a discussion with the filmmaker and star of CJ7. We learn how the constraints of making a family film caused Chow to rethink his approach to poverty. (MP3)
186. Wayne Shannon: His sardonic commentaries on the evening news made him a broadcasting legend in the 1970s and the 1980s. But today, his contributions are largely forgotten. Until now. In this unexpectedly emotional interview, Wayne Shannon reveals how the artistic was tied very close to the personal. (MP3)
185. Chip Kidd: Noted book designer Chip Kidd is also a novelist, and he discusses The Learners, his sequel to The Cheese Monkeys. We also learn how the book's schismatic design caused a few grumblings from lawyers. (MP3)
184. Paulo Morelli: Brazilian cinema remains alive and hopping, and we talk with the director of City of Men about his approach with actors and how he maintained his authenticity in examining the favelas of Rio. (MP3)
183. Samantha Hunt: We talk Samantha Hunt about Nikola Tesla and how she pursued her sense of wonder about science in her novel, The Invention of Everything Else. Is the age of autodidact inventors and self-made pursuers of passion now at an end? (MP3)
182. The Signal: In quite possibly one of our strangest conversations ever, we talk with various cast and crew members of the independent horror film, The Signal, about "nascent colonialism," the origins of Terminus, and whether or not independent horror is one of the last cinematic millieus for visceral expression. (MP3)
181. Toby Barlow: How does an ad man go about shifting gears to write a free verse novel about werewolves? The author of Sharp Teeth discusses this conundrum and other interesting ambiguities. (MP3)
180. Steve Erickson: The great postmodernist novelist Steve Erickson adopted a more traditional narrative structure for his latest novel, Zeroville. But we discuss many of the phantasmagorical ambiguities within this book, while simultaneously discovering a few answers about the way that Erickson's subconscious works. (MP3)
179. Charles Baxter: In our final installment of the "Charles B Trilogy," we discuss The Soul Thief with novelist Charles Baxter and do our best not to reveal the ending. (MP3)
178. Charles Bock: Charles Bock took eleven years to write his debut novel, Beautiful Children. We find out why. (Interview conducted by Sarah Weinman.) (MP3)
177. Charles Burns: The writer and illustrator behind the graphic novel, Black Hole, talks about how personal experience translates into cultural commentary. (MP3)
176. Eran Kolirin: Israeli filmmaker Eran Kolirin talks about his film The Band's Visit and confesses why he's drawn so strongly to simple and static shots. (MP3)
175. Adam Langer: What are the pitfalls in placing a novel in such a specific New York neighborhood? We find out in our lively discussion with Ellington Boulevard author Adam Langer. (MP3)
174. A.L. Kennedy: A.L. Kennedy talks on a wide range of topics shortly after winning the Costa Prize for Day. (MP3)
173. Best Sex Writing 2008: A roundtable discussion at an Alphabet City pizzeria with five contributors to The Best Sex Writing 2008 anthology. (MP3)
172. Jami Attenberg: The author of The Kept Man talks with us about topographical narrative as it pertains to charting Williamsburg and reveals how personal experience may or may not tie into fiction writing. (MP3)
171. Sue Miller: This lively interview with Sue Miller (in relation to her novel, The Senator's Wife), includes a good deal of banter about character names, food metaphors, and the remarkable doodles that Miller affixes to her early drafts. (MP3)
170. Amy Bloom: Amy Bloom discusses her novel, Away. (Interview conducted by Sarah Weinman.) (MP3)
169. 2007 National Book Awards: Experimental journalism was conducted at the 2007 National Book Awards. Interviews include Sherman Alexie, Fran Lebowitz, Joshua Ferris, Christopher Hitchens, and a rather unusual encounter with Jonathan Franzen. (MP3)
Shows from 2007
168. David Rakoff, Part Two: In the second part of our interview with essayist David Rakoff (author of Fraud), things get more candid as we discuss the nature of writing and how to carry on as a writer without repeating yourself. (MP3)
167. David Rakoff, Part One: In the first of a two-part interview with essayist David Rakoff (author of Fraud), Rakoff discusses the differences between written text, oral text, and spoken text. He was also kind enough to offer Our Young, Roving Correspondent some cookies. (MP3)
166. Dave White: The author behind the mystery novel When One Man Dies sits down with Our Young, Roving Correspondent for a quite silly conversation, in which the two men somehow misspell "Jack Daniel's." (MP3)
165. Howard Jacobson: The author of Kalooki Nights discusses Jewish identity and has a rather bizarre objection about sandals that has to be heard to be believed. (Interview conducted by Sarah Weinman.) (MP3)
164. Peter Fernandez & Corinne Orr: In this vivacious conversation, we talk with the two voiceover actors behind Speed Racer about old-time radio, anime, and clarify the abrupt voiceover transition during the third season of Star Blazers. (MP3)
163. Jess Walter: The 2006 National Book Award fiction finalist stops by to discuss The Zero and the challenges of writing a 9/11 allegorical novel. (MP3)
162. Ken Kalfus: The 2006 National Book Award fiction finalist and author of A Disorder Peculiar to the Country discusses sentences, black comedy, and is a bit uncomfortable in comparing himself even remotely to Shakespeare. (MP3)
161. Stewart O'Nan: We talk with the esteemed novelist about Last Night at the Lobster, working-class fiction, and the unexpected vagaries of the publishing industry. (MP3)
160. Will Self: Will Self discusses The Book of Dave and Psychogeography, among a wide array of topics that include walking 25-30 miles a day, J.G. Ballard, George Michael, and a challenge Self puts forth to Our Young, Roving Correspondent concerning the dérive. (MP3)
159. Garth Risk Hallberg: In a very odd conversation, we talk with author Garth Risk Hallberg about A Field Guide to the North American Family, book design, and many strange topics. Mr. Hallberg's streetcred and hostility towards Geos is pursued by Our Young, Roving Correspondent. (MP3)
158. Yannick Murphy II: Yannick Murphy returns to Segundo to talk about Signed, Mata Hari, a novel on the famous spy told using multiple perspectives. (MP3)
157. Roy Kesey & Dan Wickett: We talk with All Over author Roy Kesey and Dzanc Books publisher Dan Wickett about Kesey's work and the future of independent publishing. (MP3)
156. Andrea Barrett : MacArthur fellowship recipient Andrea Barrett stops by to discuss The Air We Breathe, pre-World War I environments, and science and literature. (MP3)
155. Tom McCarthy, Part Two: Our two-part interview with Remainder author Tom McCarthy continues with many esoteric artistic references. (MP3)
154. Tom McCarthy, Part One: The first of our two-part interview with Remainder author Tom McCarthy. (MP3)
153. Ursula Hegi: Ursula Hegi discusses The Worst Thing I've Done. (MP3)
152. Richard Russo: In a conversation with many laughs, Pulitzer Prize winner Richard Russo discusses Bridge of Sighs and looking at things through "the wrong end of the telescope." (MP3)
151. Oliver Sacks: The noted neurologist talks about Musicophilia. (MP3)
150. James Lipton: The man behind Inside the Actors Studio lets down his guard to discuss his life and his work. (MP3)
149. David Michaelis: In a hard-hitting interview, biographer David Michaelis answers questions about Schulz and Peanuts and responds to the controversial charges from the Schulz family. (MP3)
148. Naomi Wolf: The author of The Beauty Myth discusses The End of America and is shocked to learn about Andrew Meyer YouTube remixes. (MP3)
147. Steven Pinker: In this heady conversation, noted cognitive scientist Steven Pinker answers a number of questions about phrases, languages, and other topics pertaining to The Stuff of Thought. (MP3)
146. Danica McKellar: This controversial interview with the Wonder Years actress andMath Doesn't Suck author has McKellar being asked about some of her assumptions about feminism. (MP3)
145. Jeff Parker: The author of Ovenman talks about working-class fiction. (MP3)
144. David Peace: The author of Tokyo Year Zero. (Interview conducted by Sarah Weinman.) (MP3)
143. Katha Pollitt: The noted feminist discusses her memoir Learning to Drive. Includes a lengthy aside on web stalking. (MP3)
142. Brian Francis Slattery: The author of Spaceman Blues discusses ebullient prose and goes nuts about the subjunctive. (MP3)
141. Chimamanda Adichie: The author of Half of a Yellow Sun. (MP3)
140. Naomi Klein: This provocative interview with Shock Doctrine author Naomi Klein has Our Young, Roving Correspondent sparring with Klein over assumptive thinking. (MP3)
139. George Saunders: Author of The Braindead Megaphone in a candid interview about his nonfiction. Includes a discussion on "Borat: The Memo." (MP3)
138. Rupert Thomson II, Part Two: (MP3): The second of our two-part conversation with Rupert Thomson pertaining to Death of a Murderer.
137. Rupert Thomson II, Part One: The first of our two-part conversation with Rupert Thomson pertaining to Death of a Murderer. (MP3)
136. Antoine Wilson: Author of The Interloper. (MP3)
135. Gabe Kaplan: The Welcome Back, Kotter actor discusses just how seriously some people take email pranks. (MP3)
134. Marianne Wiggins: Author of The Shadow Catcher. (MP3)
133. William Gibson: "Warmy blanky" is just one of the magical phrases that the cyberpunk author is obsessed with in this discussion concerning Spook Country. (MP3)
132. Matthew Sharpe and Megan Sullivan: In this Litblog Co-Op podcast, the author of Jamestown discusses his linguistic experiments. (MP3)
131. Kate Christensen: The last podcast in our "Kate" series of late 2007. The effusive comic writer discusses The Great Man. (MP3)
130. Katharine Weber and Levi Asher: In this Litblog Co-Op podcast, Katharine Weber discusses Triangle. (MP3)
129. Katie Roiphe: One of our most controversial interviews. A conversation on Uncommon Arrangements. (MP3)
128. Katherine Taylor and Mindy Schneider: The first in our "Kate" series of podcasts in late 2007, this podcast features Rules for Saying Goodbye author Katherine Taylor discussing the chick lit double standard and Not a Happy Camper author Mindy Schneider about going ot Jewish summer camp in the 1970s. (MP3)
127. Michelle Richmond: Author of The Year of Fog. (MP3)
126. Alternative Press Expo 2007, Part Three: Our three-part podcast of APE 2007 comes to a close with more crazed reports from the floor from Our Young, Roving Correspondent. (MP3)
125. Alternative Press Expo 2007, Part Two: The second part in our APE 2007 coverage, with reports from the floor from Our Young, Roving Correspondent. (MP3)
124. Alternative Press Expo 2007, Part One: The first of three parts in our APE 2007 coverage. (MP3)
123. Steven Hall: Author of The Raw Shark Texts. (MP3)
122. Richard Flanagan: The Tasmanian author of The Unknown Terrorist. (MP3)
121. Gary Shteyngart: The author of Absurdistan. (MP3)
120. Berkeley Breathed, Part Two: The second of our revealing two part interview with Bloom County/Opus cartoonist Berkeley Breathed. (MP3)
119. Berkeley Breathed, Part One: The first of our revealing two part interview with Bloom County/Opus cartoonist Berkeley Breathed. (MP3)
118. Austin Grossman: The author of Soon I Will Be Invincible. (Interview conducted by Sarah Weinman.) (MP3)
117. Scarlett Thomas: A rare interview with the author of The End of Mr. Y. (MP3)
116. Alan DeNiro & Carolyn Kellogg: The Litblog Co-Op finalist discusses Skinny Dipping in the Lake of the Dead. (Interview conducted by Carolyn Kellogg.) (MP3)
115. A.M. Homes II: A.M. Homes returns to our program to discuss The Mistress's Daughter. (MP3)
114. Marshall Klimasewiski & C. Max Magee: Litblog Co-Op podcast. The author of The Cottagers. (MP3)
113. Mark Binelli & Jessica Stockton: Litblog Co-Op podcast. The author of Sacco and Vanzetti Must Die. (MP3)
112. Lionel Shriver: The author of The Post-Birthday World. (MP3)
111. John Sheppard: The author of Small Town Punk. (MP3)
110. Tao Lin: The young author discusses Eeeee Eee Eeee. (MP3)
109. William T. Vollmann II: Vollmann returns to Segundo to discuss Poor People. (MP3)
108. Ken Alder: A conversation with Ken Alder about lie detectors. (MP3)
107. Arlene Goldbard: Goldbard discusses the notion of creative community. (MP3)
106. Ellen Klages: The author of Portable Childhoods. (MP3)
105. China Miéville: Noted New Weird author discusses Un Lun Dun. (MP3)
104. Charlie Anders & Annalee Newitz: The dynamic duo behind She's Such a Geek discuss women and technology. (MP3)
103. Ron Jeremy: The famed porn star discusses his biography and has choice words to say about a journalist. (MP3)
102. Jane Ganahl: Author of Naked on the Page discusses finding love as a middle-aged woman. (MP3)
101. Martin Amis: Author of House of Meetings. (MP3)
100. David Lynch: The noted filmmaker discusses Transcendental Meditation and reveals whether or not he understands his films. (MP3)
99. Tayari Jones: Author of The Untelling. (MP3)
98. Charlie Huston: Mystery author. (MP3)
97. Ngugi wa Thiong'o & Carrie A.A. Frye: In this Litblog Co-Op podcast, the famed Nigerian author discusses Wizard of the Crow. (MP3)
96. Neal Pollack: He may be an Alternadad, but how does Pollack reconcile this new image with his previous satirical career? (MP3)
95. Heidi Julavits: Believer editor and author of The Uses of Enchantment clarifies her "anti-snark" essay. (MP3)
94. Stephen Graham Jones & Scott McKenzie: Litblog Co-Op podcast. Author of Demon Theory. (Interview conducted by Carolyn Kellogg.) (MP3)
93. Nick Mamatas: Author of Under My Roof. (MP3)
92. Christopher Moore: The comic novelist discusses You Suck, San Francisco topography, vampires, and the pressures of being a writer. (MP3)
91. Valerie Trueblood & Anne Fernald: Litblog Co-Op podcast. Interview with Seven Loves author. (MP3)
90. Richard Ford: The esteemed author of Lay of the Land gets a little testy over certain interpretations of his work. (MP3)
Shows from 2006
89. Nina Hartley: The adult film actress offers her views on good sex. (MP3)
88. Amy Sedaris: The famed Strangers with Candy comedienne talks about I Like You. (MP3)
87. Simon Winchester: A discussion of the 1906 San Francisco earthquake. Just don't call him a journalist. (MP3)
86. Claire Messud: Author of The Emperor's Children. (MP3)
85. Kate Atkinson: Author of One Good Turn. (MP3)
84. Francine Prose: Author of Reading Like a Writer. (MP3)
83. Joe Meno, Todd Taylor, Todd Dills & Bucky Sinister: During a crazy 2006 tour through the West Coast, Our Young, Roving Correspondent caught up with numerous adrenaline-charged, sleep-deprived writers. Includes a lengthy discussion of The Boy Detective Fails. (MP3)
82. Kelly Link: The celebrated fantasy writer discusses her short stories. (MP3)
81. Mary Gaitskill: Author of Veronica. (MP3)
80. Edward P. Jones: Author of The Known World. (MP3)
79. Mark Z. Danielewski: Discussion of Only Revolutions. Features one of the most exuberant moments in the history of The Bat Segundo Show. (MP3)
78. Richard Dawkins: the author of The God Delusion discusses atheism and has his assumptions challenged in a very personal manner by Our Young, Roving Correspondent. (MP3)
77. Sam Savage: Litblog Co-Op podcast. Conversation in Madison, Wisconsin with the author of Firmin. (MP3)
76. Scott Smith: Author of The Ruins. (MP3)
75. George Ilsley & Matt Cheney: Litblog Co-Op podcast. Author of ManBug. (Interview conducted by Carolyn Kellogg.) (MP3)
74. Sidney Thompson & Jeff Bryant: Litblog Co-Op podcast. (MP3)
73. Joe Eszterhas: The infamous screenwriter discusses how to make it in Hollywood. (MP3)
72. Nora Ephron: The famed writer and filmmaker discusses I Feel Bad About My Neck. (MP3)
71. Bouchercon 2006: Coverage of mystery convention. (MP3)
70. T.C. Boyle II: T.C. Boyle returns to Segundo to discuss Talk Talk. (MP3)
69. Annalee Newitz: Author of Pretend We're Dead. (MP3)
68. Tommy Chong: One half of Cheech & Chong discusses his remarkable drug arrest and dishes dirt on comedy and his former partner. (MP3)
67. Pamela Ribon: Author, blogger, screenwriter. (MP3)
66. Daniel Handler: The man behind Lemony Snicket discusses his adult fiction. (MP3)
65. Julia Glass: Author of The Whole World Over. (MP3)
64. Victor Navasky: The publisher of The Nation discusses his life's work and what it's like to run an opinion journal that loses money. (MP3)
63. Alison Bechdel: Author of Fun Home. (MP3)
62. Carl Sheeler: Political candidate Carl Sheeler contacted The Bat Segundo Show asking for an interview. And who were we to deny him? Unfortunately, Sheeler didn't care for our questions and accused Our Young, Roving Correspondent of being a Republican. (MP3)
61. Hillary Carlip & Annabelle Gurwitch: Authors of Queen of the Oddball and Fired. (MP3)
60. Robert Birnbaum: In a Boston cemetery, Our Young, Roving Correspondent talks with the prolific literary journalist. (MP3)
59. Jeff VanderMeer: New Weird fantasy author VanderMeer discusses his work, mushrooms, and taxonomies. (MP3)
58. A.M. Homes: The first of our conversations with provocative writer A.M. Homes. This conversation concerns itself with This Book Will Save Your Life. (MP3)
57. Jonathan Safran Foer: Author of Extremely Loud and Incredibly Close. (MP3)
56. Dan Green & Michael Martone: Litblog Co-Op podcast. (MP3)
55. David Mitchell II, Part Two: The second part our Black Swan Green discussion. (MP3)
54. David Mitchell II, Part One: Our first Segundo guest returns to discuss Black Swan Green in the first of a two-part conversation. (MP3)
53. Michael Orthofer & Betsy Wing: Litblog Co-Op podcast. Discussion with translator Betsy Wing. (MP3)
52. Dan Wickett & Kellie Wells: Litblog Co-Op podcast. (MP3)
51. OGIC, Scott Esposito & Edie Meidav: Litblog Co-Op podcast. (MP3)
50. John Updike: The famed author talks about Terrorist and is asked questions about his fiery BEA 2006 speech. (MP3)
49. Dave King: Author of The Ha-Ha. (MP3)
48. Colson Whitehead: Author of Apex Hides the Hurt. (MP3)
47. Hal Niedzviecki: The Canadian cultural commentator has a bone to pick with the "special" qualities of our society. (MP3)
46. BEA 2006 Part 4: The final part of our floor reports from BEA 2006. (MP3)
45. BEA 2006 Part 3: More floor reports from BEA 2006. (MP3)
44. Derik Badman & Jordan Stump: Litblog Co-Op podcast. Discussion with translator Jordan Stump. (MP3)
43. BEA 2006 Part 2: The second part of floor reports from BookExpo American 2006. (MP3)
42. BEA 2006 Part 1: The first part of floor reports from BookExpo America 2006. (MP3)
41. Carrie A.A. Frye & Yannick Muprhy: Litblog Co-Op podcast. (MP3)
40. Dean Haspiel & Harvey Pekar: We talk with graphic novel legend Harvey Pekar and illustrator Dean Haspiel, who has illustrated much of Pekar's work. (MP3)
39. The May Queen Panel: A late-night discussion at a hotel bar with several contributors to The May Queen about life as a woman in your thirties. (MP3)
38. Kassia Kroszer & Gina Frangello: Litblog Co-Op podcast. (MP3)
37. Sarah Waters: The author of The Night Watch. (MP3)
36. Jeffrey Ford & Gwenda Bond: Litblog Co-Op podcast. (MP3)
35. Sheila Heti & Mark Sarvas: Litblog Co-Op podcast. (MP3)
34. Tom Tomorrow: The cartoonist behind Our Modern World. (MP3)
33. Alex Robinson: The third part of our APE 2006 coverage. This is a live panel conducted with Box Office Poison/Tricked author Alex Robinson. (MP3)
32. Alternative Press Expo #2: More floor reports from Alternative Press Expo 2006. (MP3)
31. Alternative Press Expo #1: The first part of our APE 2006 coverage, featuring floor reports from Our Young, Roving Correspondent. (MP3)
30. Erica Jong: The woman behind the "zipless fuck" talks about life, poetry, and Seducing the Demon. (MP3)
29. Jay McInerney: The Bright Lights, Big City author discusses The Good Life. (MP3)
28. Dana Spiotta: Author of Eat the Document. (MP3)
27. Ron Hogan: Author of The Stewardess is Flying the Plane. (MP3)
26. William T. Vollmann: The noted novelist discusses Copernicus and Europe Central. (MP3)
25. Jonathan Ames II: Jonathan Ames returns to Segundo to discuss his nonfiction writing. (MP3)
24. Liz Perle: Author of Money: A Memoir discusses women's relationship with money. (MP3)
23. Kirstin Allio & Dan Wickett: Litblog Co-Op podcast. (MP3)
22. Megan Sullivan, Rupert Thomson, Scott Esposito & Edward Falco: Litblog Co-Op podcast. (MP3)
21. Ander Monson, Elizabeth Crane, Sam Jones & C. Max Magee: Litblog Co-Op podcast. (MP3)
20. Dave Barry: This very odd interview with the noted humorist also includes an unexpected skirmish with a smug Chronicle reporter. (MP3)
19. Jay Ryan: The Chicago poster artist discusses his craft. (MP3)
18. Chris Elliott: The man associated with David Letterman and Get a Life discusses his debut novel, The Shroud of the Thwacker. (MP3)
17. Mark Ames: The author of Going Postal discusses office massacres and revolution. (MP3)
Shows from 2005
16. Aimee Bender: The Los Angeles author discusses Willful Creatures. (MP3)
15. Octavia Butler: In one of her final interviews before her death, the MacArthur fellowship author discusses Fledgling. (MP3)
14. Jennifer Weiner: The famed chick lit author talks Goodnight Nobody. (MP3)
13. Lizzie Skurnick & Wendy Lesser: Interviews with poet/litblogger Lizzie Skurnick and Threepenny Review editor Wendy Lesser. (MP3)
12. Lydia Millet: Author of Oh Pure and Radiant Heart. (MP3)
11. Laila Lalami, Scott Esposito, Beth Wadell & Tito Perez: Our first roundtable podcast features a number of litbloggers assembling at Scott Esposito's house discussing Laila Lalami's Hope and Other Dangerous Pursuits with the author herself! (MP3)
10. T.C. Boyle: Our first lively conversation with the prolific novelist T.C. Boyle has Our Young, Roving Correspondent asking the man questions on three hours of sleep. (MP3)
9. Laura Joplin: What's it like being the sister of Janis Joplin? Despite a rather noisy coffee grinder in the background, Joplin offers some insight into the famed singer. (MP3)
8. Bret Easton Ellis: Ellis, the author of Less Than Zero and American Psycho, talks about Lunar Park and offers some forthright remarks on "being a wuss." (MP3)
7. Periel Aschenbrand: Aschenbrand, the fiery force behind Body as Billboard, discusses her t-shirt empire and her book, The Only Bush I Trust Is My Own. (MP3)
6. Norman Solomon: The controversial journalist discusses War Made Easy and the relationship between the American media and war policy. (MP3)
5. Paula Kamen: Kamen discusses All in My Head, her memoir and study of chronic headaches. (MP3)
4. Amanda Filipacchi & Kevin Smokler: Two interviews in one show! Filipacchi discusses Love Creeps and the nature of exuberant writing, while Smokler (editor of Bookmark Now) ponders the future of books in an uncertain digital era. (MP3)
3. Jonathan Ames: While touring for the paperback of Wake Up, Sir, Jonathan Ames is rather surprised by the "French critic" questions asked of him. (MP3)
2. Dennis Loy Johnson, Valerie Merians & David Kipen: At BEA 2005, Our Young, Roving Correspondent tracks down the folks behind Melville House and discusses screenwriting with the effusive David Kipen. (MP3)
1. David Mitchell: The show that started it all. David Mitchell discusses Cloud Atlas with Our Young, Roving Correspondent, who was rather green at this point in the program. (MP3)