Wayne Koestenbaum is most recently the author of Humiliation.
Listen: Play in new window | Download (Running Time: 56:42 — 51.9MB)
Condition of Mr. Segundo: Fully considering the witnesses.
Author: Wayne Koestenbaum
Subjects Discussed: Whether a deliberate slander of a surname is a humiliation, the three components of humiliation (victim, abuser, and witness), the differences between recorded humiliation and experiential humiliation, spectacles of martyrdom, preexisting humiliation and statutes of limitation, edicts of instantaneous revocation, Koestenbaum's use of triangles to uphold book concepts, itemizing shameful personal anecdotes, self-excavation as a writer, the pleasure of sentence making, being eons away from publication, rousing one's self from stupor through stimulated memories, glimmerings that regurgitate and abreact, Koestenbaum's obsession with a paddled third-grader, shifting personal anecdotes around to serve the narrative and whether this cheapens it, life as an experience of first times, Freud's cathexis, cheapening vs. coarsening, what Koestenbaum doesn't write about, Koestenbaum's uncertainty in knowing whether or not he humiliates his own parents, growing up in a family where disclosure is normal, observing a large woman who urinates in the middle of a sidewalk, Edith Massey, Female Trouble, parodying Russ Meyer, John Waters as instigator of a cinematic spectacle, being simultaneously atrocious and radiant, Divine, fecal doppelgangers, honesty vs. humiliation, displaying one's body, David Foster Wallace's "Big Red Son," the genuine facial expression of a person in orgasm, Anita Bryant being pied, pornography and humiliation, seeing the malevolent as human, the draw of Liza Minnelli videos, the human duty to understand multiple perspectives, an artificially polarized theater of affect, Freud and children getting beaten, being kind to the humiliated, finding Alec Baldwin sexually attractive, Alec Baldwin as a macho ego ideal, rejecting tabloid culture, the scapegoating culture, the London riots, privileged humiliation, Frantz Fanon's The Wretched of the Earth, the Jim Crow gaze, Abu Ghraib, Michael Jackson, whether Osama bin Laden was humiliated because America withheld the photo, Annie Leibovitz taking photos of Susan Sontag's corpse, David Rieff, respecting evil historical figures, whether Shakespeare humiliated language, Basquiat striking out words in his paintings, Finnegans Wake, humiliation vs. a sense of wonder, radical muscularity within language, "Bare ruined choirs, where late the sweet birds sang," logocide, writing with physical pleasure, humiliation vs. sorting out thoughts, critiquing the sign system of American power, writing on paintings, wrongness as the new gold standard, Gertrude Stein, "maltitude," well-done violent movies, John Woo, major human dynamics at stake, behavioral options when responding to assholes, Eleanor Roosevelt's "Nobody can make you feel inferior without your consent" maxim, humiliation and consent, Freud's anti-Semitic experiences, writerly failure, vengeance, TC Boyle's "Bury your enemies," and aggression in writing.
EXCERPT FROM SHOW:
Correspondent: In "Catheter," you write at the end, "I have a noble aim: to urge you to be kind when you see someone humiliated, even if you think that the shamed person deserves punishment." When you find someone like Alec Baldwin sexually attractive and, in your own words, "wondering why I agree to occupy this role rather than refuse it by vowing to ignore the tabloid trade of trashing the stars," I'm wondering if you are being kind to Alec Baldwin. If you don't know the figure who is being humiliated, if you've never met them, can you always be kind? I'm curious about this.
Koestenbaum: You mean, is that like the tree falling in the forest thing? Like if I'm kind to Alec Baldwin by not reading a scandalous story about him, how will he know I'm being kind?
Correspondent: That, and also this compelling allure of participating in that culture. I mean, when that whole thing came out, I heard about it from friends. But I made a conscious choice not to participate in it. Because I just felt that it wasn't worth my time. I'm only getting one side of the story. I don't know Alec Baldwin. I like him as an actor, but, you know, what business is it of mine? You know what I mean? So as a result, it seems to me that you're finding or you're vacillating with "Should I participate?" To be or not to be.
Koestenbaum: Right. Okay, I will say that I totally get your point. That you're talking about the kind of conscientious objection to or an abstaining from the gladiatorial carnival of consuming celebrity carrion.
Correspondent: Absolutely.
Koestenbaum: And I understand that. I would say that in my life, I have made a few golden exceptions to that rule because of deep libidinal and imaginative connections that I had. And so for example, having written a whole book about Jackie Onassis, that's a case where I flagrantly did not abstain from the national profession of consuming images of Jackie. I indulged it. But that's because I had deep unconscious motives. And I felt that much for me was personally at stake in pursuing that obsession. In the case that you're mentioning, where you like Alec Baldwin as an actor but you don't have strong feelings about him, it's not a difficult thing for you to abstain. For me, like Alec Baldwin, I didn't consume it as deeply originally as I did when I decided to write about it. But I do have a kind of long-standing crush on Alec Baldwin. I've interviewed him. I wrote about him in my book Cleavage a little. "My Evening with Alec Baldwin." We're the same age. He is a kind of weird hectoring ego ideal — hectoring isn't the right word. I mean, he seems like a kind of bossy guy. He's a kind of macho ego ideal for me. So I have — he's a — I agreed, agree I have cast him in my drama, but, yeah, I'm using him as a teaching point.
Correspondent: But how can you be kind? I mean, I think you nailed it on the head there by pointing out and being fully candid about the fact that there's an allure there. There's a sexual attraction there. He forms an imaginary impulse for all sorts of things in your mind. Which is perfectly fine and that's completely understandable. But at the same time, can you also be kind when you have that going on as well? It's almost as if this is another instigation point for humiliation.
Koestenbaum; Right. No, no, no, I will say then that, toward Alec Baldwin, perhaps I have not been supremely kind. But I'm not alone. And I would like to think — maybe I'm dreaming — I would like to think that I'm placing the whole Alec Baldwin crease within a really large cultural context of these kinds of spectacles. And I'm reviewing, I'm saying on the one hand I get a sort of sadistic erotic relish from this. And then on the other hand, I wish to abstain from the process of scapegoating others. I'm never saying he's a bad father. There's never a moment where I pass judgment on him. I'm commenting instead on his use of the word "humiliating" in the thing to his daughter. It's hard for me to really explain this, except to say that I'm not making judgments about Alec Baldwin. I'm making judgment about the star culture and the culture of scapegoating.
Correspondent: It can be argued that the London riots, which occurred a few days ago at the time of this conversation, that they arose because you have the poor, the young, the disenfranchised given no choice. Essentially they are humiliated. Thus, you have revolt from humiliation. You touch upon this very early in the book where you deal with revolt, activism, and uprising as a response to humiliation. You conclude that, "Choosing homicidal martyrdom as a response to historical humiliation, I become a suicide bomber." What of this space in between which causes riots? Very often you have no progress but more of the same. How do you reconcile? What we've been talking about here is essentially privileged humiliation vs. an unprivileged humiliation in which it's unrest or activism.
Koestenbaum: That's a really — I mean, I don't have profound or definitive things to say. That's a moral conundrum for deeper minds than mine. Honestly. But in a way, it's the question of a justified violence or of revolution, a violent revolution. And when it's justified or it's not. And who is to decide when it's justified. That's a big question. And I think it's — I want to say case by case. I would hesitate to make any generalizations about revolution. I think I talk about what I call the Rosa Parks principle, where humiliation leads to uprising and activism or Frantz Fanon in The Wretched of the Earth. But let's just call it the suicide bomber or the terrorist question. I don't want to say pro-terrorist things. Because I don't really feel very pro-terrorist.
Correspondent: But you are willing to confront what you call the Jim Crow gaze. That look where someone looks at another person as if there is nothing there. Complete invisibility. Entirely because of race and also often because of class or because of sexual orientation or what have you. It seems to me that this willingness on your part to tackle this difficult question doesn't necessarily make your views on humiliation legitimate or transferable from this place of privilege and this place of media obsession to this really stark territory of "How do I get by when I don't have any options on the streets?"
Koestenbaum: Right.
Correspondent: No thoughts in terms of the Jim Crow gaze in comparison to the Alec Baldwin stuff we were talking about before?
Koestenbaum: It's a really — I mean, I talk about both things in the book. Because it seems that with the title and a subject like humiliation, I have a feeling I don't want to write a book just about the Alec Baldwin things. That's only one question that interests me. And I was just as much motivated to write this book by the Abu Ghraib things. But as I say, very honestly, there were three catalysts: Clinton, Michael Jackson, and Abu Ghraib. They have very little to do with each other. But there is a kind of spectrum where all three instances involve the United States, power, scandal, and sex. Or the sexualizing of — I don't know. I don't want to say glib or wrong things.
Correspondent: Yeah.
Koestenbaum: I try in this book through the use of these numbered fragments to keep as separate as possible some of these kinds of instances for exactly what you're suggesting. That it's not possible to map what you're calling "privileged humiliations" or, as I describe on my own, having had a relatively humiliation-free and lucky life, nonetheless I could go into this litany of my humiliations. I don't want to say that all suffering is the same.
Correspondent: Life is not a comparison of horrors. That kind of thing.
Koestenbaum: No.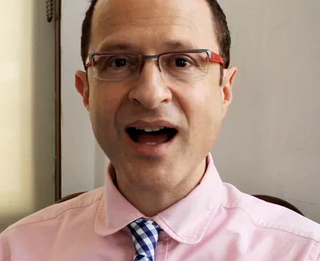 Correspondent: Well, let me try to get on this from another angle. You had mentioned very early on — and I was actually going to bring this up too — the photos that Annie Leibovitz took of Susan Sontag. The Osama bin Laden execution. There was no photo of a dead body. Saddam Hussein's execution, we do get to see him. Now you write of Leibovitz taking photos of Sontag's corpse, as we said earlier, quoting David Rieff, who said that she was humiliated posthumously. So the question is, if one doesn't have the choice of seeing the photos, is it still possible to humiliate the object or the person? Was the decision, for example, to not release the Osama photos a more respectful choice? Or was it possibly something — by not giving Americans the option to humiliate or to not humiliate, maybe it was almost a dishonest choice. What do you think about that?
Koestenbaum: Yeah. I mean, I don't want to chicken out of a question But I can't. I don't know — do I really want to talk about the Osama bin Laden photos? It feels way beyond what I can speak about responsibly in a way.
Correspondent: Even if you were also simultaneously asking us to feel kindness for those who are absolutely terrible as well.
Koestenbaum: Yeah. I mean, the only reason I say I don't want to — it just seems — just because I wrote this book, it doesn't mean I feel that I'm an expert on the world's atrocities or am some extraordinary moral barometer in a way. The question has a lot of responsibility tied into it. As if because I mentioned the Susan Sontag photos in the book, I'm automatically going to have an opinion about the Osama bin Laden photos. Which I don't. I mean, basically, I don't have a stand about "Yes, release all photos" or "No, don't release all photos." Maybe I don't understand your question.
Correspondent: Maybe the direct question to ask you is: Is Osama worthy of the same respect if someone is being humiliated as David Rieff suggested of Sontag?
Koestenbaum: Well, is that then the question of, like, "Is it possible to imagine Hitler had a mother and that she loved him?" And that's again a question way too complicated to know the answer to. Is it possible to include in the human family some of the worst people? And I do say in the book that when I imagine or see a serial killer led to his execution, whimpering, I feel clemency rise within me. Yeah, I have that impulse. I bet you do too, if you're asking the question. Yeah, I do have that impulse.
Listen: Play in new window | Download (Running Time: 56:42 — 51.9MB)