This special podcast is a collection of journalistic experiments carried out on November 14, 2007 at The National Book Awards.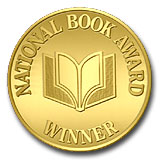 Listen: Play in new window | Download (Running Time: 20:53 — 19.1MB)
Condition of Mr. Segundo: Kidnapped by an army of experimental journalists.
Guests: Sherman Alexie, Fran Lebowitz, Levi Asher, Nicholas Delbanco, Jim Shepard, Steve Wasserman, Tayari Jones, Sara Zarr, Joshua Ferris, Jonathan Franzen, and Christopher Hitchens.
Subjects Discussed: People who look pretty, growing beards, the possibilities of Sherman Alexie growing a Van Dyke, honesty in the YA world, tips on how to emcee an awards ceremony, the nature of entertainment at award ceremonies, political fighting, clucking on stage, medals, authors and racehorses, whiskey and preparation, asking writers to agree on something, dark horse fiction authors, tuxedos and ties, whether awards promote the serious reading of literature, being confused with another African-American author, Story of a Girl, the first person plural, Joshua Ferris's second novel, why Jonathan Franzen will never be your Facebook friend, and Christopher Hitchens's faith in contemporary authors.
EXCERPT FROM SHOW:
Alexie: It's good to be here. Everybody looks pretty. So…
Correspondent: Do I look pretty? You look pretty.
Alexie: You look very pretty in fact. Your beard looks nicely trimmed and it has the auburn highlights in it.
Correspondent: Yeah, yeah. It's like three weeks' growth.
Alexie: Oh right. So there you go. Is it for luck or something? Did you…?
Correspondent: Well, for the winter actually. I thought I'd look distinguished this way. But this is about you, not about me.
Alexie: (laughs) Well, I can grow a beard. But only three spots. So I'd look rather Ewok-like, I think.
Correspondent: Maybe you should try for a Van Dyke.
Listen: Play in new window | Download (Running Time: 20:53 — 19.1MB)