Alex Rivera is the director and co-writer of Sleep Dealer, which is scheduled for limited release on April 17, 2009.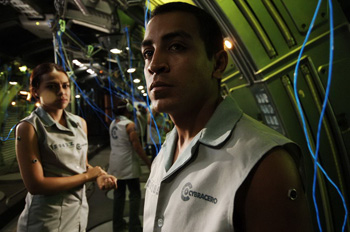 Listen: Play in new window | Download (Running Time: 26:08 — 23.9MB)
Condition of Mr. Segundo: Hoping to avoid Morpheus's maquiladoras.
Guest: Alex Rivera
Subjects Discussed: David Riker's La Ciudad, splitting screenwriting/directing duties, the collaboration process, the dynamics of globalization, labor and New World Order, the importance of having a heart when making a film, being the "Tin Man" to the "Wizard of Oz", setting a futuristic story in the Third World, doing something new with science fiction, Sleep Dealer's lack of references to contemporary guerrilla armies, the Mayan Army of Water Liberation, intercepting a radio signal without problems, encryption, the heightened realities that come from balancing multiple narrative issues, clairvoyance in a bed of glue, machines and remote control, William Gibson's Neuromancer, wireless vs. cables, what "looks cooler" on film, organizing specific movements, looking for actors with dance backgrounds, ambition vs. practicalities of low-budget films, Fritz Lang's Metropolis, satirical television commercials, Robocop, the "post-border spirit" of collaboration, class division, using humor and satire to discuss the evils of fascism, Starship Troopers, Brazil, on directing a first feature after 15 short films, mashups and found footage, Craig Baldwin, reusing and recontextualizing images, switching from collage to narrative, financial assistance from the Sundance Institute, the false creative ideas of being a director, sprinkling found footage from the Iraq War into the narrative, pharmaceutical company ad campaigns, shanty towns on the outskirts of Tijuana, Mad Max, hiding behind technologies, police resistance, Thomas Mann's "principle of least resistance", increased connectivity vs. widening economic gap, the Berlin Wall, mariachis offering to play songs, Mexico's legacy of tradition, the "wacky prediction" of big ideas, ultimate outsourcing, machines that eat up money, the Slurpee effect, Tijuana as the city of the future on t-shirts, spoofing Independence Day, flying sombreros that blow up Congress, Nortec DJs, Urban Outfitters, donkey shows and getting drunk, Tijuana as immigration gateway, and bad puns.
EXCERPT FROM SHOW:
Correspondent: I would put forth to you, based on how excited you were just talking about Craig Baldwin, that you still have this impulse to take other things and transmute them and rearrange them. I'm curious how you got your fix during the course of Sleep Dealer in terms of recontextualizing found stuff and found locations. Did it come back to initial objects? Or taking things from eBay and the world around us and reconfiguring for this particular world?
Rivera: First of all, I would say, for me, the notion of being a director and the notion of being creative is laden with a lot of false ideas. This idea that the artist, the filmmaker, generates this vision. The truth is we sample. We work with actors who bring what they bring. We work with locations that pre-exist. So we're always sampling and recycling no matter what we pretend to be doing. And Sleep Dealer is a film that does recycle more than other films in two big ways: one is we've got found footage sprinkled throughout the narrative. There are helicopters and aerial shots that were probably filmed for some news crew. And we bought them and put them in the film. And they're woven into the narrative. There's footage from the war in Iraq that is recontextualized as part of this sci-fi future war. There are images of the nervous system that are used in this science fiction-y way in Sleep Dealer that were probably produced for a pharmaceutical company ad campaign. And we brought those into our narrative. And so this is a science fiction where it's perforated by already existing footage. The other way that we're sampling is in the locations. Because as a documentary filmmaker, I saw places that blew my minds. Shanty towns on the outskirts of Tijuana that push up against the border wall. The border wall itself running down a beach and out into the ocean. High-tech factories next to some of the poorest neighborhoods in the world. And so you see these things that look, in front of your own eyes, more bizarre, more dystopic, than anything in Mad Max. And so I got the idea that we could make science fiction using documentary strategies.
Listen: Play in new window | Download (Running Time: 26:08 — 23.9MB)