Bonnie Tyler is the legendary singer behind such tracks as "Vernal Equinox of the Mind" and "Holding Out for a Supervillain."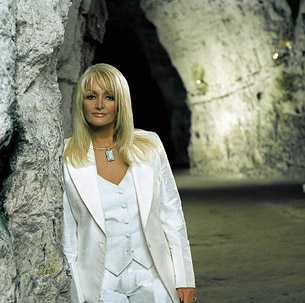 Listen: Play in new window | Download (Running Time: 37:18 — 34.1MB)
Condition of Mr. Segundo: Nothing he can say, a total eclipse of the Bat.
Guest: Bonnie Tyler
Subjects Discussed: Tyler co-writing most of the tracks on the album, Wings, singing vs. songwriting, breaking up with managers, shyness, hairs that stand up on the back of the neck, turning down a song by Jim Steinman, songs that involve the devil, Desmond Child, James Bond, Tyler turning down the Never Say Never Again theme, Heartstrings and recording cover songs mostly from male recording artists, the song selection process, Meat Loaf, rehearsing "Total Eclipse of the Heart," the seven minute opuses on Faster Than the Speed of Night, a group of passengers who were traumatized by Tyler singing on an Air France jet, Noel Gallagher, contending with hardcore fans, a 15-year-old Australian who claimed to be Tyler's daughter, avoiding retirement, the number of shows Tyler performs a year, the endless onslaught of greatest hits albums, the Psion SMX and iPods, country music, Duffy, what Bonnie reads, Les Dawson, Tyler tells a bawdy joke, Botox, ageism, music videos and photo shoots, being judged on physical appearance, looks vs. voice, MTV and YouTube videos, the nightmare of making music videos, restrictions from record companies, independent labels, and music and the Internet.
EXCERPT FROM SHOW:
Correspondent: Going back to Wings, I actually wanted to talk about "Crying in Berlin." This song, out of all the songs that I've listened to of yours, sounds the most like a James Bond song. And I do know the Hindustan Times reported in 2006 that the only thing that could bring you out of retirement was recording a James Bond theme of some sort. I'm wondering if you've considered approaching the Bond producers to sing a song just as you called up and contacted [Jim] Steinman, and said, "Hey, I want you to go ahead and produce this particular album."
Tyler: No. It just happened. They just asked me. Would I like to do a song? And they sent me the song. "Never Say Never," right?
Correspondent: Yeah.
Tyler: And I listened to it, and I thought, "Ugh! Shit! I don't like it."
Correspondent: It is one of the weakest of all the Bond themes.
Tyler: I really would die to do a James Bond song, you know? But I can't do it. My heart wouldn't have been in it. I had to turn it down. Now how many people turn down a Bond song, I don't know. But I turned it down because I didn't like it. And I was proved right. Because I think out of all the songs.
Correspondent: Who remembers it?
Tyler: I can't even remember it.
Correspondent: (sings) "Never say never again." Yeah, I know.
Tyler: I don't remember. It didn't appeal to me at all. So I turned it down. And that's the only regret that I have. But it was…
Correspondent: It wasn't actually an official Bond movie, technically speaking. Because it was produced outside the [Albert] Broccoli camp. So I think you're on safe ground.
Tyler: It was a Bond movie!
Correspondent: It was a Bond movie, but it wasn't official under the Albert Broccoli camp. It was a Sean Connery once-over. Because it was also Thunderball revisited.
Tyler: Whatever. I got offered one and I turned it down.
Correspondent: Did you consider reapproaching them and saying, "Hey, I'd love to do a James Bond song. But this one doesn't cut it. Can I bring in one of these many songwriters who are sending me songs?" Did you try that tactic?
Tyler: No, I didn't. But you've just given me a good idea. (laughs)
BSS #237: Bonnie Tyler (Download MP3)
Listen: Play in new window | Download (Running Time: 37:18 — 34.1MB)