Mike Leigh is the filmmaker behind Naked, Life is Sweet, Vera Drake, and, most recently, Happy-Go-Lucky, which is currently playing the New York Film Festival (among many others) and opens in the United States on October 10.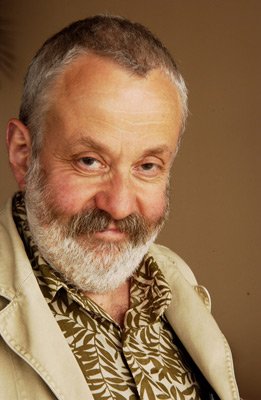 Listen: Play in new window | Download (Running Time: 27:16 — 49.9MB)
Condition of Mr. Segundo: Too unhappy and too unlucky.
Guest: Mike Leigh
Subjects Discussed: Vocational symmetries within Leigh's films, Oscar Wilde, looking at a community, bad teachers, Leigh's considerable frustrations about Poppy being "too happy," the difficulties of filming Poppy's jewelry, audience members misperceiving details, the confusion over Scott being a taxi driver, Bechdel's Rule, depicting women who aren't in relationships, the duty to portray life, Leigh's problems with semiotics, collaborating with cinematographer Dick Pope, feeling the buzz of a visual instinct, devising Naked's opening shot, getting an Ozu fix, pursuing the issue of technology, flamenco dancing, MySpace, drawings and investigating domestic violence, "En-ra-ha," Aleister Crowley, gloomy bookstore employees and literary references, shooting in High Definition, and film financing.
EXCERPT FROM SHOW:
Leigh: But as to the jewelry as a symbol of cyclical anything, I don't know whether I'd go along with that one.
Correspondent: Okay. Well, fair enough.
Leigh: (laughs) Nice try.
Correspondent: Well, let's talk about another possible symbol. The back pain that she experiences. This to me suggests that here we have Poppy moving forward as her specific identity — "happy-go-lucky" — and yet there is this pain in the back. And, of course, she laughs it off while she's at the chiropractor's office. But the thing that's fascinating about this to me is that, well, this is behind her. So it's almost as if she has her blinders on. She's so focused in on moving forward that she doesn't notice what she's feeling in the back. And I'm wondering again how much one should read symbols into these particular choices.
Leigh: I think as we progress into this conversation — I think you are plainly a fundamental, unreconstituted, top-rate intellectual. Which I'm not. I think it's fascinating, your analysis. But I think it's a load of old rope. Basically. And I can't go along with it at all. I mean, the fact is, she gets a bend in the back because she pulls her back when she's trampolining. And it happens to be her back because that's what she pulls. The back muscle. I think what's more interesting about that unfortunate thing that happens to her, which gets fixed by an osteopath, not a chiropractor…
Correspondent: My apologies.
Leigh: No, no, you couldn't, you know. But I think what is interesting, I've found, is that, you know, a lot of people — this has nothing to do with your question, but it's talking about the same part of the film.
Correspondent: Sure.
Leigh: The same aspect of what happens to Poppy. You know, people are conditioned — mainly, courtesy of Hollywood — into the inevitability that something terrible is going to happen. And a number of people have thought, "Oh! She's got cancer of the kidneys! That's what this film is about!" Partly because the last film I made was about an abortionist. The fact is that it's not about that. People say, "Well, couldn't something terrible happen to her in the film?" And then you think of that. And you say, "No. Because that's not what it's about." Of course, this could become a film about a woman who dies of cancer of the kidneys. But so what? That's not what it's about. It's about somebody who giggles at stuff and is positive.
Correspondent: You also quibbled in another interview over people identifying Scott as a taxi driver instead of a driving instructor.
Leigh: Yeah, people say "that scene with the taxi driver." I mean, it's amazing. The number of people everywhere — here, in Paris, in London, in Berlin, and we're talking about international fests — who call him a taxi driver. And it's very curious. It's as though this is a film about an airline pilot and people are calling him a doctor. It's very strange.
Correspondent: I mean, I'm wondering. Could it be the way that you actually shot him? Because I know that you and Mr. Pope actually used lipstick cams to get…
Leigh: No, no. Come on. You cannot construct any correlation between how the film was shot and the fact that, for some reason, people call a driving instructor a taxi driver. You really can't do that.
Correspondent: So it's the audience's problem. Not yours.
Leigh: No, no. It's just a weird thing. I mean, I don't think it's even a problem. It's just a strange quirk. But I don't think anything should be made of it really.
Listen: Play in new window | Download (Running Time: 27:16 — 49.9MB)