Catherynne M. Valente is most recently the author of Palimpsest.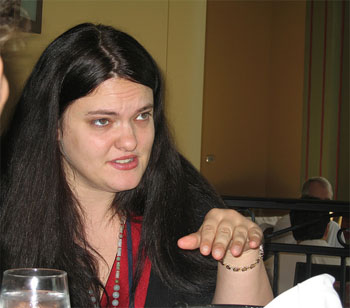 Listen: Play in new window | Download (Running Time: 45:18 — 41.5MB)
Condition of Mr. Segundo: Looking for a way into a secret city.
Author: Catherynne M. Valente
Subjects Discussed: Writing a novel with four character perspectives, how structure influences perspective, the importance of numbers, color theory, thriving on restriction, Neal Stephenson, the importance of flow and reading out loud, Mark Danielewski's House of Leaves, synesthesia, the purpose of puns, being a child of the Internet generation, Italo Calvino and the literature of the new millennium, planning a book entirely in one's head, PersonalBrain, on not outlining a novel, having semiotics for breakfast, writers with kinks, multiple topographies within Palimpsest, perceptions of New York, the individual relationship to a city in relation to one's individual sensibilities, genre classification, New New Weird and mythpunk, thinking while doing other things, the factors that cause Valente to write very fast, fighting the forces of marketability, chick lit, a future project involving the myth of Prester John, the problems with accessibility, the addiction to story, geek outreach and the publishing industry, Lev Grossman's article, the communal experience, novel patches, the book as a permanent medium, secretive networks, the Kindle and the Sony eReader, Cory Doctorow, the bridge between print and online, Eric Kraft, and the signal-to-noise ratio in e-books.
EXCERPT FROM SHOW:
Correspondent: Which number is your favorite? Or maybe one of your five favorite numbers?
Valente: Oh, my favorite number!
Correspondent: Do you do this on a single digit scenario?
Valente: I'm going to have to go with seven.
Correspondent: Seven!
Valente: Actually, a little girl came to one of my Orphan's Tales readings. She came up to me after and said, "Why are there all those sevens in your book?" And I love seven. It's a prime number. And it's a typically mystical number. And it's fascinating to me. But I almost never use it in structure. Because it doesn't fit very well. It's kind of an ornery number that way, which, I suppose, is why I'm attracted to it. Because I'm kind of ornery myself.
Correspondent: Well, you know, Neal Stephenson told me that seven was the ideal number of guests at a dinner table.
Valente: Oh, wow. I hadn't thought about that.
Correspondent: What are the applications of seven? Not just to your fiction, but also to your general life?
Valente: Well, I guess it's the number that I don't use though. Seven is a number that doesn't occur in nature very often. There aren't too many seven-leafed or seven-petaled plants. That is why it's a mystical number. Because it exists outside of the world. And so I don't actually use it all that much. When I'm arranging things, I go with three. I go with four a tremendous amount. Of course, four is a very thorny number in Eastern culture. Because there's four noble truths. But four also means death in Chinese and Japanese. And so they will often, much as our number thirteen, consider it unlucky, remove it from hotel rooms, and things like that. But I love the number four. I love the number eight. But seven is the number apart. So I use it in fairy tales all the time in terms of time. Seven days, seven years, seven months. There's a character named Seven in The Orphan's Tales. And that particular character deals with coins that have a seven-pointed star on them. But seven, I love, because it's weird.
Correspondent: What's your position on The Magnificent Seven or The Seven Samurai?
Valente: Well, of course, those come from Seven Against Thebes! Which is a wonderful ancient Greek play. I'm a classicist. So I always go straight back to that. And, of course, Seven Against Thebes comes from the seven dragon teeth that Cadmus planted in the earth. Yeah. Seven's great.
(Photo credit: Ellen Datlow)
Listen: Play in new window | Download (Running Time: 45:18 — 41.5MB)