Dan Chaon is most recently the author of Await Your Reply.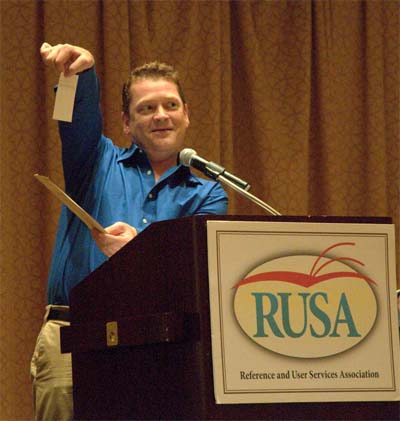 Listen: Play in new window | Download (Running Time: 47:19 — 43.3MB)
[
PROGRAM NOTES:
This conversation, conducted in May, was almost lost when a Seagate drive bit the dust. Considerable gratitude to data recovery specialist
Wayman Ng
, who managed to resuscitate this conversation from the grave. My apologies also to the very kind and patient Dan Chaon for the unanticipated two month delay, which came after an aborted attempt to talk with the man during the book's hardcover release. Additionally, during a moment in which the conversation shifts to
Lost
, narrative momentum, and concision, the Correspondent misidentifies Charles Beaumont's "The Howling Man" as "The Wolf Man." The short story, not to be confused with the
Twilight Zone
adaptation, can be found in Beaumont's
Night Ride and Other Journeys
, along with several collections and is well worth reading (along with Dan's books, for that matter).]
Condition of Mr. Segundo: Tired of waiting on dying hard drives.
Author: Dan Chaon
Subjects Discussed: [List forthcoming]
EXCERPT FROM SHOW:
Correspondent: I have to remark upon the frequency of auto accidents in your work. In Await Your Reply, Lucy Lattimore's parents die in an automobile accident. There's the car accident excuse offered by Jonah in You Remind Me of Me. The car accident identity similarly appropriated by George Orson. And all this reminded me of Charlotte Haze's death in Lolita. Similarly, in You Remind Me of Me, Jonah kidnaps Loomis in a car. And this reminds me very much of Humbert Humbert taking away Lolita. And, of course, the epigraph for the second part in Await Your Reply is from The Real Life of Sebastian Knight: "Whatever his secret was, I have learnt one secret too, and namely: that the soul is a manner of being – not a constant state…" So I must ask you, first and foremost, about the Nabokov influence in these books and whether this preoccupation with cars is sort of a Lolita thing. I'm curious.
Chaon: The car thing is not a Lolita thing. It's just that I spend a lot of time in cars. And when I was in my twenties, a psychic told me that I would die in a car accident.
Correspondent: (laughs) Really?
Chaon: I haven't yet. But I have a fear of car accidents. Partially because I do a lot of driving, but I'm not known as the best driver. I'm a spacey driver. My sister has me listed as one of her top five worst drivers that she's ever driven with. I'm only at five though.
Correspondent: This psychic premonition — were there any other premonitions? Did they have any effect on your stature as a writer? "Go write, young man?"
Chaon: No. It was one of those things where it was like this weird friend of my wife who fancied herself a medium type person and was always making pronouncements and things like that. But it did stick with me. So I guess car accidents are one of my fears, along with being in a house that's burning down. Which is also something that I tend to write about a lot. Burning houses. The Nabokov stuff though — I mean, I do feel like it's a big influence on me. I mean, both Lolita and Sebastian Knight. Despair as well. Which is also about identity theft. I don't know if you've — have you read Despair?
Correspondent: I haven't.
Chaon: It's about someone who switches identities with a hobo. So, yeah, I definitely think about the big in quite a bit. In terms of people that I've read over and over, he's one of the main ones.
Correspondent: Was Despair one of the guides for this particular book? Or the plot?
Chaon: I guess I had it in mind to some extent. I mean, I don't feel like I have the same kind of intellectual or verbal chops that Nabokov does, of course. But I certainly admire his work and I think about him a lot as a writer.
Correspondent: I wanted to also ask, since we were on the topic of mediums and the like — I mean, there are a lot of aphorisms contained in this book. The Eleanor Roosevelt maxim "Nobody can make you feel inferior without your consent." And these aphorisms are almost out there — little driftwood that the characters can clutch upon. But they don't actually take heed or comprehend the aphorisms. And I'm curious how that came about.
Chaon: Well, I wanted the book to be full of a kind of webbing of different references and a level of gamesmanship that was thinking about the ways we put together ideas about the self and ideas about our lives through various quotations and mediums, and the way that that's actually encouraged in our education, right? We're being presented with various models about how to behave and how to think about ourselves, and so on and so forth. So I had a lot of these things that I was playing with. I mean, there's self-help stuff. There's the kind of quotes that you see in high schools to encourage kids to be good citizens or whatever. And there's the kind of things that people try to pull out when they're trying to make intellectual pronouncements — some of which are real and some of which are made up. And some of them — I found some interesting quotes that are misattributed. There's a [Anais] Nin quote in there that is often attributed to her. But she never really said it. And that's another fun thing. There are all these quotes out there that people get attached to, but they don't really belong to those people.
Correspondent: This may be an obvious observation, but I wanted to compare You Remind Me of Me with Await Your Reply. You Remind Me of Me reveals, to my mind, how characters cannot fit into the world before them. And then in Await Your Reply, you have a situation in which, well, let's go further. Now you have to invent an identity to fit within the world. And I'm wondering if the idea here with Await Your Reply was to approach the same idea of You Remind Me of Me in a manner that was (a) more representative of 21st century life and (b) represented a greater pigeonholing of possibility through this invention of identity.
Chaon: Yeah, I think to some extent. You Remind Me of Me is very much a regionalist novel in some ways. I mean, I think I was still thinking about myself in terms of the Midwest and in terms of what the possibilities of the Midwest are. And Await Your Reply, I think, comes out of having, for the first time in my life, traveled a lot. I mean, in some ways, it comes out of book touring.
Correspondent: (laughs) Free research. I know David Mitchell, he keeps meticulous notebooks when he is on tour.
Chaon: Yeah. But I guess I started to think about the way the characters — even in Await Your Reply — would, by this point, be in larger touch with the world. Whether they wanted to or not. In Await Your Reply, people are affected by the globalization of media and by all that stuff in a way that probably the people in You Remind Me of Me weren't — only because of the time period that they were living in.
Correspondent: I'm curious about this Midwestern jumping point. I'm not sure if that was really a straitjacket for you. But I'm curious if it was difficult, when you're starting to envelop a larger world with this book, to really keep those limitations which you set up in You Remind Me of Me — the bar and so forth. I'm curious to what degree this was a challenge with Await Your Reply.
Chaon: Well, I wouldn't say that it's a challenge. A lot of the energy that I get from the landscape of the Midwest is fed into my inspiration for writing. A lot of times I'll start out with landscape. And a lot of times, I'll start out with these isolated places that, for whatever reason, are emotional touchstones for me. That's the place where I'm usually starting. It was fun to start to branch out and start writing about places that I never tried to write about before. Like the Arctic. Or like Ecuador. Or like Las Vegas. And it was also fun realizing that I didn't necessarily have to have lived in those places to write about them. I think there was a part of me that always felt that you had to have this deep instinctive sense of a place before you could write about it. And I guess I feel, after writing this, less constrained by that sense.
(Image: ALA)
Listen: Play in new window | Download (Running Time: 47:19 — 43.3MB)