Jennifer 8. Lee is the author of The Fortune Cookie Chronicles.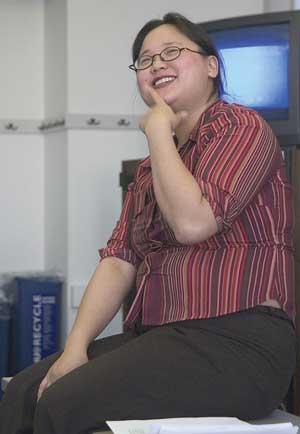 Listen: Play in new window | Download (Running Time: 48:54 — 44.8MB)
Condition of Mr. Segundo: Indignant towards the ungrateful.
Author: Jennifer 8. Lee
Subjects Discussed: Comparisons between Chinese restaurants and open source software, General Tso's chicken, fortune cookies and Analects, how frequently fortune cookie companies rotate fortunes, melon patches, making a living as a fortune cookie writer, Edward Louie, attempting to discover the fortune cookie's origins in a non-academic manner, the next chop suey, broccoli, Lee's assumptions about race and class, boys playing with Barbies, blowing a lot of money to find the greatest Chinese restaurant, the underground network of Chinese laborers underneath Manhattan Bridge, illegal restaurant workers, smuggling, takeout menus, pizza vs. Chinese food, and a sad tale concerning a delivery man.
EXCERPT FROM SHOW:
Lee: As I went and discovered old Chinese cookie maxims, like booklets of these idioms or whatever, if you're really educated in China, you were forced to memorize all these pithy maxims or whatever. So when you go and you find these maxims, you basically find out, a lot of it doesn't make sense to an American audience, right? Because let's think about it. China. Old traditions. Very rural. So a lot of their wisdom has to do with agriculture. So for example, there's a saying that's — my mom shared this with me: DO NOT BEND DOWN AND TIE YOUR SHOES WHEN YOU'RE IN A MELON PATCH. Right. So if you say that to an American, it doesn't really make all that much sense.
Correspondent: It makes sense to me.
Lee: It does?
Correspondent: Yeah.
Lee: It does make sense? What does it say to you?
Correspondent: Well, the melon patch is symptomatic of some very major paradigm in my head that, if I were to tell you, I would start to tear up. It's a very emotional metaphor for me.
Lee: Is it? (laughs)
Correspondent: And I'm kind of blushing now just thinking about my own personal melon patch. But now I know how to go about the rest of the day from this piece of wisdom.
Lee: So what this means to most Chinese people…
Correspondent: Oh, I'm sorry.
Lee: (laughs)
Correspondent: I may be just a bit idiosyncratic. Go for it.
Lee: It means: Don't do anything if it looks suspicious, even thought it's not. But Americans don't grow melons and they're not depending on melon patches.
Correspondent: Well, speak for yourself.
Listen: Play in new window | Download (Running Time: 48:54 — 44.8MB)