Julie Klausner is most recently the author of I Don't Care About Your Band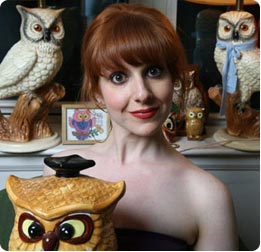 Listen: Play in new window | Download (Running Time: 46:36 — 42.7MB)
Condition of Mr. Segundo: Dodging dubious-minded vegans.
Author: Julie Klausner
Subjects Discussed: Terms for imposing snow, submitting a story to the New York Times's "Modern Love" section, the rejected "Modern Love" column, writing a book without any specific disciplinary pattern, crossing off bad dates from a to-do list, traveling to meet a man in order to write about it, people contacting the writer after being written about, Kevin Sampsell, people who leave passive-aggressive notes on Facebook walls, relationship miscarriages, the Muppets, the Kermit/Miss Piggy relationship as bromance, Mia Farrow starving herself on YouTube, human archetypes within vaudeville, Charles Grodin, having a crush on John Laroquette, decaying men, boyish hunks propped up as romantic men, the problems with youth culture, men who catalog their musical tastes vs. Klausner's taxonomy of male types, negotiating life with behavioral cues, ridiculing people after being hurt, identifying guilt and regret, Klausner's "first real boyfriend" and being asked to "turn down the glamor," gender relations in comedy, chick lit, Jennifer Weiner, Sex and the City, women portrayed as "shallow shoe hookers," being the odd one out in a male-dominated workplace, Pam vs. Dawn from The Office, The Comeback, the failure by comedy writers to give female characters enough humor and assertion, sex with crazy people, rational palpitations of the ventricles, the male body being "funny like a monkey is funny," and women who love scrotums.
EXCERPT FROM SHOW:
Correspondent: I actually wanted to ask you of your keen interest in the Muppets.
Klausner: Yes.
Correspondent: You know, I was very interested in this. You have a great affinity for Miss Piggy.
Klausner: Yes.
Correspondent: But you have a problem with the Miss Piggy-Kermit wedding — particularly the line, "What better way could anything end. Hand in hand with a friend." You insist that this represents Kermit's preference for guys, or going out with the guys, instead of having a commitment.
Klausner: Sort of. Or that he, in other words, how he feels about her deep in his heart is almost like how he feels about Fozzy.
Correspondent: Yeah, but…
Klausner: That she's a friend of his more than anything else. And that she's not special, I guess.
Correspondent: But you've developed an entire theory about your life based off of this. And this caused me some confusion.
Klausner: It's normal, right?
Correspondent: Well, well, I mean, I want to just poke holes in this.
Klausner: Sure. Poke away.
Correspondent: First of all, you have Miss Piggy voiced in a high-pitched tenor by Frank Oz.
Klausner: Frank Oz. The great, the great Frank Oz.
Correspondent: Yes. And Kermit the Frog by Jim Henson.
Klausner: M'hmm. Rest in peace.
Correspondent: Depending upon how obsessive a Muppets fan you talk to, it's kind of a bromance thing more than a romance thing.
Klausner: Interesting. Interesting.
Correspondent: So therefore your whole childhood theory may very well be….
Klausner: About a man in drag.
Correspondent: …despoiled by what was going on underneath the Muppets.
Klausner: That's interesting. So let me ask you this. Do you think of Miss Piggy as a man in drag? Or do you think of her as a lady?
Correspondent: I think of her as a wonderfully poly-gender, polysexual queen.
Klausner: That's a beautiful answer!
Correspondent: But I'm just wondering if this had occurred to you. Because you've seen The Muppet Movie so many times.
Klausner: Oh my god. I love the Muppets. And I'm a huge fan of the Muppets. And my interpretation of the relationship between Kermit and Miss Piggy is — I mean, it's obviously cheeky. I'm not going to go around and be like, "Children shouldn't watch this filth! It's going to give them bad ideas!" But I remember identifying with their relationship as being very — it resembled a lot of the dating experiences that I had. Which is that I was always chasing this sort of skinny guy that was more interested in his friends and his projects and his band or his show than me. And it's interesting this way to think of Miss Piggy as a drag queen. As Frank Oz. Because drag queens are sort of hyperfeminine in that glamorous jewelry and perfume. And fabulous performers. And all of it.
Correspondent: I've seen that karate chop deployed in the Castro.
Klausner: I'm sure you have. And you know what? I don't even know where the target was. But it was probably well deserved.
Listen: Play in new window | Download (Running Time: 46:36 — 42.7MB)