Laurie Sandell is the author of The Impostor's Daughter.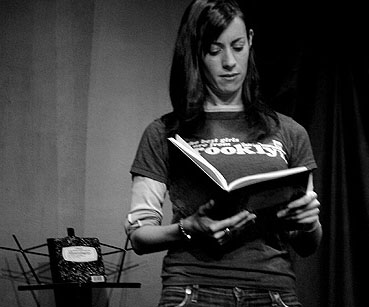 Listen: Play in new window | Download (Running Time: 33:39 — 30.8MB)
Condition of Mr. Segundo: Wondering if the coalminer was an impostor.
Author: Laurie Sandell
Subjects Discussed: Chicken recipes, the quest for truth within memoir, how narrative shapes and stretches truth, subjective vs. objective accounts, the essay written anonymously for Esquire, memory vs. concrete evidence, emails from Ashley Judd, how hard evidence enhances a visual diagram, lawyers sifting through evidence, the use of clothing against background, working with a colorist, becoming one's parents, the use of motion lines, adopting comic book semiotics, drawing from an intuitive part of the brain, Art Spiegelman's Maus, feeling liberated in comic form vs. restrictions in textual form, maintaining privacy vs. spilling all details to the public, diagramming environment, knowing the lay of the land, static panels, consulting graphic novels, Scott McCloud, arrows pointing to figures, strange stays in five-star hotels, sketching out the book before drawing, taking the story arc from the text version of The Impostor's Daughter, structure and spontaneity, maintaining momentum vs. contending with painful memories, emotional change and artistic change, whether or not writing is the proper way to exorcise demons, the story of Sandell's father as a former sense of identity, the ethical dilemmas of narrative seduction, and fearlessness.
EXCERPT FROM SHOW:
Correspondent: I should point out I'm not trying to insist that stretching [the truth] is necessarily a bad thing. I'm merely pointing out that memory, as we all know, is a fallacious instrument.
Sandell: Yes, it is.
Correspondent: It's been said that memory is the greatest liar of them all. It's been said — by, I believe Lincoln — that you have to have a great memory to be a great liar.
Sandell: Right.
Correspondent: So given this conundrum, I'm wondering to what degree you relied on your own memory and to what degree you relied on reference shots. You have, for example, illustrations that crop up within the course of the book. This leads me to wonder about other specific details. But maybe we can start on memory vs. concrete evidence.
Sandell: Well, you know, it was a mix of memory and concrete evidence. On the one hand, I had a lot of concrete evidence because I had interviewed my father over a period of two years and I tape recorded our conversations with his knowledge. This was leading up to the Esquire piece when I had a 300-page transcript. So most of the things that my father said in the book came directly from those transcripts. So he's telling stories from his past. Those came directly from my father's mouth.
Correspondent: Yeah.
Sandell: As far as — I'm trying to think. I don't know. What else?
Correspondent: Well, I could actually cite specific examples.
Sandell: Okay, sure.
Correspondent: For example, the difference between the narration and what is actually spoken in the text bubbles.
Sandell: Right.
Correspondent: Here's one example. When you're working at the office, you have a text box point to the screen: "Have you considered inpatient treatment." We don't actually see the email on the screen.
Sandell: Okay.
Correspondent: We actually see your particular perspective.
Sandell: Right.
Correspondent: And so I want to ask you about why that particular emphasis — I mean, that's inherently subjective. We're counting on your subjective viewpoint as to what is on the screen. As opposed to later on, when we actually see what's on your screen, when you're on your laptop in your motel room.
Sandell: I need to be honest. The reason you didn't see that screen was probably because it didn't fit in that box.
Correspondent: Okay.
Sandell: And so I had to deal with little callouts so you could actually see what was on the screen. But the interesting thing about the process of putting together all this evidence — a lot of it really was evidence — is that there were so many emails. For example, that email was an email, I believe, from Ashley Judd.
Correspondent: Yeah.
Sandell: And I have those emails from Ashley Judd. I have the emails from my father. You know, I worked with a private investigator for two years. So I have all of his information and the lawsuits he compiled and all the various evidence and things written by my father. You know, I think — did you ever read Autobiography of a Face by Lucy Grealy?
Correspondent: No, I never read that.
Sandell: It's a beautiful memoir. Ann Patchett later went on to write Truth & Beauty: A Friendship.
Correspondent: That's right.
Sandell: And one of the things that Ann Patchett said in her afterword — after Lucy died, Ann Patchett wrote an afterword to the book — and she described how, at a reading, someone said to Lucy Grealy, "How did you remember all those details about your past?" And she said, "I didn't remember it. I wrote it." And people were a little bit up in arms about that. But she was pointing out the fact that this was a piece of art, it's a piece of subjective memory, and the most important thing is to show the emotional truth of the situation. And I would say that in my case, because I have so much evidence, and evidence that Little Brown asked to say and anytime I've done television, they've actually asked to see the evidence, I feel pretty comfortable that there's not going to be any big explosive James Frey situation.
Correspondent: Well, to what degree were they asking for the evidence? Because we're talking about transcripts. We're talking about investigative reporting. This is all text right now. And here you are. You have a visual document here.
Sandell: Yes.
Correspondent: You have to construct something from the text here. So it's a wonder that evidence even means anything if it's a visual result.
Sandell: I think it does. I mean, the visual result is obviously my memory. It's the way I remember the situation.
(Image: Brantastic)
Listen: Play in new window | Download (Running Time: 33:39 — 30.8MB)