Peter Davison played the fifth incarnation of Doctor Who! But he also delivers numerous charming performances in A Very Peculiar Practice, All Creatures Great and Small, At Home with the Braithwaites and The Last Detective.
Listen: Play in new window | Download (Running Time: 32:24 — 29.7MB)
(Many thanks to Roger Bilheimer for his great help in making this improbable conversation happen and to Yashoda Sampath for consulting on extremely pedantic Who matters in preparation for this talk.)
Condition of Mr. Segundo: Stumbling around his motel room for a celery stick.
Guest: Peter Davison
Subjects Discussed: Whether Davison is a PBS manifestation or a corporeal entity, why Davison tends to avoid psychotic roles, the BBC's austere costume policy, Davison's cricket skills, the thespic advantages of keeping your hands in your pockets or behind your back, working with Roger Daltrey, film vs. TV continuity, Davison's secret aspirations as a pop singer, "Doctor in Distress," working with the same writer and director for A Very Peculiar Practice, single directors vs. many directors on television, Peter Grimwade's mysterious ousting as director on Doctor Who, the regrettable deficiencies of "Time Flight," the inside story on "No, not the mind probe," when directors don't even notice line delivery, the live theater approach to doing television, working with Peter Moffatt and Graeme Harper, how Who directors are chosen and how this affects acting and production, why Davison left Who, the slim advance notice that Davison got in relation to stories, the importance of humor in Doctor Who, conflicts with John Nathan-Turner, the problems with having an American companion, Davison's creative input on Who, the difficulties of playing the Doctor, problems with Season 20, being confronted with the blank slate of virtue, John Nathan-Turner's middling efforts to make companions more interesting, mew Who vs. old Who, theories that Rose as the most important character in the new series, Mark Strickson's frustrations, holding up wobbly sets and flimsy production values, acting when the wrong set was lit, whether any virtues and production techniques have been lost from old Who, the disconnect between what's inside your head as an actor and what's on camera, Davison having to change appearance after Doctor Who, the burdens of Who, Tom Baker, choosing variegated roles, and Davison ensuring that he's not defined by notoriety.
EXCERPT FROM SHOW:
Correspondent: You know, I always wondered if you were a manifestation on PBS. But now I actually know that you're corporeal. You're here.
Davison: (laughs) I have the same feeling myself sometimes.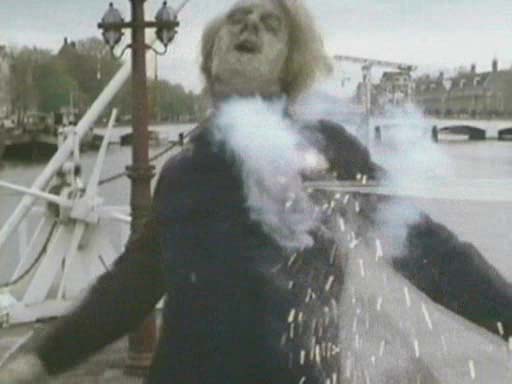 Correspondent: Oh you do? How do you distinguish between that? I mean, when you go and perform a role, are you in a fugue state? Do you know who you are when you're playing it? Do you summon some abstruse emotional energy?
Davison: No. What happens with me is a form of — it sometimes has to be very quick — osmosis. You start off with a blank page and, as you get familiar with the script, the character is joined to you. Like barnacles or something.
Correspondent: I see Tristan off your shoulder right now.
Davison: Exactly. And you do start, depending on the parts you play — you bring them home with you sometimes. If you are playing a bit of a psychotic character, it can mean trouble at home.
Correspondent: But you haven't really been playing much in the way of psychotic characters.
Davison: No. I think that's a good thing. (laughs)
Correspondent: I mean, you're too nice a guy? Have you had a great desire to chew the scenery like that?
Davison: You know, every so often. I have made a career of playing fairly nice guys. And I'm very happy doing that. But every so often.
Correspondent: Very nice doing that.
Davison: Thank you very much. But every so often, you just kind of get a feeling. You just want to be play a nasty character. And fortunately, usually when those feelings come about, one comes along that you like and you'll accept it. I played a bit of a bad guy recently in an episode of Lewis, which is a British detective series.
Correspondent: Oh really? How evil were you for this?
Davison: I was pretty nasty, actually. I was very much a…
Correspondent: You pushed ladies downstairs? Widmark style?
Davison: I kill people.
Correspondent: You kill people?
Davison: And make them disappear. But in a nice and charming smiley way.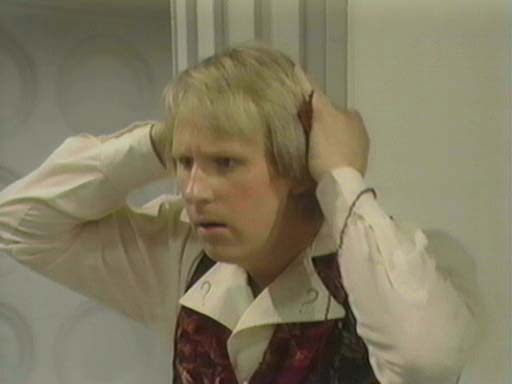 Correspondent: So I'm going to have to ask you about one of the reasons why you're here. Doctor Who. And I"m going to try and do it through a few unusual angles. There's one thing I have noticed. I know that when Tom Baker left, he took his boots with him. And during the early run of Doctor Who, you're wearing what I guess is your own sneakers. Is that true? Is that safe to say? Does the BBC actually allow you your own? Did they actually make shoes for you? Or did you have to come in with your own footwear?
Davison: Oh no, no, no. You have proper costume fittings and people sit down for long periods of time and discuss what you're going to wear. And I think they were pretty much off-the-peg shoes. But the BBC did pay for them.
Correspondent: Oh, okay.
Davison: And the rest of the outfit.
Correspondent: So you can wear them home.
Davison: Well, no. They wouldn't trust you to bring it back in the morning.
Correspondent: Oh really? Well, what input did you have into the design of the Doctor's costume? How was it like for you? I mean, how strict were they? I know you've said in other interviews that there were some bizarre union restrictions in which lights went out at 10 or something.
Davison: Oh, the whole thing in those days was a very complex procedure. I mean, I had input into my outfit. But it was very much not in specifics. The producer said, "We're looking for something that's more youthful and slightly more energetic and sportier."
Correspondent: Cricket says youthful.
Davison: And I thought cricket fitted the bill exactly. So I suggested the idea of a cricket outfit. If I'm honest with you, I would have chosen a more off-the-peg look. It was a bit too designer for me. Because the idea with the TARDIS is a room somewhere in the depths of the TARDIS in which is a whole range of clothes. And when the Doctor regenerates, he simply goes into the room and he goes, "Ah, there's this bit here. I'll try this on here." And he comes out with a kind of thrown together outfit. With my outfit, it just seemed like it probably wasn't sitting around on a peg, which is what I didn't like about it. On the other hand, I thought it had a very good style to it. I was very happy with it in the end.
Correspondent: You showed off your cricket skills in "Black Orchid." What were your cricketing skills before that? Or was that pure acting?
Davison: No, no. It wasn't. I'm not bad at cricket.
Correspondent: Really?
Davison: Compared to most actors, who are pretty rubbish.
Correspondent: You're not going to name names.
Davison: I could actually, but I won't. But in one of the scenes there, you can clearly see me actually bowl somebody out. Which I was very fortunate that they were able to get it into the shot. So I wasn't bad. I was very happy to do that.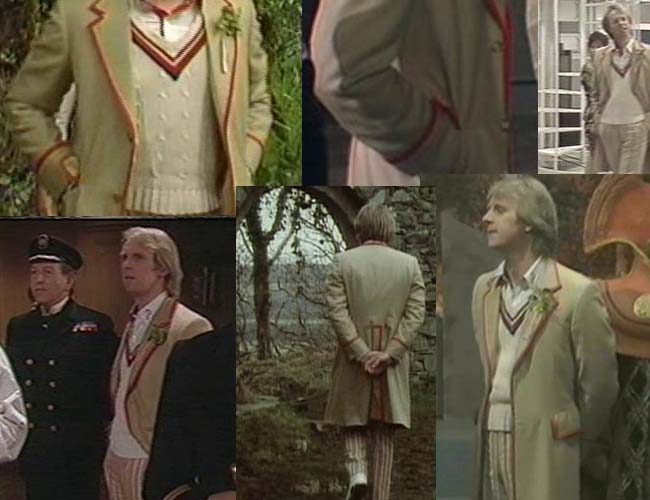 Correspondent: While we're talking about physicality, I have to ask. So I watched a good deal of the Doctor Who run yet again — after many, many years — that you did. And the one thing I noticed is that you kept your hands in your pocket or behind your back quite a bit.
Davison: Yes.
Correspondent: And I'm wondering if you were just a spastic guy or a guy who gesticulates. If this was an effort to try to prevent yourself from doing that on camera.
Davison: (laughs)
Correspondent: Because sometimes you have your hands in your pocket and they're clenched in there like you know your hands are going to go free. So what of this?
Davison: Well, I don't know where it first came out. I think probably it just came out of — I played a role before Doctor Who in All Creatures Great and Small.
Correspondent: Yes. That's right. Tristran.
Davison: Unfortunately, Tristran, I think, is described as forever having his hands in his pockets. So that became such a kind of…
Correspondent: The Davison crutch?
Davison: Yes! A Davison crutch. Absolutely. But I think it just carried on a bit. And probably it shouldn't have done. On the other hand, I have to say — you know, I did a series about three or four years ago with Roger Daltrey. You know, of The Who.
Correspondent: Oh yeah.
Davison: He played a part. And we were having this scene together in the pub. And we'd do a shot on him where he was doing his lines talking to me. And then we'd do another shot from another angle. And the continuity person would keep coming up to him, going, "Uh, Roger, you raised your hand in the air on this shot. And you put your hand on the drink in this shot. And you put your hand in your pocket on that shot." And he got into such a terrible state. And nothing was ever said to me. And he said to me, "How come you're so good at this?" And I said, "Because I never do anything with my hands." (laughs) By the way, it's a great advantage to put your hands in your pockets. Because no one comes up to you and says, "Ah! You did this with this hand here." I think I probably overdid it.
Correspondent: Well, how rigid were the script supervisors, or continuity, during the BBC days in the '80s and the '90s? Were they really as anal as they are now? Or what?
Davison: You know, in my experience — and I've had a relatively tiny experience in film — but in television, they're absolutely spot on. You rarely — you do get mistakes. But I've seen more mistakes in movies — in editing and things where people's positions and hands and props and which hand they held their things up in — than I have done in television. They're pretty good in television. Maybe it's something to do with the fact that the actors in television are doing a lot of things. They're fairly disciplined, I think, TV actors. And maybe film actors somehow are, shall we say, maybe less disciplined. Maybe more inspirational. Maybe more original in some areas. But less disciplined. And I certainly notice more mistakes watching the average film than I did in watching TV.
Correspondent: So I have to ask. We talked cricket beforehand. I had heard some sort of rumor that you were pursuing a career as a pop singer roughly around the time of All Creatures Great and Small and even while you were playing Doctor Who!
Davison: How? Where did you hear that? (laughs)
Correspondent: I have my sources. And I was hoping to go ahead and, before they continue on the Internet, to actually get the hard journalistic truth. Did you have pop singer aspirations?
Davison: I did. Well, I've always written songs.
Correspondent: Oh you do?
Davison: Yeaaaaaah.
Correspondent: There are loads of tapes hidden in your basement?
Davison: Loads of tapes. And I still have a little mini-studio in my house.
Correspondent: Really?
Davison: Yeah. And I still do stuff. But I think I've rather given up the idea of becoming a pop idol.
Correspondent: But do you still record?
Davison: Actually, I do still record stuff. And there was a time — I suppose it was about that time — where I thought, "You know, I'd be really good to just get a band together," and not use my name. I didn't want to try and sell it as Peter Davison doing it. So I'd just get a band and just get some songs together and just see what happens with them. If one wasn't pushing it from a point of view. Because I think it's a kiss of death. Actors saying they're in a band. So I just wanted to do it from an entirely different angle.
Correspondent: Or in the case of Doctor Who, "Doctor in Distress." It was disastrous.
Davison: Absolutely. But it came to grief, for a bizarre reason, that musicians have a completely different lifestyle to actors. It seems like they would be very close, but we would do things like we would call a rehearsal session. Seven o'clock in the evening. So I'd be there at seven o'clock. This was just rehearsal. Seven o'clock in the evening. And then at about 11 PM, the bass player would turn up. Then at about 1:00 in the morning, the lead guitarist would turn up. And at about half past two, we'd actually get enough people there to actually start rehearsing. By which time, it wasn't long before dawn was breaking. And I was exhausted! 'Cause I'm not used to it. Musicians just have this idea, you know. "Aw yeah, let's just do a little bit of jamming for a couple of hours and then let's get down to it." So I realized really — although I loved doing it, I didn't have the mentality of a musician, of a band member. I was a bit too conformist even for that. I thought actors were fairly unconformist.
Correspondent: Well, A Very Peculiar Practice, I know, that you had basically one writer and one director through a good chunk of the run. Do you prefer that kind of constancy as an actor? As a performer? That this is actually better for you? Do you get nervous if there's a constant shuffle of directors?
Davison: It depends on what it is. I've done a couple of series where the same director has directed all the episodes. I did a series called A Very Peculiar Practice. One director. All Creatures Great and Small, The Last Detective — you're right. We had different directors coming in actually for most of the episodes. But you still have the same crew coming on every week. You have a certain amount of consistency. It's just — it's horses for horses. Series television, I think, is quite good to get varied directors in. Because it just gives it a different spark. A different style to the episode. Whereas if you're doing a serial, I think it's important to have, at the most, two directors. Ideally one director. 'Cause they know exactly what they're doing.
Correspondent: Speaking of directors, I'm hoping you might be able to provide some light on this rumor involving Peter Grimwade. Director of "Earthshock" and "Kinda." The story goes — at least promulgated by Eric Saward — that he actually snubbed John Nathan-Turner, didn't invite him to a party. And then Peter Grimwade eventually was just doing writing for the show. Do you have any insight as to why he stopped directing? Because he was really good.
Davison: Um, he — I think Peter was very talented. He wasn't — I didn't think he was that great a director really. As far as the actors were concerned. He probably had good ideas.
Correspondent: Aha. More of a visual director.
Davison: I probably undervalued him, to be honest with you. I didn't have any say on whether he did any more or not. But he didn't inspire you with great confidence about what he was doing.
Correspondent: Really?
Davison: As a director. Although I think he was a very talented writer.
Correspondent: Even "Time Flight"?
Davison: Well, "Time Flight." "Time Flight" was unfortunate, you see. Because "Time Flight," I think, could have been done very well. But we had no money. The sets were probably the most dreadful sets that Doctor Who had ever had to put up with. And we literally shot England before humans…
Correspondent: Pleistocene. Exactly.
Davison: In Studio 8 of the BBC. With a little model of Concorde sitting on the back of the…and it was just…
Correspondent: And the color separation overlay as the airplane leaves. It was amazingly…
Davison: Catastrophically bad. You felt very frustrated by the fact that there was just no money. The monsters were lumps of polystyrene moving around the set. But I think the actual script itself wasn't bad. But the realization of it was hugely disappointing.
Correspondent: So it seems to me to make a good Who story, you really need to have good direction and good acting in order to sell the illusion. What do you do when you've got a guy like Paul Jerricho delivering "No, not the mind probe!" in absolutely horrendous delivery in "The Five Doctors." "No, not the mind probe!" Which is a very famous…
Davison: Yes, I know.
Correspodnent: How do you as an actor deal with this?
Davison: (laughs) Well, I think you have to use your instinct and not be led astray by the director. Sometimes, I'm always very, very wary of "Give me a bit more! Give me a bit more!"
Correspondent: (laughs)
Davison: You think, "Oh no! I'm sure that's not right! I'm sure it's not right." But I've learned now that you have to make a decision as to whether you're going to trust the director or not. Who are you going to trust? Do you trust yourself more than the director? And it's a difficult thing to do.
Correspondent: Did anybody even say anything when he delivered the line that way? I mean, it's so remarkably bad.
Davison: You know, a lot of directors, I've discovered, barely even notice.
Correspondent: Really?
Davison: Visual directors. I've worked with a lot of directors where I've said entirely the wrong line, entirely the wrong line. Stumbled over it and then I hear the click going, "Okay, let's move on! Great! Let's move on!" You're going, "No, hang on a bit. I said the wrong line!" And they'll go, "Oh, did you?" They don't notice.
Correspondent: Wow.
Davison: There are some directors that listen. And I love those directors that listen. Because they're what you might call actors' directors. Who are really concerned with what you're giving as an actor. And you trust them. So if they say, "That's fine. Let's move on," you go, "Okay, that's fine." Other directors you know are just looking at the picture. They barely notice. Until they sit down. But you know. They will sit down in the cart and go, "He said it like that? And we let him get away with it?" You don't know. I mean, when you're on the floor and you hear someone say, "No, not the mind probe," you don't quite know how it's coming over. Upstairs they should have known how it came over. They should have said, "Let's go again." But I think there's panic. There's rush. There's not enough time to get the thing done. They think it will be fine. And it's very often not.
Listen: Play in new window | Download (Running Time: 32:24 — 29.7MB)