Rachel Shukert is the author of Have You No Shame?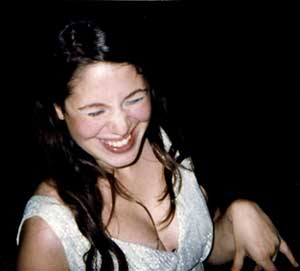 Listen: Play in new window | Download (Running Time: 49:24 — 45.2MB)
Condition of the Show: Contending with tenuous widows and the mysterious circumstances of Mr. Segundo's death.
Author: Rachel Shukert
Subjects Discussed: Whether Ms. Shukert is still on the Viacom blacklist, the soul-crushing aspects of temping, working odd jobs in Amsterdam, Anne Frank as a constant in life, the holy similarities between Northw__t and G_d, plane crashes vs. car crashes, airlines and gods, the legal system and divine repercussions, lawyers in Nebraska, talk show hosts who come from Nebraska, Montgomery Clift, the relationship between Jewish identity and location, Omaha vs. New York, the notion of stretching out time, writing truthfully about scatological topics, placing a parental advisory warning, expanding the limitations of personal experience, on being perceived by others, limits on confessional writing, room for the persona to grow within annotation, elevated prose, abandoned sets of footnotes left out of the book, David Foster Wallace's "Tri-Stan: I Sold Sissee Nar to Ecko," David Macaulay's Motel of the Mysteries, Will Self's The Book of Dave, Newt Gingrich, writing letters vs. email, using all caps in print vs. online, grouping people into taxonomies, Fred Savage and Jason Priestley, first crushes, being published as a paperback original, The Anorexic's Cookbook vs. The Anarchist's Cookbook, and performing pieces in front of a crowd.
EXCERPT FROM SHOW:
Shukert: Jason Priestly and Fred Savage were the two guys on TV who I had big crushes on as a child. I had a picture of Fred Savage in my locker that I cut out from the newspaper. I remember that he was holding a candy box. Like a Valentine's heart box. And I would pretend that he was holding it for me. And then when I got a little older, I thought Jason Priestly was the handsomest man I had ever seen. I mean, when I say "a little older," I mean ten. But I had a big poster of him in my room too.
Correspondent: Who was the first crush you had?
Shukert: Gene Kelly.
Correspondent: Really? And he's not referenced in the book.
Shukert: No. That's private. (laughs)
Correspondent: Not anymore. It's public now. But this is an interesting distinction. Are you slightly ashamed of these crushes?
Shukert: No, I'm not ashamed. But there's a difference between being ashamed of something and just having something close to your heart. (laughs)
Correspondent: Wow. Well, I'm curious. How much does a crush linger over the course of one's life like this? I mean, you can be safe with Jason Priestly and Fred Savage, but…
Shukert: I don't have crushes on them anymore.
Correspondent: But you still have a crush on Gene Kelly.
Shukert: Yes, but he's dead.
Correspondent: He's dead. The dead people are the ones to really lust after the best.
Shukert: Yeah, I think that that's true.
Correspondent: Because there's no way that you can possibly consummate it.
Shukert: I also loved Paul Newman as a child.
Correspondent: What are you going to do when he dies?
Shukert: I'll be sad. I'll mourn like a widow.
Listen: Play in new window | Download (Running Time: 49:24 — 45.2MB)