Terry Teachout is most recently the author of Pops.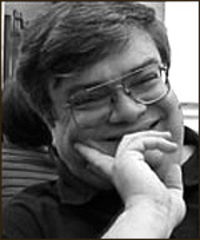 Listen: Play in new window | Download (Running Time: 38:29 — 35.2MB)
Condition of Mr. Segundo: Playing for handy water closets.
Author: Terry Teachout
Subjects Discussed: Managing professional duties, the exigencies of sifting through 650 reels of Louis Armstrong's tapes, Armstrong's encounters with the mob, Armstrong's relationship with manager Joe Glaser, the aborted Duke Ellington collaborative album, Pierre "Frenchy" Tallerie's rough tour management, Frenchy as company spy, the effect of Armstrong's star status on his musicians, the disparity between the net worth of Armstrong's estate and Glaser's estate, Armstrong's remarks on the Little Rock Nine, FBI files and FOIA requests, condemnations Armstrong received in later years, rivalry between Armstrong and Dizzy Gillespie, James Baldwin, Armstrong's aversion to bebop, why Armstrong didn't break from his popular style, whether or not an artist has a responsibility to push past a middlebrow reception, floundering artists, disbanding the All Stars and improving the musical dynamic with the All Stars's second iteration, Armstrong's unexpected late career collaboration with Dave Brubeck, Armstrong's ability to sell records during the Great Administration, popular tunes and mainstream accessibility in the 1920s, the dangers of critical consensus, Armstrong's in-performance improvisation within "Stardust," Armstrong's unwavering affinity for the Swiss Kriss herbal laxative, the 1953 conflict between Armstrong and Benny Goodman, the question of artistic ego, the entertainer's instinct, Armstrong's conflict with Earl Hines's showboating, Duke Ellington's insistence on top billing, Armstrong's tour of England and racist critics, the mistaken notion of Europe as an Eden for jazz musicians, exploring reception histories, Armstrong's lawsuit with OKeh Records, the difficulty of collating Armstrong's correspondence, Armstrong as writer, and self-awareness.
EXCERPT FROM SHOW:
Correspondent: In light of Armstrong's remarks about the Little Rock Nine, and of course his infamous remarks about Eisenhower, did the guy have an FBI file? Were you able to…?
Teachout: He did. It was mostly innocuous.
Correspondent: Oh, okay.
Teachout: There just isn't anything of interest in it. I know this because I've seen it, but also because I FOIAed Joe Glaser. He doesn't have a file.
Correspondent: None?
Teachout: None.
Correspondent: Despite his mob connections?
Teachout: I appealed the decision to make sure. And they told me that there was no file in Glaser. And this is a guy whose business was taken over by Sidney Korshak, who has an FBI file the size of the Encyclopedia Brittanica. So I can only assume that the FBI saw Glaser as too small-time in terms of their interests to start a file on him.
Correspondent: Unless, of course, it was expunged in some capacity.
Teachout: It could have been. I don't have any reason to think that it was and, since Korshak's file wasn't, I assumed that there simply wasn't anything there. Armstrong's file contains nothing of any interest because he didn't play at political benefits. I mean, the FBI was aware of the fact that he used marijuana. Because he was vetted by the State Department. But other than that, there wasn't anything that was even worth passing on in the book. I mention actually in one of the endnotes that he had a file and that its contents were of no interest. But Glaser — we were all on pins. I had actually alerted the Armstrong Archive that I FOIAed Glaser. Because no one had ever thought to do this before.
Correspondent: Wow.
Teachout: And it took me a year and a half from end to end, from the original Freedom of Information request to wrapping up the appeal and concluding that there just wasn't anything there.
Listen: Play in new window | Download (Running Time: 38:29 — 35.2MB)