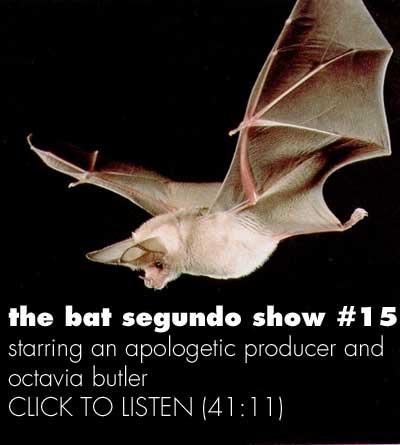 Author: Octavia Butler
Condition of Mr. Segundo: Unknown. We can't find him this week.
Subjects Discussed: Anne Rice, the advantages of writing vampire novels, research, the ambiguities of "persistently repulsive" material, Fledgling as ripping vampire yarn and multilayered quest story, setting vampire rules, naming character names, the influence of the state of Washington upon atmosphere, Butler's editorial relationship with Seven Stories, Warner vs. Seven Stories, on being categorized as a science fiction author, auctorial labels, Butler's three primary audiences, Dorothy Allison, the influence of criticism, fiction as prophecy, Bush and global warming, education, Margaret Atwood, why Butler dislikes Survivor, the Parable books, why this is the first book in seven years, on writing a "continuous first draft," Butler's working methods, typewriters, technology, Alfred Hitchcock, cell phones, how Butler's computer is set up, T.C. Boyle, on being a baby boomer, being "comfortably asocial," inner introverts, polyamory, sexuality, the science aspect of science fiction, and science fiction vs. fantasy.
Listen: Play in new window | Download (37.7MB)