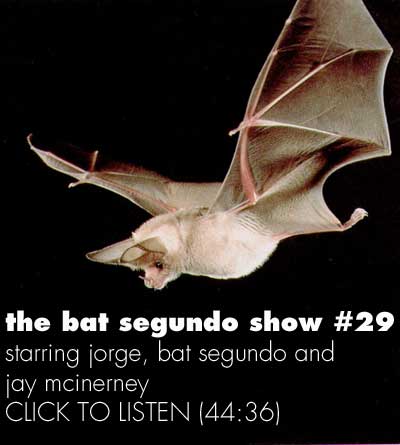 [
AUDIO NOTE:
At one point, the conversation was interrupted by a vacuum. It only appears for about a minute and we've filtered most of it out. But just so you know.]
Author: Jay McInerney
Condition of Mr. Segundo: Furious and defensive, defending himself against the acrimonious charges from Miss Snark
Subjects Discussed: The Bretster and the Jayster, Lunar Park, McInerney's notion of "the upper class," the culterati, on writing about 9/11 in less than ten years, the three-act structure, genteel prose, F. Scott Fitzgerald, John P. Marquand, James Gould Cozzens, bestsellers, the publishing industry, public life vs. literary respectability, credibility in light of the Warren St. John article, responding to Blake Bailey's review, satire vs. love story, investment bankers as human beings, the lack of thematic elements in The Good Life, the burden of plot, bodies washing bodies.
Listen: Play in new window | Download (40.8MB)