Adam Thirlwell is most recently the author of The Escape.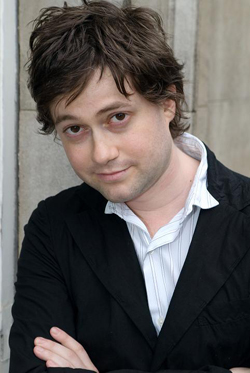 Listen: Play in new window | Download (Running Time: 54:14 — 49.7MB)
Condition of Mr. Segundo: Wondering if a piña colada might serve as literary escape.
Author: Adam Thirlwell
Subjects Discussed: The narrator device in Politics and The Escape, not understanding an early attempt to write a Henry James novel, the S&M of a writer being both eager to please and eager to annoy, Lautréamont and the bifurcation of voice, self-indulgence, the ethical concerns of Politics and The Escape, total selfishness and hurting others in the pursuit of pleasure, Western society and the hedonistic ideal, Goldwagen and Yiddish opera, character names lifted from cultural references, Walter Benjamin's "The Work of Art in the Age of Mechanical Reproduction," Lubitsch's To Be or Not To Be, defending immaturity from the prism of not being able to tell the difference between the past and the future, Velimir Khlebnikov's imagery transformed into narrative structure, "plucking" and collage, defining magic in The Delighted States, anticipating what people on television are going to say, the uncommon joys of predictability in pop culture, trying to write a novel that felt like a coda, Gertrude Stein's idea of methods of the 20th century being used to advance the 19th, attempting to pinpoint the artistic methods of the 21st century, Geoff Dyer, Reality Hunger and appropriation, singularity, Barbara Wright and translation, the difficulties of finding "Beckettian style" in untranslated Beckett, the problems with the chronology of a style, being obsessed with the present moment, the Tea Party, great artists and plagiarism, creative theft, reading a phrase containing "blowjob" before an audience of 500 people, the unanticipated boundaries between private amusement and the public dissemination of literature, degrees of literary intimacy, the 1925 crash as "the Universal Crash," elegant style and originality, style and unseen neurotic drama, short sentences and rhythm, the evils of passive construction, originality as fluke, unplanned sex scenes, Edmund White, Bohemian as a way of being the "absolute insider," pithy maxims, blasphemy and belief, the classical equaling the decadent, Lives of the Caesars, Caligula, salacious gossip, and reader motivation.
EXCERPT FROM SHOW:
Thirlwell: I think there are similarities between Politics and The Escape in their ethical concerns. In both cases, weirdly, but through different routes. They're about saying, "Well, what if you were to be totally selfish? Why is it so wrong to not follow your appetites or hurt people? Is it genuinely bad to hurt someone in the pursuit of your own pleasure?" And whereas in Politics, it's because there are these cute kids who are incapable of hurting someone else, and thus create a nightmare scenario for themselves, which they think iis a kind of utopia, here you get the kind of old guy who is an entirely selfish person. Or seems so. And so I suppose it's true that I definitely thought that one of the problems for the reader was going to be that what I wanted to do was present this character who would at first seem mildly repellent. This voyeur in a wardrobe staring at two strangers having sex. But by the end of the novel, if it worked, you were going to actually feel both that he did have a coherent moral structure and also is rather likable. And I suppose, yeah, the game of Politics was that they were like words. So all of the exhibitionists who are going to like these people was because there was a sense that this was . Politics was set in a likable world. It was set in a Coetzee, hipsterish world. Whereas this is much more slightly. There are things about Haffner that, I suppose, I myself don't like. And I wanted to create a character where I wasn't as sold on the character myself. Though I wanted to create a little machine where you would have to actually change your moral values, or examine your own moral values as a reader.
Correspondent: So this is your worldview. With decades of experience comes decades of a capacity to hurt other people? (laughs)
Thirlwell: (laughs) I'm only thirty-one!
Correspondent: Okay. (laughs) All right.
Thirlwell: No, I have no conclusion. I am interested in hedonism, I think, and why there seems to be two levels of it. On the one hand, it seems that our society — that English/American society, in particular; Western society — is deeply devoted to some ideals of pleasure. But I think there's a real Puritanical core actually to a lot of the ways in which we still value the couple, the family. There is something that is very much about: that you should be altruistic and you shouldn't hurt. And in one way, I suppose, I think that's slightly immature as a moral system. There are going to be conflicts. And where Politics, I think I was interested in showing some kind of self-destruction in that, here you have someone who seems to be outside those moral values. So, no, it's not like I'm saying, "Everybody should now go out and be horribly unfaithful to everybody."
Correspondent: It was a bit of a joke, you know.
Thirlwell: But on the other hand. (laughs) It's maybe not such a terrible thing.
Correspondent: I wanted to ask about the names. Goldfaden, of course, is the guy who came up with the first Yiddish opera.
Thirlwell: Yeah.
Correspondent: You have, of course, Haffner. Which is close to Hugh Hefner. And which is in fact mentioned in this book — that particular association. And I don't think it's an accident that Benji might, in fact, be construed with Walter Benjamin. "The Work of Art in the Age of Mechanical Reproduction," of which this book does considerable reproduction. I'm curious why you were interested in using character names that were essentially lifted from popular and cultural references. And also this note at the end of the book, in which you say that you quote all these various people. Digging through it, it seemed to me as if you didn't so much quote them, as take stories and shift them around. At least, it didn't feel like this. Either you pulled one on me. I don't think it was absolutely paraphrased or even remotely paraphrased. So I was curious about why recycling of this nature occurred, both with the names and also with the so-called quotes.
Thirlwell: Wow, that's huge. On the names, I think names are really odd. Because there's something, I think, almost Freudian about it. You're not always aware about why a name feels right to you, I think. And Haffner, I actually chose — I'd always wanted to write an ambivalent character called Haffner. After a boy who bullied me at school, who's called Haffner.
Correspondent: Named close to Haffner?
Thirlwell: No, he was actually called Haffner. It was his second name. So that was when I was nine. But I also actually rather liked it as a name. And then, it was actually only halfway through writing the book that I thought, "Oh fuck. Everyone is going to think that this is a joke on Hefner." So that's why I put the joke in. To defuse it.
Correspondent: Nullify it.
Thirlwell: To nullify that one. Goldfaden was deliberately the Yiddish dramatist. And Benji, it wasn't so much from Walter Benjamin. Although I'm sure that was at the back of my mind. That wasn't deliberate. But I'm sure it was there unconsciously. But certainly the idea of the Biblical younger son. And I think that with the names — with the very Jewish names like "Goldfaden" — that was because I was very interested in almost doing a caricature of Jewishness. Or a particular type of East European Jewishness. Of immigrant Jewishness. Because one of the things that this novel is in dialogue with, and what Haffner the character is in dialogue with, is a particular version of Jewishness. So I think the Jewish names, they were there as deliberately East European. There was an air of competition. I mean, the other source of the names that I'd completely forgotten about, but only remembered recently when I saw this film again. To Be or Not to Be. Ernst Lubitsch's To Be or Not to Be. And for some reason, I'd seen it early on when I was writing this book. I mean, just before I started the book. And I had a kind of cast list. Some handout that I'd got. And so a lot of the names were actually from that. Like Tummel — Frau Tummel — is taken from someone who's like the production manager on To Be or Not to Be. But then the names come from this locus of Central Europe. And it's true. And I suppose that leads to the quotations. Because there was a way in which I was definitely interested in doing a miniature recapitulation in this book of my entire literary past. I think, slightly to then move away from it. To finish with it. So that hopefully, what I'd then write would be freer or something completely different.
Listen: Play in new window | Download (Running Time: 54:14 — 49.7MB)