This podcast features a roundtable discussion with contributors for The Best Sex Writing 2008 anthology.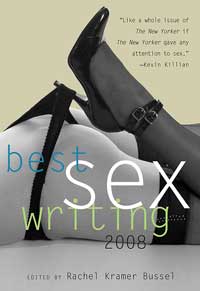 Listen: Play in new window | Download (Running Time: 36:34 — 33.5MB)
Condition of Mr. Segundo: Evading burlesque.
Authors: Rachel Kramer Bussel, Rachel Shukert, Lux Nightmare, Miriam Datskovsky, and Liz Langley.
Subjects Discussed: The meaning and definitions of sex, whether sex is a codeword, semantics, experimentation, George Michael, the erotic nature of taboos, whether candor is an advantage in writing about sex, Amsterdam societal norms, the inability to talk about sex, Sex and the City, appropriate contexts, writing stigmas, pornographic pseudonyms, the effect of sex writing on dating, whether or not Erica Jong is funny, the role of feedback in writing, and alt-weeklies vs. mainstream sex writing.
EXCERPT FROM SHOW:
Datskovsky: It's kind of like money. It's one of those things that people are just afraid to talk about. Because you have to be completely honest in order to talk about it. It's one of those things that people just don't want to engage in. Because it's easier not to. It's easier to say, "Hey, you're dirty. Oh yeah, I like to do that when the lights are off and then I'm not going to talk about at all."
Correspondent: You know, call me crazy, but it seems to me that it would be better to ask "Who are you sleeping with?" instead of "What do you do for work?" in terms of a conversational opener.
All: (laughs)
Listen: Play in new window | Download (Running Time: 36:34 — 33.5MB)