Jeff Parker is most recently the author of Ovenman.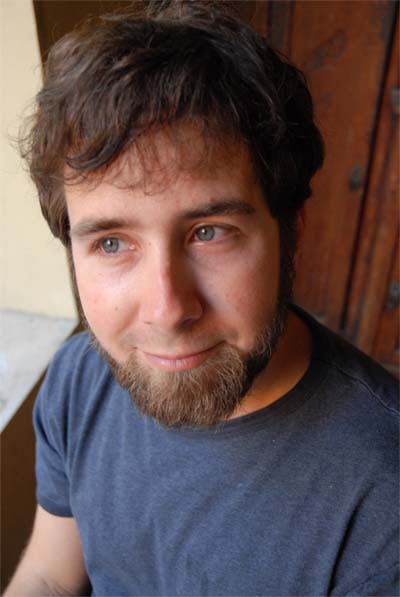 Listen: Play in new window | Download (Running Time: 45:53 — 42.0MB)
Condition of Mr. Segundo: Contemplating memories in a pizzeria.
Author: Jeff Parker
Subjects Discussed: Growing up in Florida, working in a pizzeria, John Sheppard's Small Town Punk, the working class in fiction, setting the book in the early '90's, unexpected parallels to current events, music references, Desert Storm, alcoholism, work ethic, Post-It notes, unusual character names, linguistic affectations, food stamp scams, hidden economies, purple underwear, grenades, two dollar Huffy bikes, diligent fact checkers, small town civil projects, menacing occupations, Richard Linklater's Slacker, television blaring in the background, tattoos, and literary symbols.
EXCERPT FROM SHOW:
Parker: You know what? I took a writing workshop — well, I took many writing workshops with this writer named Padgett Powell, who's one of the contemporary — I mean, he's one of the few pure contemporary stylists in American fiction. Like him and Sam Lipsyte are kind of on the same page. And you know, he just always says this thing about repetition. You know, he says, writing well — all you have to do to write well is repeat yourself well. And so, sort of my strategy really is — I don't know, maybe I shouldn't be saying this. Because it undercuts the possibility for meaning in the omnipresence of nipples throughout the book. You know, to make it supportable, if you — where else would I put the scarification? It had to be on the nipple. Because it had to sort of reflect the third nipple. It just had to be basically a reiteration of it for, like, the thematic unity of the work. So I see it as a craft point rather than a thematic issue.
Correspondent: So your suggestion to anyone writing is essentially just like: Come up with a vaguely literary metaphor, repeat it multiple times throughout your novel, and, hey! Your critics will love it. It will go down with the readers. And there's novel writing for you.
Parker: Well, okay, I don't mean to be so cynical at all. But what I do believe is that, you know, if you have a lot of things going on — that is, like, you're paying attention to the language and you're generating, like, complicated real characters that hopefully you can, you know, establish some emotional connection or the reader to. And you have other things going on, you know, then the repetitions, regardless of any meaning you might want there — I mean, the repetitions, like, accrue meaning of their own. You know, that's the nature of literary art, I think. So, in a sense, yes to your question.
Listen: Play in new window | Download (Running Time: 45:53 — 42.0MB)