David Michaelis is most recently the author of Schulz and Peanuts.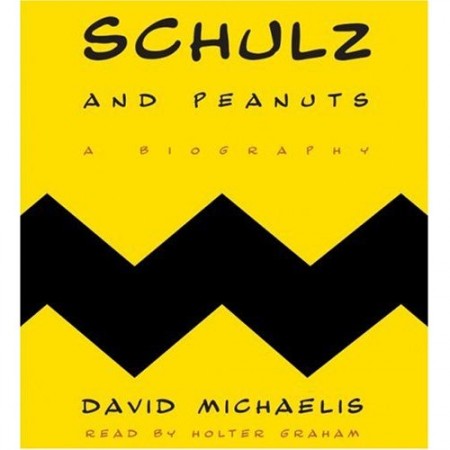 Listen: Play in new window | Download (Running Time: 37:11 — 34.0MB)
Condition of Mr. Segundo: Heckled for peanuts.
Author: David Michaelis
Subjects Discussed: The connection between Charles Schulz's emotional reticence and his Minnesota childhood, Peanuts characters who aren't explicitly reflected through Schulz's life, the connection between Lucy and Schulz's first wife, names borrowed for Peanuts characters, balancing probing into Schulz's life and examining the comic strip, the kite-eating tree and the psychiatric booth, Bill Watterson's review, the difficulties of compressing biography, exploring happiness, the connection between Jefferson Airplane and Peanuts, Peanuts as a prism for all ideologies to see their messages represented, Robert Short's The Gospel According to Peanuts, conditions set by United Media, Charlie Brown's hurt stomach, Michaelis's intuition and conjecture in drawing conclusions about Schulz, Charlie Brown's head shaped like a baseball, deflating myths about Schulz, why Michaelis's endnotes were not clear for the reader, the Tracey Claudius affair and Michaelis's reliance upon Claudius's subjective veracity, the Fantagraphic books, and Schulz's late efforts to lay down a legacy.
EXCERPT FROM SHOW:
Michaelis: This is a guy who was terrified of what's happening, and happened, in the world. Baseballs aren't baseballs anymore. Ice cream cones aren't ice cream cones. There's something wrong. And that's a recapitulation to me of that whole period of Charles Schulz's life in the early 1940s where his mother died and he went off to war. Is that Charles Schulz's idea when he drew it? I can't say. But I do know that when he talked about those strips and that particular sequence, he always identified it as being his favorite, and that came out of somewhere. He never would say where. But there was something important about it, and he indicated its significance.
Correspondent: All this is fair enough. But you were mentioning earlier about this being conjecture. And yet this has received a good deal — you've been actually on a lot of fire by the Schulz family. You told New York Times reporter Patricia Cohen, "Did I get the story right? Absolutely. No question." And so what I'm wondering is is what is the difference between ferreting out or confirming a fact, and this kind of more speculative approach. I mean…
Michaelis: Well, I bring the speculative into an intuitive sense of what the art is saying, and sometimes one has to merely place dates beside the strips to see and recognize how they're related to the life. I'm absolutely scrupulous about the facts as I can — near as I can get them. There's going to be a mistake here and there. I have noticed one or two since the book was published, which pains me no end. A misspellings here, a misunderstanding there. There's no question that a book will be corrected in its final months before. I tried very hard to make sure things were right. I do feel in a very strong sense that the story, and the point I was making to Patricia Cohen, of which there was only a quote that remained, was that a biography has two points at which accuracy are vital. It's vital to be accurate about the facts, as close as you can be. It's also vital to be accurate about the story. And that's what I mean by "Did I get the story right?"
Listen: Play in new window | Download (Running Time: 37:11 — 34.0MB)