Sidney Thompson is most recently the author of Sideshow.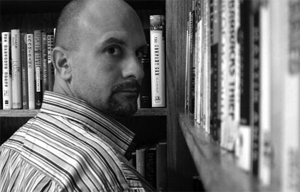 Listen: Play in new window | Download (Running Time: 50:56 — 46.6MB)
Guests: Jeff Bryant and Sidney Thompson
Condition of Mr. Segundo: Locked away by a Pittsburgh podcaster.
Subjects Discussed: Faulkner vs. R.E.M., Southern fiction, how music influences fiction, observing unusual behavior, Thompson's musical background, family as a starting point, taboos, the happy medium between shock value and playing it safe, stereotypes, believability, escaping into fiction, misfits and loners, connecting with despicable characters, morality in fiction, racial assumptions at the Atlantic Monthly, presenting racial conflict in fiction, and thoughts on the Southern fiction/blue-state fiction divide.
(A co-production of the LBC, Pinky's Paperhaus, and The Bat Segundo Show.)
EXCERPT FROM SHOW:
Thompson: I'm certainly striving for realism all the way. Even in the most fantastic situations, I absolutely want the reader to believe that these events can happen, have probably happened somewhere before, and that's truly my only goal. It is part of my worldview to have an ironic slant. Having a father who's highly educated, who knows the difference between right and wrong, and wants to take his son with him next door as part of his classical education to witness the murder of a neighbor. And I do believe that that can truly happen. And there is irony intended for that to remind those who are educated that education, literature, those things, are not the only answers in terms of making us good people. Sometimes I think we pat ourselves too much on the back for being readers.
Listen: Play in new window | Download (Running Time: 50:56 — 46.6MB)