Christian Bauman is most recently the author of In Hoboken.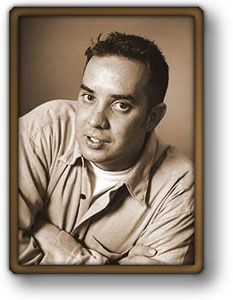 Listen: Play in new window | Download (Running Time: 36:51 — 33.7MB)
Condition of the Show: Contending with contentious Midtown diners.
Author: Christian Bauman
Subjects Discussed: Defining a rock and roll novel, writing an ensemble novel with Hoboken as a character, references to paper storms and 9/11, chronological foreshadowing, using real-life Hoboken locations vs. invented locations, the Hoboken-New York rivalry, playing the rube vs. genuine sincerity as a reflection of irony in the 1990s, balancing real-life incidents and invented narrative, the benefits of vaguely knowing someone, whether or not a particular city is important to a narrative, writing about the worker hierarchy, writing about characters who live cheaply, socioeconomics in literature, locative contexts that make novels different, trying not to anticipate the next novel, songwriting phrases, reconfiguring essays and other pieces into a novel, and the modified omniscient voice.
EXCERPT FROM SHOW:
Correspondent: You have this particular rock 'n' roll novel dwelling upon Hoboken, as well as Mona Smith, who is this Erica Jong-like figure, who is the mother of Thatcher. But I wanted to ask you about this. Because it's very fascinating to me. I have the belief that if you write a rock 'n' roll novel, there needs to be some additional element. Some additional hook. Because if you dwell too much on rock 'n' roll music, well, it's going to possibly be something of a circlejerk. So I wanted to ask you. Was this a consideration in setting this book in Hoboken? The Hoboken aspect came first? What happened here?
Bauman: Yeah, I think the Hoboken aspect came first. Well, first of all, I should point out that everyone keeps calling it a rock 'n' roll novel. It is actually a folk novel. So we should just be clear here. There's a lot more Woody Guthrie here than anything else. But it's a good point. You know, the whole thing I wanted to do, in as far as I wanted to anything and it didn't just happen the way it happened — I was trying very hard this time to do two things. One was to write about a place. A very specific place to the point where the place became one of the characters in the book. And of those places where I've either lived or been alive in my life, Hoboken was one of them that stood out as a good place to go. And the other one was that I really wanted to try and write an ensemble novel to the best of my ability. And I kind of failed in that aspect.
Listen: Play in new window | Download (Running Time: 36:51 — 33.7MB)