Gail Godwin is most recently the author of Unfinished Desires.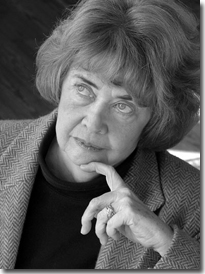 Listen: Play in new window | Download (Running Time: 27:07 — 24.8MB)
Condition of Mr. Segundo: Combating an uncertain relationship with the faith.
Author: Gail Godwin
Subjects Discussed: A Mother and Two Daughters, allegorical personality change tied into a historical framework, characters who dictate into a tape recorder, sense of time and character motivation, saving up character place, three (maybe four) versions of The Red Nun, nuns who hit boys with rulers, unfinished statues, representations of representations, David Copperfield, Henry James, The Beast in the Jungle, researching the inner workings of a toilet as punishment, the downgrading of dreams, contriving a reasonable punishment, the visceral response of accepting people without judgment, third person paragraphs containing first person introspection, preferring to be inside, telling gestures, death by traffic accidents, bizarre deaths, repeating certain themes, Mount St. Gabriel, confronting stepfathers, disappearing maiden names, knowing the sources of all counties, revisionist memory, not giving details to the reader, original drafts of 900 pages, drawing pictures while writing a novel, keeping track of 15 students, Evensong, and unintentional sequels.
EXCERPT FROM SHOW:
Correspondent: I'm curious where the punishment that Ravenel ekes out in relation to a sanitary pad came from. The idea of having to research the inner workings of a modern toilet. Was this based off of any of the interviews you did?
Godwin: No, this was made up. I was in Ravenel's head and her character. I was being the headmistress. And as headmistress with a lot of boarders, especially these boarders from Cuba. The fathers really want them to be young queens. This is back before Castro. And when this girl keeps flushing things down the toilet and stopping it up, Mother Ravenel first thinks, "Well, I'll have her, as a punishment, clean the toilet stalls." And then she realizes, as a canny headmistress, that would not do. Because these fathers just would not go for that, for their daughters to clean the toilets. So she had to think of something that would take a lot of work and be instructive. And so she thought, "Well, I'll have her diagram the workings of a toilet." And I looked in books to see what this poor girl would have to do. And it's complex.
Correspondent: So just to be fair to the characters, you had to actually consider taking on the punishment yourself.
Godwin: Yes, and this girl would not have had these books that I have. You can get books now that give you pictures of anything. So you just look up "toilet" and there it is. In color, with all the parts and full-page labels.
Correspondent: But to take this conversation further down the toilet, I should point out that here we have a situation in which a biological budding occurs. And the answer, Ravenel's answer, is to essentially deconstruct something that doesn't even relate to it.
Godwin: Oh!
Correspondent: The suggestion here — apparently subconscious, based on your surprise — would seem to me to indicate, "Well, maybe you should just accept the fact that girls go through this and maybe should come to terms with this instead of having to deconstruct." Going back to "The Downgrading of Dreams," this relates to that. Because of Maud's visceral reaction. She's asked to emotionally explain her essay.
Godwin: Yes.
Correspondent: And then she's asked to consistently dissect that emotional reaction. So we have a juxtaposition here. And I'm curious as to how that factored into the toilet incident and over the course of the book. Maybe you could talk about that.
Godwin: Well, tell me how. If you had been Mother Ravenel, what would you have thought of for the punishment — that would not have been deconstruction? What would it have been? Would it have been to talk about blossoming some more?
Correspondent: Yeah. Probably, I would have. Be honest about these kinds of things.
Godwin: Uh huh.
Correspondent: Get true to the heart, which would be my solution. But then I'm not really a religious man.
Godwin: And you're not….
Correspondent: I'm a man too. So…
Godwin: Yeah, you're not a headmistress or a nun.
Correspondent: Yes.
Godwin: In the 1950s.
Listen: Play in new window | Download (Running Time: 27:07 — 24.8MB)