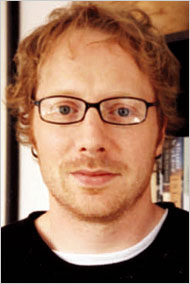 Please note that Our Young, Roving Correspondent will be conducting a live conversation with the writer Marshall Klimasewiski on Thursday, February 28, 2008, at 7:00 PM.
The event will take place at McNally Robinson, located at 52 Prince Street, New York, NY. The event is free, the conversation will also be available later as a podcast, and we will also be taking questions from the audience. Thankfully, we have managed to duct-tape Mr. Segundo to his chair to prevent him from disrupting the discussion. (The idea was kindly provided to us by the gentlemen behind The Signal.)
For more details on this event, go here.
To listen to our previous conversation with Mr. Klimasewiski, go here.