David Bruckner, Jacob Gentry, and Dan Bush are the writer-directors of The Signal. AJ Bowen played exterminator Lewis Denton, Scott Poythress played Clark, and Chad McKnight played Jim Parsons. The film opens on February 22, 2008.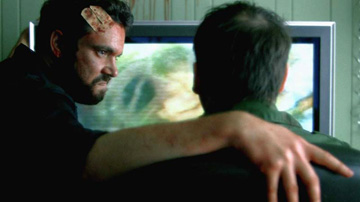 Listen: Play in new window | Download (Running Time: 33:40 — 30.8MB)
Condition of Mr. Segundo: Resisting the suggestions of broadcast signals.
Guests: Cast and crew members from The Signal: Writer-directors David Bruckner, Jacob Gentry, and Dan Bush; actors AJ Bowen, Scott Poythress, and Chad McKnight.
Subjects Discussed: Setting down the rules for a dystopic horror film, maintaining a dramatic consistency with three different directors, being dependent on actors, thespic accountability, Lewis and Clark, the origins of Terminus, the original city names of Atlanta, mythology and character names, the profile shot of Mya driving, reality vs. illusion, humanism and independent horror films, varying levels of psychosis encouraged within the actors, encouraging pre-existing character conditions, the Jim Parsons character and "nascent colonialism," how much one should read into The Signal, putting entertainment first, Stephen King's The Cell, George Romero, ripping off a narrative to kickstart an allegorical horror film, being inundated by media, The Exorcist, horror as the last realm for commentary, Lewis's resemblance to Ash from Evil Dead, being intimidated by cinematic influences, the use of everyday household goods in a disaster, wardrobe decisions, why everybody in Terminus has the same plasma screen television, the advantages of limitations, the importance of beating up actors who are friends when there isn't a stunt team, finding the location for Terminal 13, and shooting in a blood-soaked hallway while apartments were being shown.
EXCERPT FROM SHOW:
Correspondent: Were there varying levels of psychosis that were encouraged in the actors here?
Poythress: (uncomfortable laughter)
Correspondent: Maybe they can respond. Were you encouraged to get in touch with your inner id in any particularly innovative or intuitive way? Or did this just come natural? The murder. And strange, also, the decorum of still eating a pretzel at a party while, simultaneously, the whole atmosphere is blood-soaked.
Gentry: (laughs)
Correspondent: And now you're eating almost a pretzel. Now a bagel.
Bowen: You know, there was some slight nodding and prodding. But for the most part, it was such a hands on experience that it wasn't very difficult for me to get angry at Justin Welborn, because of how many times he hit me.
All: (laugh)
Bowen: But there were moments where — I remember specifically. This is AJ, by the way.
Correspondent: So soft spoken. I'm shocked.
Bowen: Very mellow. Wait till this cup of coffee's gone. Dan pulled me off to the side in the middle of shooting a very important moment and said, "Hey, that guy's fucking your wife!" And I was like, "What?" And I guess he was trying to motivate me to get me really excited.
All: (laugh)
Bowen: And I was like, "Oh, you just want to do more acting. I'll act more, Dan. You don't need have to go tell me that my wife's having an affair." I don't think that answers your question!
Listen: Play in new window | Download (Running Time: 33:40 — 30.8MB)