Mark Kurlansky is most recently the author of The Last Fish Tale.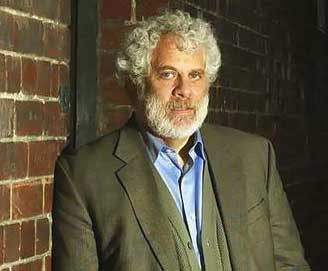 Listen: Play in new window | Download (Running Time: 50:14 — 46.0MB)
Condition of the Show: Moving forward after unexpected losses.
Author: Mark Kurlansky
Subjects Discussed: Mark Kurlansky's wonderful dog, coming into Gloucester from an outsider's perspective, possible solutions to global fishing problems, the close parallels between bottom dragging and the decline in fish stocks, ineffective methods of government subsidization, bycatch, intercontinental arguments over fishing, the problems with regulating fisheries, trying to find uses for excess fish stock, Gorton's, bureaucracy and other political problems in Massachusetts, the clash between environmentalists and fishermen, the Elise vs. Bluenose race, downtown zoning and fishing, careful hotel development, chowder recipes, Moby Dick, Portuguese linguica, fishermen going out to sea without being able to predict the dangerous weather, the history of the schooner, various fishing technologies, oceanography, Howard Blackburn, Gloucester newcomers, ethnic groups and the granite industry, the Luminists and Fitz Henry Lane, Emile Gruppe, non-native Gloucester residents and art, Kurlansky's illustrations, Motif Number 1, T.S. Eliot's The Waste Land and Ezra Pound's cut of Gloucester passages, balancing non-specific details about interviews with primary sources, and Kurlansky's journalistic approach.
EXCERPT FROM SHOW:
Correspondent: I'm wondering if it's a matter of this obdurate Gloucester character that you allude to many times throughout the book. In fact, I was curious about the whole Elsie vs. Bluenose race. You actually write that essentially, they didn't have time to deal with this great defeat. That they were more concerned with fishing. And in a desperate effort to determine whether this was true, I was digging through the New York Times archive and I found this particular quote from Captain Marty Welch in a 1921 article. He basically says, "I've no excuses. The larger boat won. The Elsie is as good as the Bluenose is, only she's smaller. Give me a vessel of that size and I'd like to race her every day in the week." So this seems to me either a sense of Gloucester bluster or perhaps a notion of some kind of pride. What is this exactly?
Kurlansky: Well, in that particular case — and it was a different era — you have to remember that schooners were invented in Gloucester. And they were invented as fishing boats. And so fishermen had this tremendous pride that they were the masters of schooners. And they became yachts. Today, the only schooners around — except for in a few museums — are yachts and for racing. So fishermen — and it's the same thing with the environmentalists. "These aren't real men of the sea. These are just rich guys who are playing around on these boats. We're the guys who know how to handle a schooner."
Correspondent: And then, on top of everything else, the Canadians decide to put the Bluenose on their stamps, their dime….
Kurlansky: On everything.
Correspondent: My girlfriend's Canadian and I asked her about the Bluenose. And she gave me a slight grin. So I'm like, "Come on. Give the Gloucester guys something."
Kurlansky: Well, Bluenose visits Gloucester. There's a new…
Correspondent: The Bluenose IV. Yeah, I saw that.
Kurlansky: But one of the unusual charms, I think, of Gloucester is that it is very determinedly a blue-collar place. And it takes a tremendous pride in its blue-collarness. And it's a community in which there are a number of extremely wealthy people. And they all get along pretty well. At least, they socialize. In a way, it is the classless society. Except that there is this tremendous awareness of class and the ethos of working-class people. You have to be aware of that if you want to deal with Gloucester.
(Image: Rebecca Hallas)
Listen: Play in new window | Download (Running Time: 50:14 — 46.0MB)