To my great shock, the late, great Thomas M. Disch committed suicide on July 4, 2008. This was his last face-to-face interview before his death, conducted on June 25, 2008 at his apartment. For more on Disch, start here. His most recent book was The Word of God.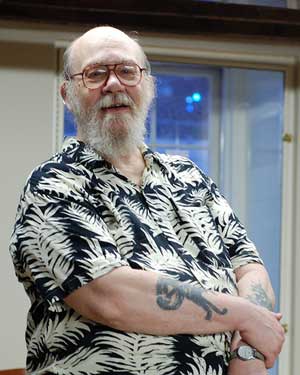 Listen: Play in new window | Download (Running Time: 53:55 — 49.4MB)
Condition of the Show: In memoriam.
Author: Thomas M. Disch
Subjects Discussed: The difficulties of declaring yourself a deity, truth and memoirs, authenticity, James Frey, Disch's takedown of Whitley Streiber, Democrats and evangelism, Reverend James Dobson, the unexpected reaction to Disch declaring himself an atheist at a North Dakota convention, Clifford Irving, the fun of footnotes and annotation, fundamentalists, writing books in which the ground is always shifting, Emerson and the trinity, Algis Budrys, Thomas Mann, the taboos of simulacra and alternative realities, war and commandments, the fantasy of having different parents, griping about editors and agents, the American literary tradition of celebrating con artistry, L. Ron Hubbard, Disch's religious acolytes, Michael Moorcock, asking for blurbs without any of the blurbers reading the book, Philip K. Dick's 1972 letter to the FBI, Camp Concentration, pulp fiction and literary posterity, "A Visit from Saint Nicholas" and Clement Brown, whether or not literature (and civilization) will survive into the next century, maintaining a LiveJournal, on not submitting poems to magazines, Samuel Johnson's maxim, poetry and the New Yorker, editors or critics who hate Disch's guts, being ignored, being snubbed by Stephen Donaldson, ridiculing enemies, nonoverlapping magesteria, having Catholic friends, cowboys, literature as a religion, Disch's efforts to read The Tale of Genji before death, the reading of "approved classics," Samuel Richardson's Clarissa and Jane Austen, Disch's strong love of Patrick O'Brian's Aubrey-Maturin novels, writing Amnesia and building a model of Manhattan within the text adventure game, literature as a constantly changing medium, inhabiting the now and obsolescence, silent film, and poetry as Disch's "one good horse."
EXCERPT FROM SHOW:
Correspondent: I wanted to also ask you about A.J. Budrys, who I know you — I saw your LiveJournal where there were many caustic remarks directed his way. But I should point out that when I received this galley well before June 9th, when he died, you referred to him as "the late Algis Budrys."
Disch: (laughs) Yes!
Correspondent: I'm wondering if you had some inside dope or if this is another example of your divine powers.
Disch: I guess so. I mean, I never know what my divine powers are going to do often, until they've done it. And this is certainly a case where I had picked the right horse without even knowing.
Correspondent: Well, I mean, why did you type "the late" so early on? I mean…
Disch: (laughs) Well, for one thing, I didn't know.
Correspondent: You didn't know he was alive?
Disch: Yeah. I sort of figured it was likely that he was dead. And wishing it to be the case, I just wrote it that way.
Correspondent: Or he was dead to you in other words?
Disch: Yeah. Yeah. I mean, if I had my druthers, there he is.
Photo credit: Flickr
Listen: Play in new window | Download (Running Time: 53:55 — 49.4MB)