Scarlett Thomas is most recently the author of Our Tragic Universe. Ms. Thomas previously appeared on The Bat Segundo Show #117.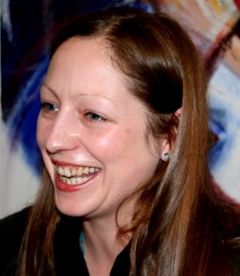 Listen: Play in new window | Download (Running Time: 57:17 — 52.4MB)
Condition of Mr. Segundo: Unusually pedantic about modifiers.
Author: Scarlett Thomas
Subjects Discussed: [List forthcoming]
EXCERPT FROM SHOW:
Correspondent: I wanted to address one review. Jessa Crispin in The Smart Set. She said, "Well, you adhered to the two laziest storylines that the world of fiction has ever thrown up. Love Conquers All and Secretly a Princess." But to my mind, I thought this was a severe misreading and misunderstanding of the book. I mean, the book is very much concerned with how narrative must rely on contrivances in order to present life. On the other hand, when you have, for example, the deus ex machina of the magic money appearing in Meg's account, this is something of a risky proposition for someone who is accustomed to the page-turning of your previous books. So I'm curious as to how much you worried or agonized over this, coming off of a fairly substantial success — particularly in the UK and particularly here among bloggers and the like. Did you just not care? Or did you worry about people misreading this? Because you're presenting narrative within narrative within narrative and some people are clearly not picking this up.
Thomas: Yeah, I mean — God, there's quite a lot there. I read the Jessa Crispin piece and I feel quite frustrated with it. Because the reading that she presents is the reading that's set up for you in the book. That, in fact, it's one character's analysis of what's happened. But the book sets it up as probably wrong. The reading that's there –- I mean, this is just my own reading. Everybody is welcome to read it the way they like.
Correspondent: Sure.
Thomas: But the idea is that you actively go through and think, "Oh! Aha! So it was the cosmic ordering that gave her the money. And then this and that and the other. Oh my god, everything's prearranged. And there's no free will and everything's perfectly placid. And it's just like Kelsey Newman. Do I actually want to live like that? Or would I rather read it a different way?" So that's what you're supposed to be doing with those ideas. And Jessa seems to have stopped a bit too early. The money device – it's not really a deus ex machina. Because Meg has written these novels. And they have been optioned for TV. And she has got the money for it. And I think, as most writers know, you do these things. And everybody's always talking about optioning this and optioning that. And you might get some money. And you never do. And one day, you open your online banking. And there's some money. And it does kind of change your life. For me, The End of Mr. Y did so well in the UK and Europe that there were days when I'd open up my bank account and think, "Whoa! Where has that come from?" For the first time in my life. Because, you know, I've always been pretty poor. And I wanted to try and write out that experience of suddenly having some money. But, of course, it's really hard to do in a novel. Because the novels are supposed to be about drama and struggle and conflict, and somebody striving. You're supposed to get the money at the very end of the book. I wanted to play with the idea of getting the treasure in the middle. And then what happens to life after that? But I have to say that Meg is not really a princess. Not for me anyway. What was the other thing?
Correspondent: I was going on about how narrative has to rely on contrivances to some degree in order to represent life. But to phrase that in light of your last answer, what I think we're talking about here is the problem with coincidences, which occur in reality and life all the time. And yet when you put them into a novel, then, all of a sudden, it seems like "Oh, that can't possibly happen!" And that's the problem with structure, I suspect.
Thomas: Well, you see, another thing I'm trying to do in the novel – maybe not so obviously; well, maybe it is obvious – is to look at coincidence. Is the world and our experience of it – is that somehow structured in a scientific or positivist and rationalist way? Is it structured on the spiritualists on some level? Because that's also a structure that's imposed. Is it completely random? Or the fourth option – I may have just said there are three.
Correspondent: Well, that's okay. We're not counting.
Thomas: (laughs) Yeah, I don't think you can count. But the fourth option is more interesting to me. And I think that there is no structure. But there are lots of people who are aware of lots of different structures. Which is interesting. And there are things that happen that aren't pure coincidence. So that things don't just happen out of nowhere. But they happen through plots or series of events leading up to that that are so minute that you almost can't see them. So, for example, towards the end of the novel, Frank and Vi turn up miraculously on the River Dart, where The Beast maybe is, and end up taking place in some action there. And for me, I really liked putting them there. Because I thought they were there because they read Alice Oswald's poem about the Dart. So it's not that they weren't there randomly by complete chance. Everybody does everything for a reason. I'm really interested in that. And so looking at the reasons for why people do things, and why that might lead to something else, that's what's really fascinated me in this book. So I really don't believe in complete coincidence. I believe in choices and desire and motivation of characters, and just how interesting it is when you look at the tiny aspects of that.
Correspondent: You've created almost by necessity, however, a system. And life is what happens when you make other plans. So I'm not certain if I entirely buy your causist explanation for these characters. Because I think you also portray much of the attempt to explain the universe, or explain the world around us, as a trap. And a way to avoid living without absolute cognizance. So I'm curious about how you managed to depict this double-edged sword here.
Thomas: Yeah, it might. I don't know. I mean, you don't have to buy it. But it's absolutely how I wrote the book. That okay, on some level, when you write a novel, you do have to impose some kind of scheme on things which don't have a scheme like that. You need a beginning, a middle, and an end. You need to choose when you take up with the carrots. When you let them go. All of that. Yes, you do impose a structure. But for me, one of the most interesting moments in the book was when I realized that Arthur Conan Doyle, when he believed in the Cottingley Fairies. For him, the fairies were more believable than these working-class girls who could actually forge pictures of fairies. I found that so fascinating. Because for that to be your explanation – because it was impossible for him to believe in the motivation of the girls, for him to think his way into their lives and the way they would have planned something, wasn't just a coincidence. They didn't just happen upon the pictures. They actually made them. And that's a wonderful thing to imagine. I think it's great and so inventive. And then, for him, it was easier to believe in the fairies. For him, the more believable plot or the more believable story is that the fairies exist. And, for me, that was a really central image in the whole book.
Correspondent: So even if you don't clutch to the Kelsey Newman-like idea, you still can find solace in either the Conan Doyle fairies or, as Meg has in this childhood flashback, where there's this guy who says, "I can teach you magic." Which is interesting in light of the fact that her father is very much about finding an explanation for the universe with numbers. And so it seems to me that the burden of these characters is very much to find any kind of explanation –- or even the self-help books that Meg must review for this particular column. That this is really the onus for almost all the characters. Either that or you have the option of just tossing your car into the river.
Thomas: Yeah, absolutely. I'm fascinated with the process of looking for explanations for things, and understanding things scientifically. Which has always been my urge. Even though I'm not into the kind of — this nouveau atheist movement is not my thing at all. Because any explanation that makes sense would be okay for me. Usually it's a kind of scientific explanation. Sometimes, it's not. But if I'm up in a plane, I want to know how it flies. I want to know why I'm not crashing.
Listen: Play in new window | Download (Running Time: 57:17 — 52.4MB)