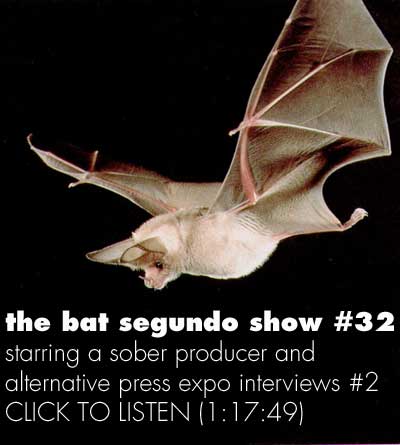 [
NOTE:
This is the second of a three-part podcast which tackles
Alternative Press Expo
. Our Young, Roving Correspondent walked the floor and talked with people for the first two parts. The third part will feature the panel interview with
Alex Robinson
.]
Authors: Anna Warren Boersig, Mel Smith and Clark Castillo, Shuji Karasawa, Neil Fitzpatrick, Jacob Steingroot, Julia Wertz, Carmen Ogden, Fred Van Lente, Matt Voss, M.K. Reed, Gary Zumie, Brandon Huigers, Sean Seamus McWhinny, Shaenon K. Garrity, Joe Canose and AK Smith, Scott Beale, Bill Roundy, Alex Dias and Daniel Clowes.
Condition of Mr. Segundo: Missing, arrested for littering.
Subjects Discussed: A different version of Oz, on what an executive producer does on a comic, the latest comic adaptation of Gumby, Bob Burden, an "Ally McBeal sense" to Gumby, Robert Downey, Jr., Hard Gay Comics, naming a comic book universe after a creator vs. coming up with a brand new name like Narnia, animals, Homeric epithets, "Fart Party" as a benign concept, an obsession with submarines, faux Esperanto, Action Philosophers, putting out a Xmas book in April, violence via croquet, Nabokov, footnotes in comics, more animals, the Stop Dating philosophy and an ironic revelation from the guy who came up with it, the scandalous world of catering, mad scientists, robot zombies, squids, bartending guides, purple fingernails, a fascinating gentleman who is organizing the world's most exteme convention (including nonstop entertainment and dancing!), Art School Confidential, and screenplays vs. comics.
Listen: Play in new window | Download (71.3MB)