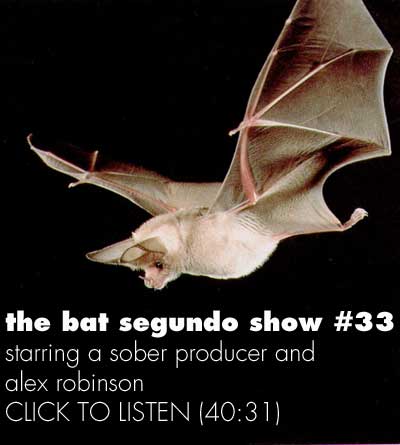 [
NOTE:
This is the third of a three-part podcast which tackles
Alternative Press Expo
. This particular podcast was recorded in front of a live audience on April 9, 2005. Enjoy!]
Author: Alex Robinson
Condition of Mr. Segundo: Missing, arrested for littering.
Subjects Discussed: Why Caprice carried over in all three of Alex's books, the appeal of cons and self-delusion, how Tricked was planned, on being influenced by and cultural references, John Lennon, why many of Alex's women characters are taken in by dupes, messy bedrooms, Dorothy Parker, on writing small-talk in comics, the use of text, balloons, Dave Sim, work ethic, comic book influences, ethical subtext, the mystery of the one dark moment concerning Marlise in Box Office Poison revealed, loyalty, lucid crazy people, the Eisner-Pekar questionnaire, on attending comic book conventions, Alex Robinson the critic on Alex Robinson the artist, Planet of the Apes, on computers and printing, and minicomics.
Listen: Play in new window | Download (37.1MB)