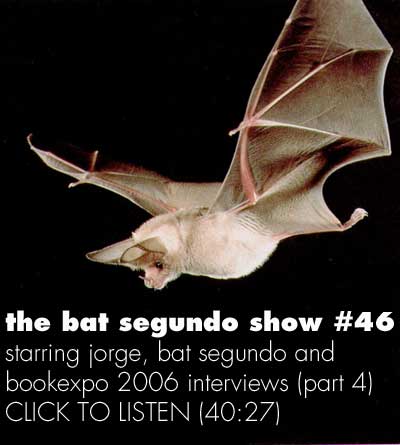 Guests: Eric Reynolds, Mark Binelli, Matt Cheney, Jeremy Lassen, David Axe and George Scithers.
Condition of Mr. Segundo: Revealing himself to be a closet poet.
Subjects Discussed: Peanuts, Dennis the Menace, Popeye, Fascist Italy, eerie historical similarities, classic comedy teams, journalism vs. novel-writing, free lunches, on being frightened by Bat Segundo, zoot suits, how to crash parties, motivations behind 40 minute soliloquies, on being an embedded journalist, war fever, having a good time in Iraq, the origins of the second Weird Tales incarnation, H.P. Lovecraft, the current state of literary magazines, the influence of MFA workshops on speculative fiction, Strunk & White, on writing for money, and the benefits of writing groups.
Listen: Play in new window | Download (37.0MB)