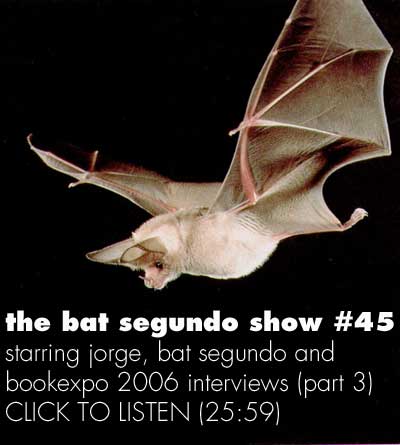 Guests: Paul Slovak, C. Max Magee, Carolyn Kellogg, Anne Moore & Dan Sinker, Lauren Landress, Terrie Akers, Camille March and Alan Davis.
Condition of Mr. Segundo: Showing an unexpected grasp of history.
Subjects Discussed: How Slovak manages Bill Vollmann's prodigious output, details on Vollmann's Imperial and the upcoming A.M. Homes memoir, a report on "what Mr. Segundo did last night," Joe Meno's The Boy Detective Fails, speculation on the Akashic Noir volumes, self-realization, yoga philosophy, on worshipping a god named "Ralph," putting the "Other" in Other Press, Michael Tolkin's The Return of the Player, travel guides, Marshall McLuhan, and having fun over the age of 25.
Listen: Play in new window | Download (23.8MB)