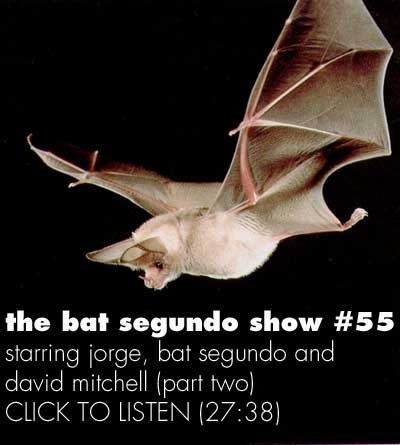 [
NOTE:
This is part two of a two-part podcast.]
Author: David Mitchell
Condition of Mr. Segundo: Miffed by a grand literary theft.
Subjects Discussed: The Simpsons, the ambiguity of Norman Bates, transcontinental reception, the unexpected reception of Black Swan Green, the Stranger review, Haruki Murakami, finding auctorial voice, the "fourth book" breakthrough, avoiding the pitfalls of commercial writing, laziness, stylistic restraints and imagination, politicians, flexible opinions, compartmentalizing narrative components, conclusions of novels, the perfect songs, the Beatles, information on the fifth novel and the kind of book Mitchell is shooting for.
[
LISTENER'S NOTE:
There is a NASA beep that somehow made its way into this podcast. Don't be alarmed. I will remove it later.]
Listen: Play in new window | Download (25.3MB)