David Mitchell is most recently the author of The Thousand Autumns of Jacob de Zoet. He previously appeared on The Bat Segundo Show #1 — the very program that started it all — along with a two-part podcast from 2006 (Show #54 and Show #55).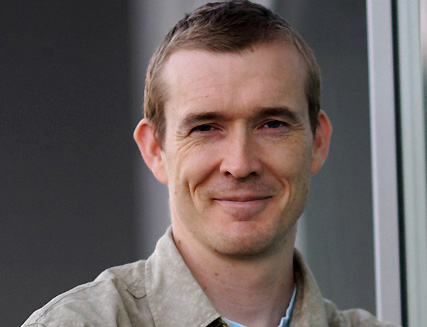 Listen: Play in new window | Download (Running Time: 13:06 — 12.0MB)
Condition of Mr. Segundo: Annoyed by hotel security.
Author: David Mitchell
Subjects Discussed: [List forthcoming]
EXCERPT FROM SHOW:
Mitchell: I think of words as vehicles that convey what is in my imagination into someone else's. And we're sort of in a dialogue. Because they don't just replicate what's in the imagination. They can alter it. You can mistype and you get a word that actually can be better than the one you meant. Words can feed back and suggest to the imagination, "Well, would it be neater if you imagine this instead?" Language itself is a kind of a writing partner, separate to the writer, who is deploying the language. I think. I think this is true. Has that answered your question?
Correspondent: It sort of does. Actually, there's one thing I wanted to ask you and that is with Orito. You investigate the flashback of her sexual assault. Yet in the shrine, we don't really see the true horror of what's going on. I mean, granted it's from Orito's perspective. But I'm wondering why you didn't really go into what was happening. I mean, she could have observed the engifting. I mean, it sounds horrific in terms of a "what is not seen" standpoint. To use a cinematic idea. But I'm wondering why you didn't go full-borne. Or if there was a draft where you did in fact go into that dark territory and it proved just too disturbing? I don't know.
Mitchell: I didn't know how to do a sex scene that involved engiftment for it to not stink of misogyny. And as a male writer, that's even worse. You know, in blunt terms, if you can ever hear a writer jerking off as he's writing, then that's it. Then the book's dead. That's a crude thing to have said.
Correspondent: You can say whatever crude things you like here.
Mitchell: But it's what I meant. And you kind of know what I mean.
Correspondent: Yeah, I do. But on the other hand, you are dealing with an age from centuries ago where it was in fact a very misogynistic atmosphere.
Mitchell: Oh certainly. Certainly!
Correspondent: You certainly get a lot of that in the book. But I'm just curious why. I mean, don't we have to really look at these terrible dark feelings squarely in the face in order to really get at the truth?
Mitchell: If it's happening now — at a place about a quarter of a mile from the Helmsley Hotel that we've just been kicked out of in downtown New York, and it's a social wrong, and women have been trafficked from godforsaken parts of the world and are being exploited like this — dead right. Shine cold hard truth or truth of light onto it. Please. It's got to be stopped.
This is fiction. Two hundred years ago. And it hasn't got that same imperative. That wrong, in this day and age, does not exist to be righted. If there's an echo of Dejima, which is also a place that no longer exists, it's a novelist's requisite. That's what the shrine on Mount Shiranui is. And for me to be offering the scenes — sort of on camera as opposed to off stage, where such physical exploitation is taking place — I think would have gone over a kind of writerly ethical mark in the sand. Which I chose not to go over.
Correspondent: What would that ethical mark in the sand be for you? I mean, it seems to me that other people — like Brian Evenson, who comes to mind — will go across that mark. And by doing so, really risk the idea of being impugned as a misogynist. Even though there is no misogyny in their particular intent. I'm wondering if it's an overstated concern perhaps on your part. Or whether this is just one of those lines in the sand that you will possibly cross in the future or some capacity. Staring some really terrible truth in the face like that. I mean, you do. Don't get me wrong. But this is an interesting question.
Mitchell: If it's a real terrible truth, it has to be stared at the face. If it's an unreal, made up, quasi-historical fictitious terrible truth, then to be describing institutionalized rape on the page in hard porn vocabulary terms, I feel that it sounds like me jerking off into my laptop. And all of a sudden, 98% of my readers have left the building. And I probably have gone with them, had I been a reader of the book.
Correspondent: Would you call something like Bret Easton Ellis's American Psycho jerking off?
Mitchell: Firstly, I can't say what I'll be writing in the future. I don't know. Secondly, to go back to the question that you've — well, two questions ago and actually one question ago as well. I don't begin to sit in judgment on other writers who handle this, who make this call in a different way. And I've read that book. And it works very well. It's distressing and awful and upsetting. And it works very well. And good luck to him really. But here in my book, in The Thousand Autumns of Jacob de Zoet, it felt wrong. And I've had a really blessed life. But I've also had enough hurt and pain to know it's real stuff. And it's not to be toyed around with just because, "Hey, I'm going somewhere no one else has gone before." No. You have to treat your own female characters with respect as a male writer. Why I'll stop being afraid to show the moral hypocrisies going on and the way that these things are justified quite plausibly, quite kindly, by the men who are conducting this kind of farm — that I'm not afraid of at all. Why would I be? But the language that they use. Just like a term like "ethnic cleansing." These soft little euphemisms when reality is too horrific to be true. What gives? What bends? There's actually language used to describe it. And these euphemisms. Rendering. Waterboarding. They sound quite pleasant. They sound quite Beach Boy-esque, don't they? Always watch out when you hear words like that. Because it means reality is too horrific for that spade to be called a spade. Now this kind of thing, I really have to explore in the book. And I do it. And that's great. But the thing itself that is being euphemized about — this farming of newborn children for purposes I'm not going to talk about, because I don't want to spoil the book for anyone who hasn't read it — it's crucial that I don't wobble my fingers in that gore in a sort of gratifying, self-regarding, "Look how brave I'm being" kind of a way.
Correspondent: I bring that up because it does resemble the farm that's in the midsection of Cloud Atlas.
Mitchell: Yeah, it does. Doesn't it? I hadn't thought of that. So it does.
Correspondent: And you seem to be really concerned with the idea of slavery. Particularly in the first two parts of the book. And this is why I'm convinced that what we're talking about here is an interesting fusion between these moral hypocrisies and, of course, the narrative steam engine. At the end, we've got the clearly influenced Patrick O'Brian. Which is great and all. But what I'm wondering is: Can you really pursue these dark and dangerous and really heavy topics that involve serious exploitation? I mean, I haven't even brought up the slave chapter that was from the perspective of Weh. The only time the book slips into the first person. This is also interesting to this question. Can you really explore dark terrain like this and stop short of the mark? That's the question. Is this something you're still figuring out?
Mitchell: It is. And it's an ongoing debate I have with myself. If you feel the book works, then I can and one can. If you feel the book doesn't work, then perhaps one of the reasons it doesn't work is because it can't be done. You do have to slip into — not sexual porn, but a kind of pornography of violence. Maybe you do. I can't judge my own books. I've no idea if they work or not. I never do. Never do.
Listen: Play in new window | Download (Running Time: 13:06 — 12.0MB)