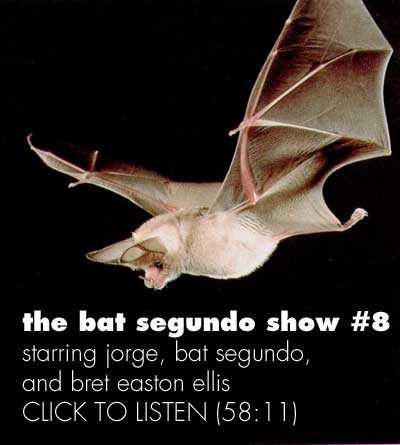 Approximate Interview Date: Early September 2005 in a locked hotel conference room.
Author: Bret Easton Ellis
Condition of Mr. Segundo: Cold and impoverished.
Subjects Discussed: The two Brets, finding the voice of Bret the narrator, "ten years on an outline," metafiction, origins of Lunar Park, Stephen King, the use of brand name description in fiction, the rules of fiction, subtext, B.S. Johnson, the dramaturgy of writing about writers, episodic fiction vs. narrative fiction, pushing boundaries, 9/11, irony, the generation between 1961 and 1971 and the generation after, keeping track of young writers, Stanley Elkin and being cognizant of humor, responsibility within Ellis' work, on being a wuss, television vs. fiction, BEE's anger, the Lev Grossman profile, 1941, on being a movie person, the Jayne Dennis website, Jamie Clarke's Vernon Downs, Ellis's politics and American Psycho, rich people, corruption, Roger Avary and film adaptations.
Listen: Play in new window | Download (26.6MB)