Wayne Shannon is a legendary broadcast commentator. This particular conversation relates to this 2006 post from Return of the Reluctant. You can find a 1980 clip of Shannon's work here.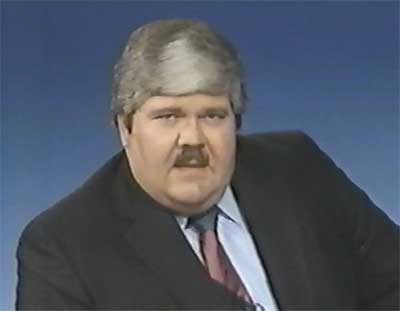 Listen: Play in new window | Download (Running Time: 35:18 — 32.3MB)
Condition of Mr. Segundo: Absent.
Guest: Wayne Shannon
Subjects Discussed: Reading teleprompter from thirty feet away, being a "troubleshooter," the proprietary address of "Our Wayne Shannon," working from a script vs. improvisation, the makeshift work environment of CNBC, having to write and perform an incredible number of commentaries, being motivated by children, producing five- and ten-part narratives on evening news segments, how Shannon caused the evening news to go from a distant #3 to #1, taking on the Big Four in Detroit, agitating the higher ups while television ratings increased, working for the American public, being surprised by getting jobs, Shannon's influence upon other commentators, Michael Moore ripping off Shannon, punchlines stolen by Robin Williams and George Lucas, being canonized by the public, testing out commentaries in the newsroom, getting someone's number, contending with egotistical anchors, remaining in practice, the American public and the truth, moving to Washington, and the death of the Wayne-Bo persona.
EXCERPT FROM SHOW:
Correspondent: I would also argue that, in many ways, you were ahead of The Daily Show and Stephen Colbert. In fact, I should point out to you that in one of the segments that you sent me, you refer to the audience as "sports fans." And this is interesting to me. Because I'm not sure if you're familiar with ZeFrank, who is this web commentator who did a lot of short commentaries for two to five minutes. Perhaps the latest incarnation of this type of commentator. But he addresses his audience as "sports racers." So I'm wondering. If you think so little of yourself, I would argue that there was some kind of innovation that was possibly laid down, whether consciously or subconsciously, to another generation of commentators along these lines. And, in fact, you know, I'm shocked that none of these are available on YouTube or something.
Shannon: I have been told — I've never seen the film and I don't know why. It's that movie that came out in Detroit about automobiles. It was called Me and Henry or something like that.
Correspondent: Roger and Me, you mean?
Shannon: Say again?
Correspondent: Roger and Me?
Shannon: Yes, Roger and Me. That some of the conceptual presentation elements of the 1980 Rock series are in that film. And that guy might well have been in Detroit* when I was taking on the Big Four, I don't know. I've never seen the movie. And I don't know why. Because I'm relatively busy these days.
Correspondent: Yeah.
Shannon: Not with anything that has to do with the biz. But I just haven't gotten around to seeing Roger & Me. Because my darling Dr. Cheryl — my significant other — her son has seen the movie. And he saw the entire series [TV Nation, The Awful Truth]. They used to have it on a huge set of ten VHS. And he's seen the whole series. And he swears that that guy must have seen some of the stuff I did in 1980 Rocks and incorporated it into Roger & Me.
Correspondent: Michael Moore.
Shannon: And, if so, I would be terribly flattered.
Correspondent: Wow. But this is Michael Moore and he's made millions of dollars making these leftist documentaries as well. I mean, if that is the case, that's quite an astonishing sort of thing. It almost demands that you put these things onto YouTube. So people can decide for themselves.
Shannon: Probably. But, you know, over the years, my lines kept popping up in different places. And by that, I mean, punchlines. Robin Williams was on one of those things to raise money for the poor. And he used one of my lines. "Women. You can't live with 'em and you can't live with 'em."
* In 1980, Michael Moore was the editor of The Flint Voice. Flint is an hour's drive from Detroit. So it's just possible that Moore did indeed pilfer from Wayne Shannon.
Listen: Play in new window | Download (Running Time: 35:18 — 32.3MB)