Our Correspondent conducted several odd interviews at Bouchercon 2006.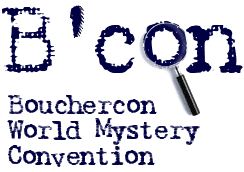 Listen: Play in new window | Download (Running Time: 30:14 — 27.7MB)
Guests: Lee Goldberg, Robert S. Levinson, Alexandra Sokoloff, Sarah Weinman, Jon Jordan, Jennifer Jordan, Jim Winter, Russel McLean, Sandi Loper-Herzog, Steve Stillwell, and Duane Swierczynski.
Condition of Mr. Segundo: Attemptnig to seek a spiritual path.
Subjects Discussed: The Goldberg brothers, story limits and novelists, pi, Marie Callender's, Tod Goldberg's toe, the Beatles, CrimeSpree Magazine, man boobs, rude noir, Charlie Huston's penchant for f-bombs, David Simon, beer vs. press, the British Embassy, passing around hotel room numbers, book bribes, Crime Scene Scotland, gray-haired ladies hooked on drugs, attending multiple Bouchercons, and the narrative inspiration of hair color.
Listen: Play in new window | Download (Running Time: 30:14 — 27.7MB)