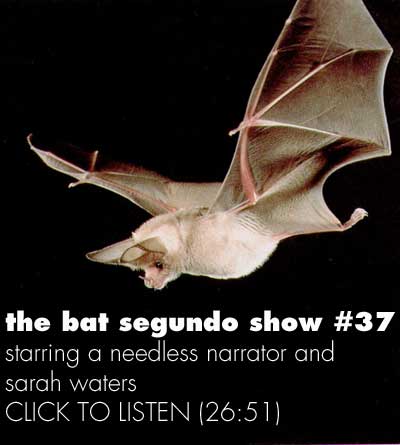 [
NOTE:
The Bat Segundo crew is not responsible for the wretched music (in addition to a cleaner that we processed out in part) playing in the background during the interview. We apologize to our listeners for this. But we had to improvise to talk with Ms. Waters as long as possible.]
Author: Sarah Waters
Condition of Mr. Segundo: Wandering the Mojave Desert with Jorge.
Subjects Discussed: Waters' novels as romps, Graham Greene, imagery, the influence of 1940s novels upon The Night Watch, on ventriloquizing voices, thighs as literary imagery and a pleasant thing to think about, watches and clocks, on devising the structure, the disadvantages of character development in a backwards structure, Tracy Chevalier's Washington Post review, on maintaining the exuberance from the Victorian novels, food, why the characters are attracted to Helen, nature vs. nurture in relation to World War II, on being pigeonholed as a lesbian writer, on maintaining respect for those who lived during World War II, the role of research in writing The Night Watch, on pageturner plots, and writing without an outline.
Listen: Play in new window | Download (24.6MB)