In today's edition of the Chicago Sun-Times, you can find my review of Sarah Waters's The Little Stranger. Waters appeared on The Bat Segundo Show back in 2006. And she'll soon be making a second appearance. Which brings us to an unexpected issue of productivity that I need to address.
First off, I wish to offer a profound apology to several authors and publicists, who have been waiting patiently for several Segundo installments.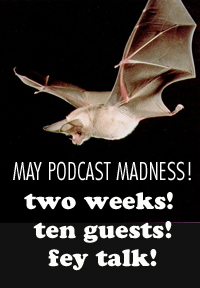 I am not entirely certain how it happened, but I apparently interviewed quite a number of intriguing people over the past month or so. Many of these interviews are quite funny and interesting. One interview is extremely odd and features a notable cinematic figure making a rather naughty reference to a chorizo. Another interview ended with the guest falsely believing me to be a Republican when I stopped tape. Yet another interview features an author and a translator sitting next to each other. But one should not confuse the prolificity of these interviews for any downturn in quality.
But because there was so much interview conducting, this has resulted in an extremely ridiculous backlog of shows that I could not keep up with. And the many gigabytes of data presently lingering on my hard drive probably represents the largest backlog of shows I've had in the show's history. (Indeed, I was so busy conducting these interviews that it hadn't occurred to me to produce the shows. Between looking for work and other professional obligations, I could do either one task or the other. And not one to keep idle hands, I ended up doing a lot of the former.)
So in an effort to catch up with this mess, I have decided to not interview anybody for the next two weeks or so (although a few interviews have been scheduled after that time). Instead, for the next two weeks, this website will become a depository for May Podcast Madness! I will be putting up a new conversation during just about every weekday for the next two weeks. I suppose that this is podcasting's answer to television sweeps week. Brace yourself.