Tony Stone is the director, writer, producer, editor, and actor of Severed Ways, a film about Vikings that opens in limited release on March 13, 2009.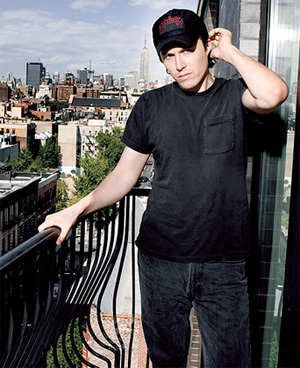 Listen: Play in new window | Download (Running Time: 23:47 — 21.8MB)
Condition of Mr. Segundo: Unsure of whether he wants to be a Viking or not.
Guest: Tony Stone
Subjects Discussed: The many crew positions that Tony Stone worked, music clearance people who keep weapons under their beds, making a film with seven chapters, how a two week shoot went on for three years, not getting the visuals right the first time, motivations for handheld camera work, accepting art as it is, "Greedo shoots first," contemporary slang transposed into Viking talk, A Knight's Tale, how far filmmakers can go in "modernizing" historical settings, the ethics of killing chickens on screen, Ingmar Bergman's Shame, helpful ways of agitating both vegetarians and meat eaters through cinema, filming a defecation scene, the appropriate constituency of shit for a beautiful shot, Charles Leland's Algonquin Legends, abstaining from profiling the Abenaki religion, paganism, anarchy, and secular humanism.
EXCERPT FROM SHOW:
Correspondent: "This fish is pretty killer." Well, "killer," as I understand it, is a recent modifier in the English language.
Stone: Yes, it is.
Correspondent: And I don't think necessarily that the Vikings were using this or that the Nordic tongue had any answer to "killer." So why the modernization of etymology here? Is this an inroad point along the lines of the Viking headbanger who likewise appears in this?
Stone: Yeah. It's that. But it's also that a lot of the times, you'd watch any period piece or historical film, whether it's Romans or barbarians or whatever else, they're speaking in semi-Shakespearean accents in their Old British. It doesn't really make any sense. And everything's very formal. There's no reason why, a thousand years ago, they weren't just as casual as us and they had their own vernacular. So this is using a piece of dialogue — like "This fish is killer" — is basically more of an accurate translation in my mind. Because you're taking whatever their vernacular was and putting it into our vernacular. So you understand the tone and the vibe of what they're actually saying. So I actually find there's more accuracy in it. And we've just been so beaten down by the traditional Hollywood stupidity of how I'm dealing with history in films. So that sort of explains why I wanted it there. And of course, the film is trying to bridge the past and the present. And so it's maing these characters have mannerisms that maybe the dude walking down the street has. Or whatever else. It's trying to just not have it be this distant, far off, separate thing. It's trying to make it more current and now. And it is with us.
Correspondent: But on the flip side, there is a certain point where it becomes ridiculous; i.e., A Knight's Tale, for example. In which you have the Nike swoosh in the Middle Ages. Do you remember this film?
Stone: Yeah, I do. I do.
Correspondent: I mean, it was totally ridiculous. It was fun. But at the same time, one does not look to this for verisimilitude.
Stone: "The Boys Are Back In Town." Yeah.
Correspondent: So the question is: how far can you go with this?
Stone: Yeah, that's interesting. A Knight's Tale. I forgot about that. It's been a while. But yeah. They use modern music.
Correspondent: "We Will Rock You." Yeah.
Stone: Then there's that amazing part where they're going back to London. And the Thin Lizzy song comes in. "The Boys Are Back In Town." (laughs) It's very incredible.
Correspondent: I mean, if we're talking about Hollywood stupidity, I'm wondering how…
Stone: Yeah. Obviously, there is a level of absurdness to it. I'm not going to deny it. But I think the film is sort of rebellious in a way. It's trying to set up a dialogue. I don't know. But in a way, like I'm saying, it's sort of modernizing the Viking. Making him a current character. Making him more similar to somebody maybe you know is the idea. I'm just getting away from that wall that's usually put up in terms of dealing with historical material.
Listen: Play in new window | Download (Running Time: 23:47 — 21.8MB)