Dave White is the author of When One Man Dies.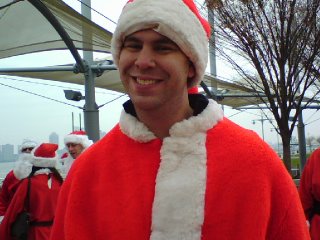 Listen: Play in new window | Download (Running Time: 32:38 — 29.9MB)
Condition of Mr. Segundo: Hostile towards Our Young, Roving Correspondent's inability to spell "Jack Daniel's" correctly.
Author: Dave White
Subjects Discussed: John Donne quotes, first names and hangovers, Billy Martin and the Yankees, war veterans, color blindness, Anthony Burgess, first-person and third-person chapters, having an antagonist who continually pines for a protagonist's death, rhythm, Taylor ham and eggs, New Jersey culture, the spelling of Jack Daniel's, invented private investigative tricks, the problems of ordering a pizza by cell phone, Jackson Donne's tendency to throw money around, whether one can cut a driver's license with a Swiss Army knife, Jon Bon Jovi, women and service sector jobs, music, the reliability of Glock guns, whether "sailing away" is a peaceful phrase, burgers as sustenance, drugs and teachers, stoner stereotypes, sentence fragments and commas, newspaper journalists, and hubristic statements from New Jersey.
EXCERPT FROM SHOW:
Correspondent: But surely colors and textures, these things have value too? These things trigger memories as well!
White: Yes.
Correspondent: These things often trigger family memories. At least for me.
White: Well, I'm color blind. Partially. So color doesn't have the same…
Correspondent: Oh, interesting!
White: …same power.
Correspondent: I was just going to ask you. Because Burgess in this book — I was wondering if you were familiar with Anthony Burgess. Because he was also color blind. I'm not sure if you knew that.
White: I did not know that.
Correspondent: That's why colors were tricky for him too.
White: Yeah. I did not know that. I'm not familiar with Anthony Burgess.
Correspondent: Are you familiar with any Burgesses?
White: Wasn't the guy who played the Penguin in the Batman series…?
Correspondent: Burgess Meredith.
White: Burgess Meredith.
Correspondent: Well, now, Burgess was his first name.
White: I know, but that's the only Burgess I could think of.
Correspondent: Why didn't he squawk like a penguin in this then?
Listen: Play in new window | Download (Running Time: 32:38 — 29.9MB)