Howard Jacobson is the author of Kalooki Nights.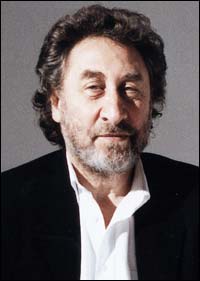 Listen: Play in new window | Download (Running Time: 51:30 — 47.2MB)
Condition of Mr. Segundo: Taking umbrage with card game titles.
Author: Howard Jacobson
Subjects Discussed: The onus of being on tour, the strange exercise of talking about books, loose trousers, the Jewish relationship with the body, being Jewish in England, jokes and audience reaction, Seriously Funny, Jewish comedy as a "strategy for survival," the subtleties of cruelty, Seinfeld and the dentist, comic appropriation, antisemitism, being married to multiple wives, being criticized for being overly Zionist, what Zionism means, those who deny the Holocaust, argument, Shalom Auslander's The Foreskin's Lament, coming from "befuddled Judiasm," Manchester, writers and novelists as prophets, on being more Jewish than your spouse, the material things of the world, Suite Francaise, torture, Jews as victims, geographical specificity, the origins of "Kalooki," Philistinism, and the evil of sandals.
EXCERPT FROM SHOW:
Jacobson: One of the things they say to you here is, "We've done all that. You're struggling with something that we've dealt with." And someone said something to me in — not Detroit, but Atlanta. I was reading a little bit of the beginning of the novel, when much is made of the fact that the hero, who is a cartoonist, can't draw some of the more sexual details in some homoerotic cartoons that he's employed to copy for a pirate of gay eroticism. And he says he can't do it because he can't imagine what it's like wearing tight leather pants or tight denims. Because Jewish men wear loose pleated trousers and a cardigan. The joke being that Jewish men don't live in their body. Someone who was taking me around Atlanta who heard that said, "You're wrong there, you know. You might be like that in England, but we've passed all that. We've dealt with the body. We're now at home in the body." And I thought, "Is that right? Well, am I dealing with a problem that's gone?" But then I remember that every Jew I've actually met over here is in exactly the same state of mind. They might be out there playing their round of golf, but they are living in their heads. They do live within their heads more than in their body. Their neuroses are exactly the same as the English neuroses. And I thought, I'm actually — the thing that I thought that they told me that I was dealing with that's out of date is not, in fact, out of date.
Listen: Play in new window | Download (Running Time: 51:30 — 47.2MB)