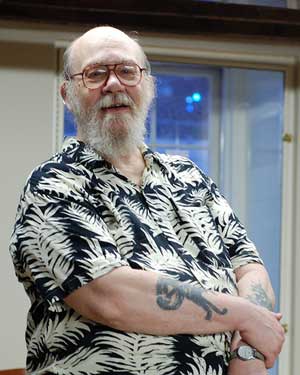 Matt Staggs telephoned me this afternoon with extremely sad news. Science fiction legend Thomas M. Disch was found dead on July 4th. He committed suicide. I am especially stunned, because I interviewed the man only a few weeks ago for The Bat Segundo Show. And as soon as I get my emotions collected here, I'm going to work on mastering this hour-length conversation and get it up as soon as I can. I will have much more to say about this visit very soon.
But in the meantime, you can read Ellen Datlow's remembrance here. To hell with genre. The literary world lost one of its most acerbic voices. And it's a damn shame that so many of the snobs didn't appreciate Disch because he "merely wrote science fiction."
[UPDATE: You can now listen to the interview here. Disch lived in an apartment with scant decor. There were books and a few paintings. But that was pretty much it. He told me that his other home in the country had been overrun with mildew. And he had nowhere else to go, no place to live other than this apartment. In the end, Disch lived entirely for his art and paid the terrible price for daring to stick to his guns.
I have been informed that this was the last face-to-face interview that Disch conducted. Because of these circumstances, this was the hardest podcast I've ever had to put together. But I felt compelled to get it up as quickly as I could. It took a few minutes for the two of us to get into a groove, but he did seem to enjoy the conversation, smiling and laughing, lighting up and cracking many sardonic jokes. The discussion touched upon death and literary posterity. It seemed evident from Disch's book that these were important themes for him. But because of the unexpected prescience of Disch's answers, this podcast is now very painful for me to listen to. Listening to his answers in hindsight, part of me wonders if he had already made his decision.
When the conversation was over, Disch asked me many questions about what I did, the people I interviewed, and asked if he could get a tape of the podcast. I wondered if these inquiries arose because of his loneliness. I told him that I would certainly send him a copy of the podcast when it was finished, but I never got the chance. He also asked if our conversation would appear in print. I told him that I would do my best, but that I was at the behest of editors and shrinking newspaper space. I pitched a few editors on a profile piece, but these efforts fell on deaf ears. I remain extremely saddened that Disch, who merely wanted to be appreciated as a poet and who hoped that he could hold onto his apartment on Union Square West, felt that suicide was the only answer. Perhaps he was a lonely man still trying to come to terms with the death of his partner. Perhaps he had declared himself a deity so that the world would finally notice his literary contributions. I don't know if I'm really in the position to judge. But I do hope that this conversation can, in some sense, allow others to appreciate his very special talent.]
[UPDATE 2: A number of remembrances can be found at Enter the Octopus.]
[UPDATE 3: Thoughts from William Gibson, Jeff VanderMeer, Quenchzine, Scott Edelman, Bruce Lewis, Tom Moody, Locus, Cory Doctorow, Wet Machine, Scott Woods, Stephen Frug, Mark Kelly, Suzanne Fischer, Dotan Dimet, Daily Kos, and Marc Laidlaw. As of Monday morning, there isn't one obituary or notice in a single American newspaper, with many litblogs egregiously silent. Think Disch will get even a mention from Paper Cuts? Yeah, right.]
[UPDATE 4: I've been informed that there will be a memorial service for Disch in September.]
[UPDATE 5: Barista reports that Disch was fighting to stay in his home and that the landlord had won an appeal on the basis that the apartment was rented out to Disch's partner, not Disch. Terrible. More here.]
[UPDATE 6: Here's another of his last interviews. (Forget the Dr. Blogstein interview. It is outrageously idiotic, uninformed, and disrespectful. In fact, Dr. Blogstein is now sending really tacky emails to people trying to promote this garbage. As such, I have removed the link.)]
[UPDATE 7: Threads at Crooked Timber and Metafilter.]
[UPDATE 8: I've written a Disch tribute for New York Magazine.]
[UPDATE 9: Some tributes have rolled in from newspapers and magazines: Entertainment Weekly, the Los Angeles Times, and The Advocate. But there remains nothing from the New York Times.]
[UPDATE 10: Official obits from The Los Angeles Times and The New York Times.]
[UPDATE 11: A lengthy post at The Tomorrow Museum and an official obit overseas at the Telegraph. On the homefront, there remain no acknowledgments from the Observer, the Sun (You call yourself a books editor, David Wallace-Wells? All that space!), the Post, or the Daily News.]
[UPDATE 12: The Guardian now has an obit and a letter from Michael Carlson. And His Vorpal Sword has a devastating and well-researched post on the factors that the late Disch and other freelancers face.]
Photo credit: Flickr