About Reluctant Habits
Reluctant Habits is devoted to books, films, arts, technology, culture, politics, and journalism. It has been singled out by The New York Times, The New Yorker, The Guardian, The Los Angeles Times, Newsday, The Daily Telegraph, Details, and numerous other outlets of questionable repute. Reluctant Habits often includes 3,000 word essays on books, film reviews that often contain strange digressions, breaking journalism, and long-form conversations with the writers, artists, and cultural figures of our time.
On January 10, 2011, Managing Editor Edward Champion initiated The Modern Library Reading Challenge, an ambitious attempt to read the top 100 novels, as decided upon by the Modern Library of America, from #100 to #1 and write at least 1,000 words for each title. These essays are included within all the coverage. Mr. Champion is presently working on #89: Henry Green's Loving.
As he spent five years reading (and finishing!) Finnegans Wake, he started a nonfiction counterpart.
Past contributors have included Levi Asher, Nicholson Baker, Nigel Beale, Michael Czobit, Richard Grayson, Sarah Hall, Erin O'Brien, Richard Powers, and Brian Francis Slattery.
To pitch ideas for articles or to address any corrections or inaccuracies, please contact Managing Editor Edward Champion. (Please also see our editorial policy, which addresses our ethics and journalistic practice.)
As of November 2014, we are not presently accepting physical material and we have largely moved away from books coverage (save for the Modern Library essays).
Edward Champion — Managing Editor
Twitter: @edwardchampion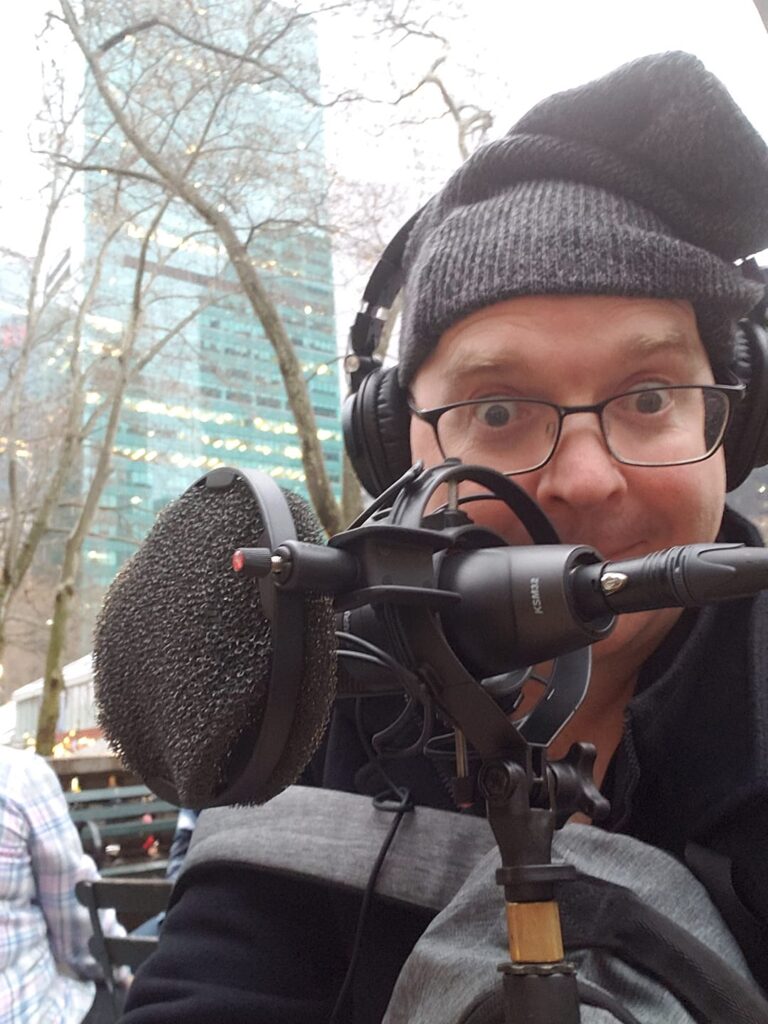 Edward Champion is the Managing Editor of Reluctant Habits. He is a Brooklyn writer with a receding hairline who sometimes answers to the name Alfredo Garcia. He once had a literary blog here called Return of the Reluctant from 2003 to 2007, but, in 2008, it was absorbed into the long-form written format of Filthy Habits, before this was transformed into the short-form/long-form halfway house known as Reluctant Habits, before this was in turn transformed into a long-form cultural entity called Reluctant Habits in 2010.
His work has appeared in The Chronicle of Higher Education, The Los Angeles Times, The Chicago Sun-Times, The San Francisco Chronicle, New York Magazine, Time Out New York, The Philly Inquirer, Newsday, as well as more disreputable publications. He is a podcaster of questionable repute, a playwright and director (Wrestling an Alligator, the San Francisco Fringe Festival), an award-winning audio dramatist of twenty-nine radio plays (along with comedic and dramatic writing for numerous other places), and a fiction writer. He can also cook up a pretty good breakfast and has learned to make several exotic dishes during the pandemic (including Iranian and Thai entrees). He also feels very silly writing bios about his considerable accomplishments.
Champion's empathy-driven worldview is apparently so distinct that it has resulted in a great deal of confusion from readers. His friends have joked that, despite possessing a congenial and exuberant disposition, he is something of a Rorschach test for other people. He has been identified as a feminist, a Republican, a Democrat, a socialist, a Buddhist, a Christian, an atheist, an evil goon, a kind man, a snappy dresser, and an ignoble slob. What might you call him today?
For nearly eleven years, he ran The Bat Segundo Show, a radio show in which he conducted extensive and unusual long-form conversations with the writers, filmmakers, musicians, and other fine cultural people of our time. Said conversations were also absorbed into the Reluctant Habits canon, which includes close to four million words of essays, interviews, and dispatches — most of it authored by Champion himself. He's been on the Internet for quite a long time and has been called "o.g." by some of his younger peers.
For the last four years, he has been the writer and showrunner of the Parsec Award-winning audio drama, The Gray Area, an elaborate audio drama anthology series with an interconnected stories that deals with moral questions and psychological character studies, but that also contains such fun elements such as interdimensional portals, talking animals, peppy aliens, and a giant winged creature named Chester. There are close to 200 speaking roles for this massive operation. Champion writes, directs, edits, mixes, engineers, and does the sound design for all this. He has even composed songs for his audio drama and, upon being identified as a "fun actor," has been frequently enlisted for voiceover gigs. He can often be found in discount stores buying unusual items that sound interesting. He sometimes performs improv and was trained at UCB.
He also sings and plays guitar. Before the pandemic hit, he was a karaoke king at two New York venues and starting to become a hit on the open mic circuit. You can find him on Instagram and TikTok. He is utterly confused by the fact that his weird TikTok videos have been appreciated by a younger audience, but he is grateful for their kind words.
He is also hired to speak before crowds from time to time.
If you're interested in hiring Mr. Champion to write something for your publication, to make your podcast sizzle with originality, or you wish to employ him as an entertainer for your wedding (or some other interesting affair), email him here.
(Photo © Edward Champion)
Here is a small sample of Mr. Champion's past journalism.