About Reluctant Habits
Reluctant Habits is devoted to books, films, arts, technology, and culture. It has been singled out by The New York Times, The New Yorker, The Guardian, The Los Angeles Times, The Daily Telegraph, Details, and numerous other outlets of questionable repute. Reluctant Habits often includes 3,000 word essays on books, film reviews that often contain strange digressions, breaking journalism, and long-form conversations with the writers, artists, and cultural figures of our time. A new conversation — part of The Bat Segundo Show, averaging at about 40 minutes — is released every Tuesday for your listening pleasure. And on Friday, you will often find a film review or two.
On January 10, 2011, Managing Editor Edward Champion initiated The Modern Library Reading Challenge, an ambitious attempt to read the top 100 novels, as decided upon by the Modern Library of America, from #100 to #1 and write at least 1,000 words for each title. These essays are included within all the coverage. Mr. Champion is presently working on #89: Henry Green's Loving.
Past contributors have included Levi Asher, Nicholson Baker, Nigel Beale, Michael Czobit, Richard Grayson, Sarah Hall, Erin O'Brien, Richard Powers, and Brian Francis Slattery.
To pitch ideas for articles or to address any corrections or inaccuracies, please contact Managing Editor Edward Champion. (Please also see our editorial policy, which addresses our ethics and journalistic practice.)
As of November 2014, we are not presently accepting physical material.
Edward Champion — Managing Editor
Twitter: @drmabuse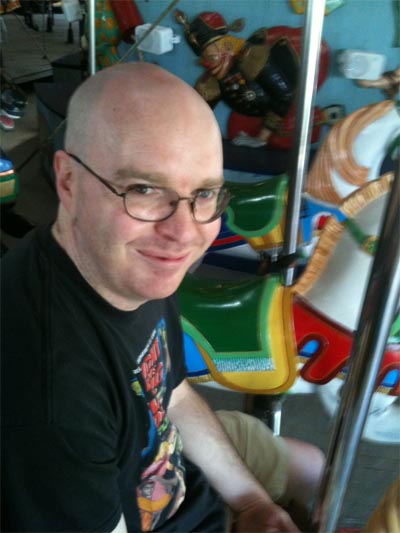 Edward Champion is the Managing Editor of Reluctant Habits. He is a Brooklyn writer with a receding hairline who sometimes answers to the name Alfredo Garcia. He once had a literary blog here called Return of the Reluctant from 2003 to 2007, but, in 2008, it was absorbed into the long-form written format of Filthy Habits, before this was transformed into the short-form/long-form halfway house known as Reluctant Habits, before this was in turn transformed into a long-form cultural entity called Reluctant Habits in 2010.
His work has appeared in The Chronicle of Higher Education, The Los Angeles Times, The Chicago Sun-Times, The San Francisco Chronicle, New York Magazine, Time Out New York, The Philly Inquirer, Newsday, as well as more disreputable publications. He is a podcaster of questionable repute, a playwright and director (Wrestling an Alligator, the San Francisco Fringe Festival), and a fiction writer. He has decided not to employ the Oxford comma for this bio and apologizes to adamant grammarians. He can also cook up a pretty good breakfast, and learned how to make crepes, half-decent omelettes, and other fine foods — in large part because his girlfriend is very fond of breakfast. He also feels very silly writing bios about his fey accomplishments.
He has been identified as a feminist, a chauvinist, a Republican, a Democrat, a socialist, a Buddhist, a Christian, an atheist, an evil goon, a kind man, a snappy dresser, and an ignoble slob. What might you call him today?
He also runs The Bat Segundo Show, a radio show in which he conducts extensive and unusual long-form conversations with the writers, filmmakers, musicians, and other fine cultural people of our time. Said conversations are also absorbed into the Reluctant Habits canon.
He is also hired to speak before crowds from time to time.
If you're interested in hiring Mr. Champion to write something for your publication or employing him as an entertainer for your wedding (or some other interesting affair), email him here.
(Photo © Edward Champion)
Here is a small sample of Mr. Champion's past journalism.