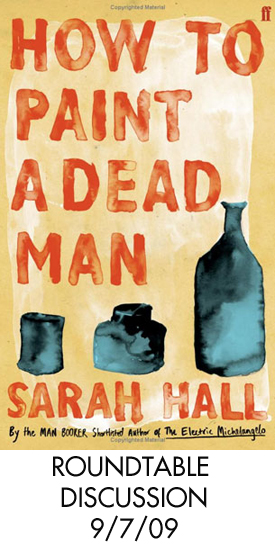 This is just a reminder that, next week, we'll be devoting this website to a detailed roundtable discussion of Sarah Hall's How to Paint a Dead Man. The discussion, now in progress, has generated interesting asides on epistemological obstacles, whether second-person perspective is annoying, Procrustean plot structures, Fascist flower girls, The Breakfast Club, Bright Lights, Big City, still life vs. real life, the ineffable nature of artists, David Mitchell's Cloud Atlas, being "an ambitious little prick" in relation to literature, William Faulkner vs. Virginia Woolf, Led Zeppelin, John Updike's rules for book reviewing, "failures," and numerous muted connections throughout the book.
Of course, all readers are invited to contribute thoughts and feelings in the comments. But be sure to stop by next week and check it out.
And again, if you're not familiar with Sarah Hall, you can read my essay on her first three novels for The Barnes and Noble Review. (The new novel is notably different from the first three.)
You can also listen to my one hour podcast interview with her from last year.