"I just expect more from life. Seriously, it's like I want every day to be exciting! And scary! And a rollercoaster of creative experience, as if I'm making a new life for myself in France." — Hannah, shortly before being fired from GQ, Girls, "I Saw You."

"The bottom line is this: You write in order to change the world, knowing perfectly well that you probably can't, but also knowing that literature is indispensable to the world. The world changes according to the way people see it, and if you alter, even by a millimeter, the way people look at reality, then you can change it….If there is no moral question, there is no reason to write. I'm an old-fashioned writer and, despite the odds, I want to change the world. " — James Baldwin, September 1979 interview with The New York Times
Richard Wright was 32 when he published Native Son. Dinaw Mengestu was 26 when he published All the Beautiful Things That Heaven Bears. Edwidge Danticat had two novels and a short story collection under her belt before she was 30. James Baldwin published Go Tell It on the Mountain when he was 29. Publishing fiction was neither an act of vanity nor a declaration of entitlement for these formidably talented figures. Their novels were all serious works of art peering fearlessly into America's troubled soul, demanding that readers pay attention and alter their reality by a bristling strand. Their stories burned from their typewriters and computers as naturally as kindling on an uncontainable fire.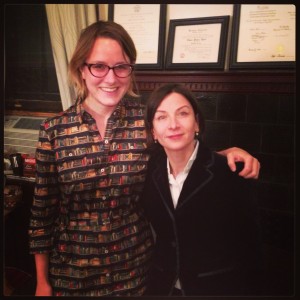 Yet an insufferable new group of mediocre writers and book boosters, armed with a 24/7 presence on social media, has emerged not only to debase literature, but to drive out vibrant, risk-taking literary lights with the advocation of childish, anglophonic, and apolitical narratives that read more like the old Sassy articles once devoured by preening teens. (Indeed, the obsession with nostalgia and adolescent mimicry is so commiserable that this group's indefatigable flight from adulthood at such a late age is quite embarrassing when compared against the commendable industry of RookieMag's teen prodigy Tavi Gevinson.) To some degree, this is an offshoot of what Tom Whyman has smartly identified as "cupcake fascism," whereby embracing empty bourgeois comfort supplants even the most half-hearted engagement. It is almost a cultural variant to Gresham's law, with bad writers supported by vulgar and illiterate marketing people, a crass coterie of booksellers and digital evangelists who show more evidence of hoarding books than reading them, and ancillary parties tweeting wistfully about wanting more time to write or going to France or eating in French restaurants, with the reliable flow of selfies, smartphone snaps of status galleys, and Instagram photos with authors interspersed for appropriate authenticity. They aspire to see cultural metropolises much as Stefan Zweig romanticized Old Vienna in The World of Yesterday, but lack the careful grace, the painstakingly acquired erudition, and the interdisciplinary refinement to go the distance. The results are little more than slovenly self-love.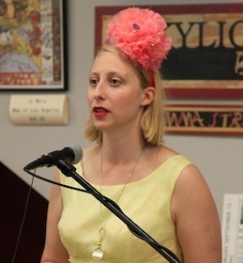 If you are a dedicated reader in Brooklyn fond of sliding bills across smooth countertops in exchange for tantalizing tomes in independent bookstores, you have probably encountered the Middling Millennials. They are largely white women who are almost totally in the dark about their privilege, many bolstering a blinkered neoliberal feminism that demands a rectifying army of Mikki Kendalls and Djuna Barneses. They often confuse the act of literary engagement with coquettish pom-pom flogging. They are somewhere between the ages of twenty-five and thirty-three and are often found on Tumblr interspersing "fun facts" and JPEGs with quotes that, despite the lofty intent, are more self-help than literary. These relentlessly unchallenging digital shrines are frequently adorned with a bean-boosting "THIS" appended to the head of a calcified, well-tread, self-righteous sentiment that is reblogged — that is, if the MMs are not too busy Gchatting with others about the latest literary gossip. Some of the more pathetic specimens lean closer to forty and are often enlisted to interview esteemed authors before a small crowd under the mistaken impression that the interviewer is the center of attention. This group is not to be confused with the fine young minds and respectable hustlers who run and contribute to The New Inquiry, Open Letters Monthly, Jacobin, Hazlitt, Full Stop, HTML Giant, The American Reader, and Triple Canopy (to name but a few), who have all proven to be promising and proficient readers of a wide range open to lively and respectful challenge. To be perfectly pellucid, we are identifying disproportionate tadpoles who respond to any form of disagreement with a knee-jerk "Dead to me!" block on social media and return to their cheery consumerist chatter, blissfully unaware of greater global problems.

The Middling Millennials are hostile to nonfiction, history, politics, and any topic that is real or remotely challenging. They have been harming the literary clime with their relentless pablum for at least a good year, actively encouraged by hoary outlets like n+1, The Awl, The Nervous Breakdown, The Rumpus, and The Millions, all quietly hoping that this confluence of cheerleading and seductive reductionism will enlarge their cultural influence. While the actual population of Middling Millennials is difficult to measure (MFA vs. NYC, a volume published earlier this year by n+1, was allegedly substantive enough to attract the notice of The New Republic, The New York Times, and other outlets), the quality of the MM arguments are, on the whole, remarkably pauce — with thinking deracinated altogether, swapped with a fawning devotion more at home in a San Diego entrepôt.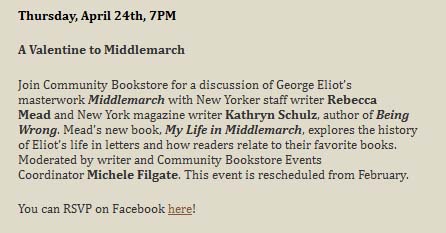 The Middling Millennials are never just booksellers or writers or publishers. They have not heeded the realities promulgated by Barnard College president Debora L. Spar in her book Wonder Woman. They must "have it all" and announce their hyphenates, even when untrue. Thus, unremarkable people believe that they should be the center of attention, presenting themselves as superheroes committed to supererogatory tasks. Michele Filgate, a selfie enthusiast with a compulsive need for attention, begins a purportedly thoughtful article on Dave Eggers's The Circle with "I get a sort of high [sic] when people retweet me," and announces herself as a "writer and Community Bookstore Events Coordinator" — even as published novelists report having to endure her unspeakably boorish "Do you know who I am?" hijinks off the clock.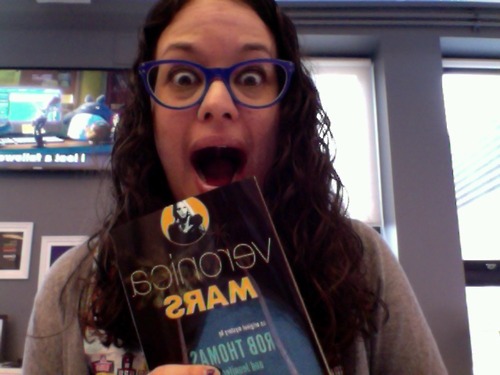 Rachel Fershleiser, who once described herself as a "writer, editor, and bookseller in New York City," has a LinkedIn profile that reveals not much more than a dumb-as-dirt, insufferable publicist who wishes to limit discourse while feigning her belief in community as she toils at Tumblr in some "Literary and Nonprofit Outreach" capacity. Note how real vocational callings ("Events Coordinator" and "bookseller in New York City") are always placed second. When this thoroughly mediocre woman in her early thirties isn't chirruping like a red-billed quelea who doesn't understand that 1.5 billion other birds are twittering the same tune, she's regressing back into adolescence with the camera as her enabling muse, uptalking her superficial platitudes through the intellectually ignoble forum of TED Talk (and employing the linguistically impecunious neologism "Bookternet"), when not dropping her dry and cavernous rictus not out of any fealty to enduring literature, but for a Veronica Mars tie-in novel written by Rob Thomas that nobody will remember in ten years. Improbably, this fatuous, tenth-rate Bernays disciple was asked to serve as judge for The Morning News's annual Tournament of Books, where she had to decide between Eleanor Catton's The Luminaries (an ambitious and bona-fide masterpiece written by the 28-year-old Eleanor Catton that went onto win the Booker Prize) and Scott McClanahan's Hill William. (Poor McClanahan asked to be removed from the bloodthirsty contest without success.) Fershleiser opted for the latter. The Luminaries was merely "a fussy book about men and their money and their honor and their prostitutes and their ships. Catton can and should write about whatever she likes, but I've read about these guys before. I want to read something new."
"A fussy book about men and their money" is a gross mischaracterization of what Catton was up to in The Luminaries. The novel concerns itself with, among other things, Cantonese immigrants during the Otago Gold Rush, the burdens and reliance upon astrology during a time in human history before accurate measurement, a vicious trafficking system and the lack of options for women, Maori culture, and the influence of the 1865 tradeback option on New Zealand. Fershleiser's impoverished cramming session speaks to the abysmal folly of assigning a sophisticated book to someone clearly out of her depth. One can only imagine the ample idiocy that Rachel "Seen It All Before" Fershleiser would serve up had someone deigned to anoint her judge in the 1922 Tournament of Books with Ulysses pitted against another book. To denounce a book that a writer has toiled on for years with a few carelessly expressed, willfully uncomprehending paragraphs is a very Middling Millennial quality indeed. But then Fershleiser has never been about having a constructive conversation. When Jacob Silverman wrote his essay "Against Enthusiasm," which asked perfectly reasonable questions concerning why the literary world had "become mired in clubbiness and glad-handing," Fershleiser preferred to troll Silverman rather than consider his dialogue:
It is so NICE to be reading with Jacob Silverman, who seems really NICE and looks NICE on stage. NICE to meet you, Jake!

— Rachel Fershleiser (@RachelFersh) September 19, 2012
Maybe the MMs are part of what Leslie Jamison has identified as "post-wounded women" in her essay, "Grand Unified Theory of Female Pain." Rather than weigh and confront the anguish that burns inside their hearts or consult the writing that may lead them to express their complicated feelings, they not only deny and prohibit writers who are willing to enter this realm, but openly deride them without an argument, even as they attempt to sublimate their "too cool for this" posturing into the public space of a bookstore, whose raison d'être is not to provide a forum for unconventional thought and serious discussion, but to move units to keep the place running at a tiny profit margin.
Perhaps the worst of these obnoxious crusaders is Emily Gould, a narcissist so delusional that she actually believes affixing her first name to a media unit ("books," "magazine") will sprout an empasmic empire. Her new novel, Friendship, not only advocates the MM way of life, but is surely the most aloofly written novel about youthful striving since Keith Gessen's All the Sad Young Literary Men. (As it so happens, Gould and Gessen are getting married in October. Solipsists make strange bedfellows.)
* * *
"For young people…ecstatic admiration for talent in all its forms leads them irresistibly to look at themselves, wondering whether they can perhaps detect a trace of that sublime essence in their own unexplored bodies or still partly unenlightened minds." — Stefan Zweig, The World of Yesterday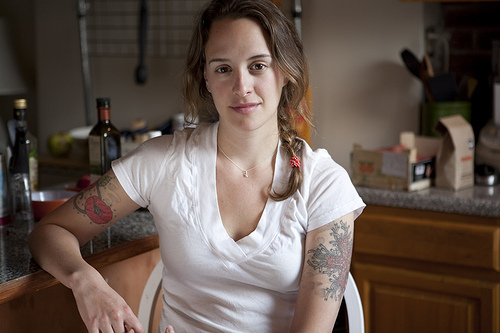 Emily Gould was hatched in Silver Spring, Maryland on October 13, 1981: the bouncing daughter of a public relations man and a self-employed lawyer and mediator. Had social media and smartphones been around more than three decades ago, it is almost certain that her dewy newborn hands would have stretched out with hollow hunger to replace the default egg avatar on her Twitter account not long after overworked doctors snipped her umbilical cord. It did not take long for Gould to develop a worldview that placed her at the center of the universe. In her execrable autobiography And the Heart Says Whatever, Gould reports being "dagger-stared [sic] by half the people I passed" in high school. There is no worthwhile self-examination, no attempt to comprehend why other students find her mean and selfish behavior loathsome, no efforts to empathize with their feelings. But she does compare this to "bad television." One clearly sees that, even before she poured the Internet's water over her naked confessional form in an oddly bathetic baptism, Gould's relationship with other people was predicated upon diminishing their perspectives and rigging the narrative so that she emerged as the coldblooded white bread winner:
Luke was cute, not handsome, but adorable, like a basset hound puppy. He had wide, pretty eyes and a long nose and a sweet, tender mouth. Even when enraged there was something about his face that was just funny. Rage looked out of place when expressed by his amiable features. He had heard what I'd done, he told me, his voice trembling, and he wanted to work past it.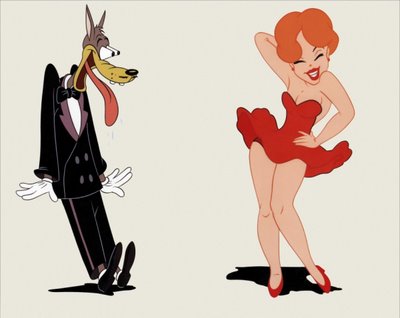 Like many young ambitious types, she moved to New York, where her hostility to anyone making art ripened, even as she believed herself "extraordinary." In Heart, Gould describes an aspiring young man who asked her to be part of an amateur movie project. She went to his apartment and read his lines before the camera in a stilted manner. The director saw that Gould was nervous and kindly offered her a beer. Gould viewed this an opportunity to "see what an adult man's bathroom would look like." Gould's NSA-like instinct for seizing private information while humiliating others in incremental ways was well-formed, almost awaiting Nick Denton's curling hand to usher her into Gawker HQ. When the young man relayed the film's story to Gould, Gould thought it was "the dumbest thing I'd ever heard." But the young man was at least trying to create something. What was Gould doing other than wishing to be superior or waiting to be noticed? Gould's astonishing egocentrism unfolds further when her "slowly building suspicion that he was not going to put the moves on me finally crystallized into certain knowledge." This preposterous a priori sexuality oozes throughout the book, pleading for the more surefire helm of a young Elizabeth Wurtzel to push Gould's sad makeshift schooner across the ocean. In the book's introduction, Gould describes her first job, where she reported the presence of male eyes "following the movement of my back, conscious always that I was like the books displayed in the waiting are: an ornament that demonstrated the company's power," as if every Manhattan man is a lascivious Tex Avery creature with an outstretched tongue.
There is incessant condescension directed at working stiffs ("I admired the Balthazar employees, the way they danced around each other with studied grace as they fulfilled their patrons' picky requests") and a soupçon of transphobia ("the notorious ass-cheeked ads catering to the needs of the apparently huge New York population whose back pain can only be soothed by the massaging hands of a pre-op transexual"). But Gould eventually landed a job at Hyperion Books as an editor (among her most prominent acquisitions were "a graphic novel version of Dante's Inferno, illustrated by 'a group of leading artists'" and "a book of political humor" from the talk show host Lionel). She co-wrote a dreadful YA novel called Hex Education. Here is a small sample of her prose at the time, culled from a 2005 story published in Girl's Life:
"Dudes, I saw A-piss-a with her shirt off today," he told Paul Westlay and Doug Terrien. Those chuckleheads chuckled, as they always do at their lord and master Joel's crappy jokes, which are nearly always at someone else's expense.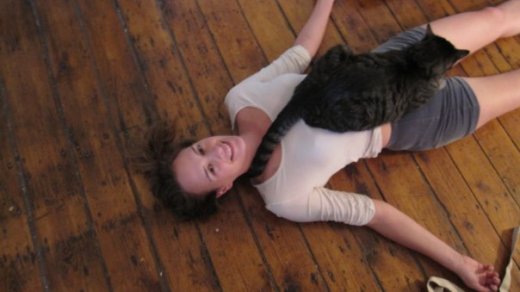 It was ultimately Gould's blog, Emily Magazine, that got her writing for Gawker, where, lacking any real talent, she quickly made a name for herself invading people's privacy. Gawker's ethos, if it can be called that, relied on poring through emails sent from anonymous tipsters. Aggrieved workers in the media industry would pass along rumors, forward memos, or shoot any toxic grist into this digital bundt cake factory. "I would investigate by quoting their anonymous allegations on the site," wrote Gould in Heart, "and asking if anyone else knew anything more." Note Gould's improper and irresponsible usage of "investigate." Even the lowliest Page Six or TMZ writer attempts to confirm a piece of gossip before reporting it. But Gawker did not. This was because Gould was an easily manipulated rube fueled by the prospect of spite. It hardly mattered if the item was true. "The rules for tips," wrote Gould, "was that if three people wrote in about the same thing, we probably ought to do a post about it, no matter how dumb it seemed." It doesn't seem to have occurred to Gould that savvy publicists may have noticed this pattern and manipulated Gawker much as they do other prominent outlets. But when a minx's head is so deeply deposited up her own slimy passage, it's often hard to see the sunshine.
* * *
"I don't even really want to be a writer," said Gould in an October 2007 article, "but I feel like I don't have a choice. It's all I've ever known how to do."
This cry is similar, if considerably more arrogant, to Bret Harte's declaration, just four months before his twenty-first birthday: "I have written some poetry; passable and some prose (good) which have been published. The conclusion forced upon me by observation and not by vain enthusiasm that I am fit for nothing else — must impel me to seek distinction and fortune in literature." Harte may have been a fop, but he had talent and paid his dues doing meaningful work. He became editor of The Overland Monthly at the age of 32 after a raucous life of dutiful journalism on the pioneering front lines, catapulted to international fame through "The Luck of Roaring Camp," his harrowing tale of how ruthless flooding impacted California. Gould would spend the next seven years wallowing in brackish muck of celebrity culture, whether actual or self-erected, with her vanity mirror kept close.
Like many bright young things who move to New York, this dim bulb believed that she was entitled to everything. And if that meant tearing down another person to advance another rung on the ladder, then so be it. Jason Pinter, who is one of the kindest and hardest working people in publishing I have ever known, was fired from his job at Crown because Gould had reposted one of his shop talk blog entries on Gawker. Did Gould have any sympathy, any sense of the impact of her actions, or any understanding about the way the book business worked (even after her Hyperion stint)? Not at all. She was colder than the mist on a chilled champagne glass. Here is how she responded to the news of Pinter's sacking:
But don't feel too bad for Pinter: he's got his career as a thriller writer to fall back on! And besides, his last few stinky acquisitions for Three Rivers — which include a gimmicky blog book by that dude who bartered a paperclip for a house, and the latest by Modern Drunkard Frank Kelly Rich — are all someone else's problem now. So really, Pinter owes us and Galleycat a beer or something for linking to his blog and getting him fired. We'll hold our breaths waiting for the thank you note.
Aside from the fact that Gould didn't appear to understand how book advances, often meager, were parceled out, the astonishing and inhumane claim that Pinter in some way "owes" Gould is the baffling takeaway that could only be tendered by a callous sociopath. Despite the fact that Gould would later state that, "It's not OK to say false things about anyone," she would continue to post irresponsible items on Gawker without checking or corroborating with the people she reported on. (For the record, I sent Gould a list of questions by email to give her an opportunity to respond to several points raised in this essay. She did not answer.)
On April 7, 2007, Gould appeared on Larry King Live to discuss the increasing nexus between celebrity journalism and citizen journalism. Jimmy Kimmel was filling in for Larry King. Gould's appearance was disastrous, yet particularly revealing of the flimsy and fluctuating justifications she would offer for the nasty taint that has drifted over her professional life to the present day. Here is the pertinent part of the transcript:
KIMMEL: My problem is you post things that simply aren't true on the site and you do no checking on your stories whatsoever. I'll give you an example. There was a story about me that popped up on my Google search. It said "Daily Gawker Stalker, when isn't Jimmy Kimmel visibly intoxicated?" And there's a story about me being visibly intoxicated. I know it may be funny to you but I didn't find it that amusing.

GOULD: OK.

KIMMEL: And a matter of fact, the story that talks about me being drunk, I was coming home with my cousin's — my cousin's 1-year- old birthday party with my elderly aunt and uncle and my kids and my cousins and I was — I may have been loud but I was far from intoxicated and you put these things on there. I mean I know you're an editor. What exactly are you editing from the website?

GOULD: There's a whole other aspect of our website that doesn't have anything to do with the Stalker Map. But what the Stalker Map is citizen journalism. People don't read with the expectation that every word of it will be gospel. Everyone who reads it knows that it isn't checked at all.

KIMMEL: Well…

GOULD: What they read it for is immediacy.

KIMMEL: I don't think that's necessarily true.

GOULD: You don't unfilter sort of the way people that perceive celebrities in real time that you don't get from any other media. And that's what I think is great about it.

KIMMEL: Well, I mean you also get what is essentially slanderous statements or libelous statements put on your website. For instance, today I noticed there was something about Kevin Costner. I went on to see what was there today. It said how fat Kevin Costner was and it had a picture of Jabba the Hutt next to him. Now, I know you sell advertising. I don't know why anybody would buy advertising on a website. But I don't know what the point of something like that is.

BRAGMAN: There's also a big contradiction. She said citizen journalism. She used the word "journalism" and then said, "Everybody knows not everything is true." Most journalists at least try for the truth. It's a goal.

GOULD: I mean do you read "US Weekly" and expect that everything in it is true or "Star."

(CROSSTALK)

BRAGMAN: I expect that they try. I get calls from them fact checking and I don't from your website.

GERAGOS: That's absolutely true. "US Weekly" at least has a legal department that vets things.

KIMMEL: And our photographers at least are taking photographs of things that are happening, as opposed to — I mean I'd just want you to think about your life and…

GOULD: Wow!

KIMMEL: …weigh your options. And I mean because I would hate to see you arriving in hell and somebody sending a text message saying, "Guess who's here?" You know what I'm saying?

GOULD: Honestly, I think that there's a shifting definition of what is public and what is private space for everyone not just celebrities. The Internet, blogs, MySpace, no one has the reasonable expectation of being able to walk around the street and not being noticed by someone.

KIMMEL: Well, that is just a terrible thing, though, isn't it? I mean…

GOULD: Is it really? I mean I think it's great that we're not putting people up on a pedestal and worshipping them anymore. I think it's that good people are acknowledging celebrities are real people.

KIMMEL: But you're throwing rocks at them, though. I mean it seems to me that…

GOULD: Aren't they kind of protected by piles of money from those rocks?

KIMMEL: No, no. And by the way, not all celebrities are wealthy. I mean you know that's a silly and stupid thing to say, you know that. Come on now, just because people have money means it's OK to say false things about them, to tear them down?

GOULD: It's not OK to say false things about anyone.

KIMMEL: Well, you should check your website then.
* * *
Hyacinth Bucket: Is that for me?
The Postman: It says Bucket on the envelope.
Hyacinth Bucket: It's Bouquet. B-U-C-K-E-T, Bouquet. The accent on the second syllable.
— Keeping Up Appearances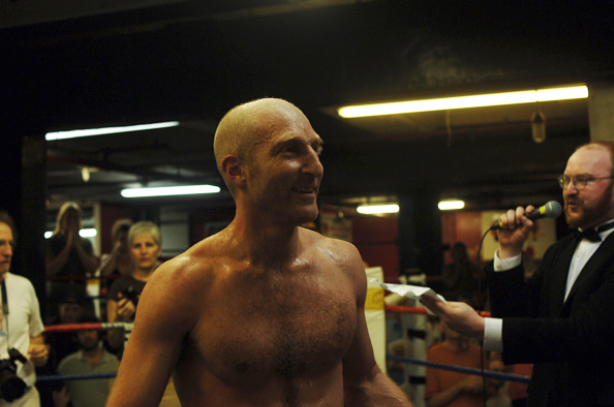 I was asked to serve as an announcer in a boxing match between Jonathan Ames and Craig Davidson at Gleason's Boxing Gym on the evening of July 24, 2007. I had just moved to Brooklyn and was one year into a relationship with another journalist. She was Jewish. I was not. Because of this, we took great pains to keep our relationship out of the public eye — as several of her more religious family members were exceptionally sensitive to this development and we needed time to ease them into this reality. (The other journalist and I are still together.)
The boxing match was a great success and was exuberantly described by Ames himself in an essay included in his book, The Double Life is Twice as Good. As the other journalist and I walked into the streets holding hands, a young woman with blonde hair — who I later learned was Emily Gould from Gawker — rushed up to us and demanded to know my name. I didn't really read Gawker, although I had expressed my dismay in May over a a Gould piece summoning needless resentment for Meghan O'Rourke, a fine writer and, to this day, nothing less than generous whenever I run into her. I was spending my time carefully studying books, developing my writing voice, and interviewing prominent writers only after thoroughly perusing and researching their work. But I sussed out immediately that she was some type of bizarre gossip columnist. I let go of my girlfriend's hand.
"Hey," said Gould in a bright and invasive voice.
"Hey," replied my girlfriend.
"What are you guys doing tonight?"
No hello. No "My name's Emily Gould." No small talk. Just an immediate vulturous demand from a stranger on how we were living our lives.
I politely mumbled that it was none of her business. But she didn't seem to hear me. For whatever reason, she had deemed the other journalist and me important. She insisted on knowing who I was. She felt she had a right to know who I was fucking, when my relationship was private and founded on more heart than she would ever know. I was utterly baffled by her boorish inquisitiveness. I was just some guy who ran a literary blog, who wrote a few things for newspapers, and who talked with authors.
I told her that I was Publius, figuring that Gould would suss out my reference to the anonymous authors of The Federalist Papers and be on her merry way.
"Publius?" she asked.
"Jack Publius," I replied.
Gould still didn't get the hint. My girlfriend picked up the reference immediately.
"It's Italian," said my girlfriend.
"Roman origins," I said.
"Can you spell that?" replied Gould.
I was utterly stunned that someone who wrote for a major media site, someone who had an undergraduate education in the liberal arts, could be this ignorant. I spelled out "Publius" for Gould, pointing out that I was especially concerned whenever people mispronounced and misspelled it. She jotted this down into her little notebook, her lips rustling over the three syllables as her pen whirled. Then she left.
* * *
"One of the great conditions of anger and hatred is, that you must tell and believe lies against the hated object, in order, as we said, to be consistent." — William Makepeace Thackeray, Vanity Fair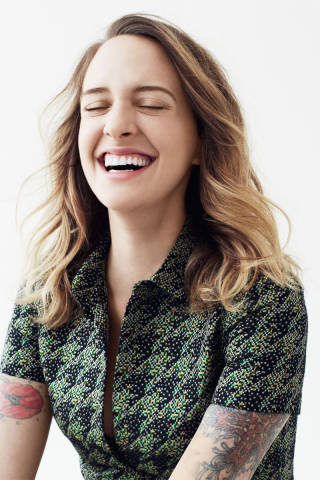 Months later — on November 21, 2007 — Gould attempted to paint me as a lunatic in a Gawker post for having the temerity to ask for a check, a check that was four months late. Gould had intercepted a private email. I badly needed the money at the time. It was the only way that I could pay my rent. I had burned through the savings that I'd brought with me from San Francisco. Having little income beyond books I was able to sell to the Strand Book Store, I would often go for walks and, during an especially grim time, I overturned a cup of collected pennies onto the rickety wooden counter at a corner store to purchase the produce stacked in neat lines outside. There were a few weeks when the power went out in my apartment due to my inability to pay the electricity bill. I plucked power from the building by plugging an extension cord into the hallway outlet just outside my front door, using this to fuel my computer. I still had freelancing work. And I did, after all, have pieces to file. I am reluctant to call this poverty, because that that would be a gross insult to the estimated 1.29 billion people who live in soul-shattering squalor around the globe. But it was life more common than most writers would care to admit. I survived. Because I spent most of my time reading and writing and living and loving. And that was enough to keep me happy and alive.
Gould never once contacted me to get my side of the story, nor did she have the guts or the decency to return an email I sent her just after her hit piece ran. Having singled me out at the Ames-Davidson fight, she presumably viewed me as a "celebrity" in the form of a "famously crotchety book blogger." Much as she defended her invasiveness to Kimmel by claiming that celebrities were "kind of protected by piles of money from those rocks," failing to comprehend that not all public figures were cushioned by such wealth, she presumed that I was similarly buffered. So long as the story fit her nefarious thesis, her incessant need to poke her nose in business that was not hers to know, Gould could say anything she wanted.
* * *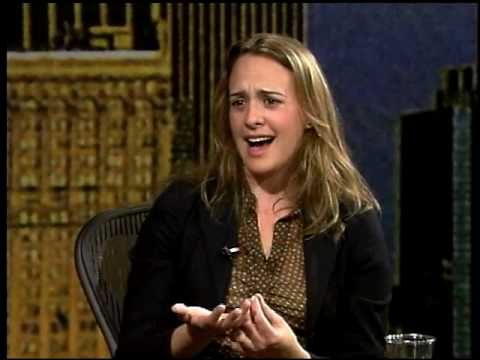 But even a torrid hoyden hopped up on spite cannot bang out twelve daily vituperative blog posts forever. On November 30, 2007, now firmly aligned with the n+1 frat club of vaguely punkish Hemingway wannabes, Gould resigned from Gawker (along with her aging co-editor Choire Sicha) in a public post. Gould claimed that Carla Blumenkranz's article on Gawker had been one of the linchpins. Blumenkranz had nailed the cargo cult mentality of Gawker writers at the time: they believed themselves outsiders, the last humans standing in a media wasteland fighting for the remaining principles of journalism. But Gould had never represented any tenet other than the Promotion of Emily. Yet n+1 and one of its co-editors Keith Gessen represented a way out, a step towards legitimacy, the beginnings of mainstream acceptance, the furthering of autonomy.
Gessen and Gould began dating not long after.
On January 15, 2008, Gould returned to the airwaves, claiming that she had "stopped caring about the Internet" and soon began blogging again. This was all a warmup for "Exposed" — a May 25, 2008 New York Times Magazine cover story that would result in some of the most gargantuan vitriol Gould ever received. Almost setting the stage for the fallout to follow, on March 6, 2008, Gawker Media honcho Nick Denton spilled the beans on Gould's involvement with Gessen, the last in a string of careerist bedhopping (co-blogger at Gawker, dumped for Observer reporter, dumped for Gessen) that resembled Barbara Stanwyck's upward trajectory in the 1933 film Baby Face, and her gig with the Gray Lady, speculating that Gessen had used his connections to get her through the door.
Vanity Fair's Jim Windolf documented the fracas in great detail. Denton's gambit worked. The tide turned against Gould and Gessen, especially when Gould broke up with Gessen, an especially mean and public dissolution that even Gessen's greatest detractors would find unsettling, while he was on tour in May 2008, facing merciless reviews for his debut novel, All the Sad Young Literary Men, and blogging his tour for The Stranger. As always, Gould had timed her behavior to get maximum attention.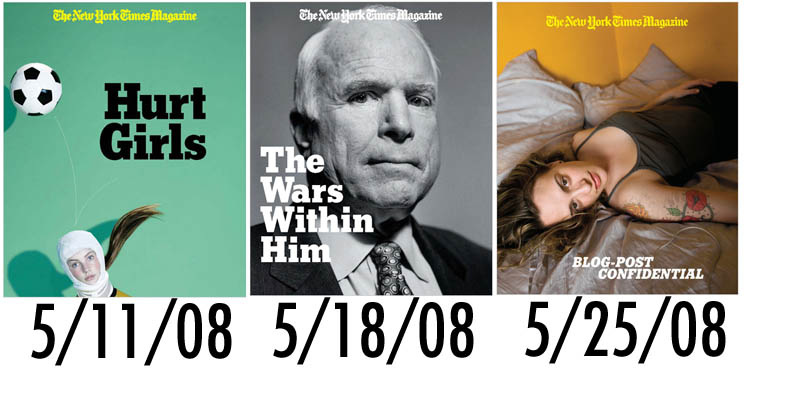 On May 25, "Exposed" was published in the New York Times Magazine. It was a remarkably self-absorbed essay, with one of the most pitiful displays of navel gazing ever published in a major newspaper:
In high school, I encouraged my friends to circulate a notebook in which we shared our candid thoughts about teachers, and when we got caught, I was the one who wanted to argue about the First Amendment rather than gracefully accept punishment. I walked down the hall of my high school passing out copies of a comic-book zine I drew, featuring a mock superhero called SuperEmily, who battled thinly veiled versions of my grade's reigning mean girls. In college, I sent out an all-student e-mail message revealing that an ex-boyfriend shaved his chest hair. The big difference between these youthful indiscretions and my more recent ones is that you can Google my more recent ones.
The cover story was significantly trite for a first-class venue, especially when compared against the ones that ran during the previous two weeks (a feature on girls' sports injuries published on May 11, 2008 and an examination of John McCain's lonely support for the Iraq War on May 18, 2008). The blog Young Manhattanite wrote one of the more memorable takedowns, rightly calling out Gould for being in denial about her narcissism. But this was also the beginning of the "Emily Gould Reborn/Reinvented" narrative that would play out exactly the same way six years later. Gould had shifted from being some malleable tool into a figure just charismatic enough to persuade prominent outlets that she was reformed. Gould had the congregation. All she needed was a sizable chorus, a thick hymn book, and enough saps who would buy into her turnabout tale. Who knows? Perhaps her father, a public relations executive, had given her a few pointers.
Gould began playing the victimhood card, mentioning that she began experiencing panic attacks and had started to see a therapist about her "feelings of being inordinately scrutinized." Yet the Emily Reinvented storyline could not find space for any of the potential panic attacks and therapy experienced by those she casually brutalized on Gawker. If the reader feels sorry for Gould — and one can always find a little pity for a mangy dog about to be gassed at the pound — the feeling dissolves when one ponders her perpetual devotion to betraying people while seeing herself as the target. It especially helps if you're familiar with Nixon.
Meanwhile, Gould pretended to be a journalist. She was a bad actor stumbling through a clumsy run of a Ben Hecht play (or auditioning for some budding director with a camera whose storyline she believed was "the dumbest thing she ever heard"). If that meant writing an article for Russia! about Russian-born American writers prominently featuring her boyfriend (without disclosing the relationship or recusing herself or dropping Gessen from the article because of this conflict of interest), Gould would cross the line. Because she had no scruples. She had only a depraved appetite for more.
The "Exposed" article helped Gould land a book deal with a $200,000 advance. She confessed, as late as 2012, that it was "a lot of money." But close to the early allocation of her windfall, she continued to bray about her enemies on her blog. She would tinker with the tale to continue the Emily Reinvented storyline, spinning her profligacy into a story of "poverty" that, when I was skipping meals and working my ass of and trying to get a break as a writer, I could only dream about.
* * *
"I was double, English and Philosophy. I don't remember a thing."
"Who does?"
"Seriously, though. I look at the books on my shelves and it's clear that I read them, back then, but I can't remember ever doing it, and I don't have the first idea what they might be about."
"Read them again, then?"
Danielle sighed. "Not now. Maybe someday. I look at them and wonder who I was, you know? It's a long time ago. I'm thirty."
— Claire Messud, The Emperor's Children
Gould's ravenous need to tear people down didn't end with Gawker. She still specializes in trolling and clumsy railing to this day, whether it's calling out the "unprecedented entitled band of horrible assholes" who live in Bushwick, Greenpoint, and Williamsburg right now (a perfect test case for Eric Schwitzgebel's "theory of jerks") or feminists who offer bold journalistic critiques of The Daily Show's gender problem with its staff. (Of the latter umbrage, Gould failed to note that Jezebel's Irin Carmon actually interviewed people — a reportorial regularity that Gould remains incapable of practicing.)
These days, Gould often snipes through the more pusillanimous form of the subtweet. Twitter remains a fairly dependable fishbowl for tweets that not only debunk the Emily Reinvented storyline, but reveal that the gormlessness and the nastiness, which once guided Gould through twelve bilious posts a day at Gawker, is alive and well.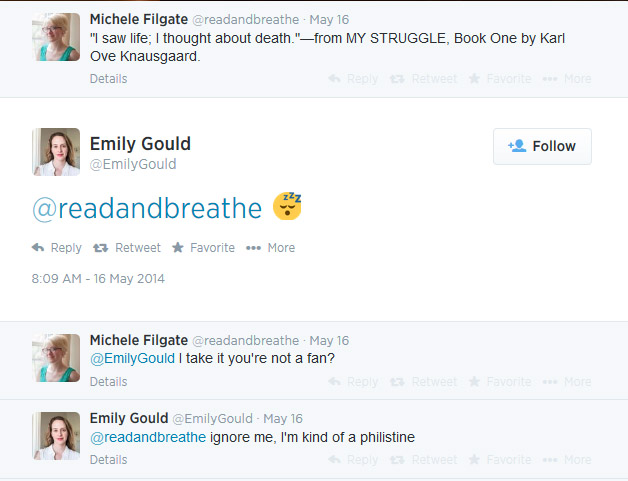 Gould's flippant posturing involves dismissing Karl Ove Knausgaard's six volume, 3,600 page, groundbreaking autobiographical fiction with an emoticon and then offering a cutesy, anti-intellectual "i'm kind of a philistine." It involves not letting Adelle Waldman, who wrote one of the most accomplished debut novels of 2013, have her rare moment in the sun when Lena Dunham, who raved over how marvelous The Love Affairs of Nathaniel P was — indeed, so marvelous that the writers of Girls consulted the book for inspiration during the third season, arguably the strongest run of the series — to her then 1.2 million followers. Only three minutes after Dunham's tweet, Gould posted a derisory "no thanks."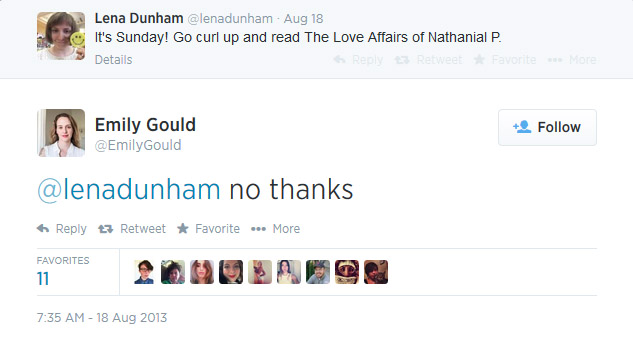 And these are just the tweets that remain open for public inspection. On any given long, dark early evening of the soul (with or without Keith Gessen), Gould can be found revealing her vicious nature, provided you happen to be there. On the stormy night of April 30, 2014, when five inches of rain barraged New York City over the course of a single evening, I happened to be on Twitter. Pulitzer Prize winner Junot Diaz had recently published a very moving piece in response to the publication of MFA v. NYC, pointing to how people of color were being actively discouraged in MFA workshops. Forms of creative expression that weren't white enough were being systematically pushed out. Promising talent was giving up. Rather than engaging with Diaz's argument, Gould chided Diaz on Twitter for using "impacted" as a verb. Novelist Porochista Khakpour challenged Gould. Gould responded with a series of vicious tweets (all swiftly deleted). I was able to screenshot some of the conversation, which reflected the utterly superficial manner in which Gould approached an important and racially loaded subject.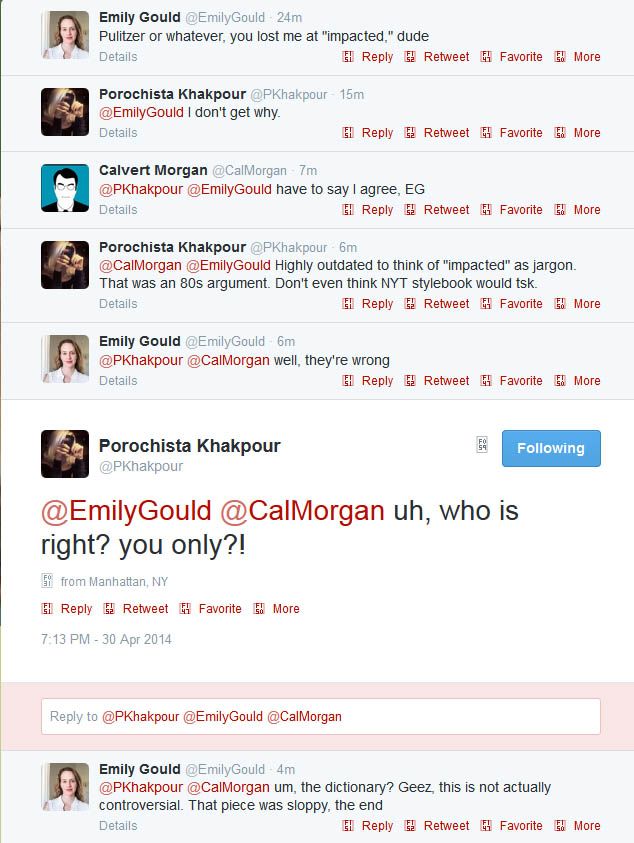 It was an uncomfortable repetition of an episode from And the Heart Says Whatever, when Gould described a young student reading an essay called "Memoirs of an Angry Black Woman Syndrome," a tale of victimhood that could not have been easy to write. This was not unlike a writing student, who Diaz identified as Athena, talking "constantly about the workshop's race problem, about the shit our peers said to us (shit like: Why is there even Spanish in this story? Or: I don't want to write about race, I want to write about real literature.)" Athena disappeared, a casualty of a system that believes in Alice Munro but that often turns its back on Octavia Butler or Love and Rockets. It is telling that Gould doesn't remember any details of the Angry Black Woman's essay. Her response to the student mimics her clueless online behavior in 2014:
When it was my turn, I asked a clarification question in a way that made it unnecessarily obvious that I thought the essay was poorly written. Its author narrowed her eyes at me, then kept glaring as her mouth smiled. "I'm sure you're just speaking from ignorance, not racism," she said.
One has to wonder whether the Angry Black Woman used "impact" as a verb. That Gould doesn't have the courage to reveal the full extent of her ugliness — and it's worth pointing out that even Dave Eggers had the stones to cop to his racist fears on a beach in A Heartbreaking Work of Staggering Genius — is telling of the timidity that belies Gould's professed candor. Of course, now that Gould is a grown woman, her insensitivity can't just be chalked up to mere ignorance. If Emily has "changed," then why does the song remain the same? Gould's commitment to white literary power is reflected in her curatorial instincts at her online bookstore, Emily Books. Of the thirty-two authors listed on the site, only two — Samantha Irby and Sigrid Nunez — are not white. Barbara Browning is a white woman who has written extensively about Brazil. But it's telling that Gould's commitment to writers of color fits in with the Middling Millennial/Jezebel hard line. Perhaps the time has come to coin a #SolidarityIsForWhiteWomenWriters hashtag to protest this atavism.
Despite being set in sections of Brooklyn substantially populated by people of color, there are no black characters in Gould's novel, Friendship. Indeed, when Gould writes, "Bev's shoulders were strong and white in her tank top," one can't help but wonder if there is the modest trace of Leni Riefenstahl purring in her Caucasians-first heart. Compare this with Adelle Waldman's careful detail in The Love Affairs of Nathaniel P, which also features prominent white characters: "a newish establishment that appeared to be patronized almost exclusively by the white people who'd begun to move into the historically black neighborhood in which it is located," "a crowd of black women whose calf-length skirts clung to their legs in the breeze," and "as the train moved deeper into Brooklyn, more and more white people got off. Eventually almost everyone who remained was black — and tired." Even Lena Dunham responded to critics who rightly chided her for featuring too many white characters by featuring more African-American characters in Girls's third season. That Gould lacks the basic observational skills to notice non-white people in Brooklyn says much about her distorted reality and her ineluctable self-absorption.
Gould's reaction to Khakpour was pure Middling Millennialism all the way: the assumption that she was always right, the indifference to history and the inflexibility to other perspectives, the failure to offer a reasonable argument, and the hostility to being challenged. While Gould went out of her way to scrub her tweets, Khakpour's response remains a good indicator of how a clueless and privileged white woman deals with the big questions:
@EmilyGould @CalMorgan Wow, okay. I just want to point out you dish it and begin this stuff and then resort to mocking. Not cool.

— Porochista Khakpour (@PKhakpour) May 1, 2014
Gould's spineless stratagem is not unlike the revisionism of prominent Republicans who pulled their support for a released POW not long after learning that Taliban prisoners were traded to make the deal happen. Gould, the invasive non-journalist who scoured through the bathrooms of budding directors and reveled in getting people fired, won't hold herself accountable. There is, after all, the Emily Reinvented narrative to promote.
* * *
On February 24, 2014, Gould published an essay on Medium, which would also appear in the MFA vs. NYC anthology, in which she set forth her purported financial suffering. She wrote that the $200,000, after taxes and agent's commission, allowed her to live alone in Brooklyn for three years in a one bedroom apartment and pay for health insurance. She did not seem to understand that not only is this an extraordinarily rare, if unrepeatable, success, but that three years is quite ample time to work out a day job/freelancing strategy that leaves enough writing time to keep the books career going. Gould squandered her time on her blog. She was very fortunate, unlike many writers, to have a boyfriend who could pay her rent and float one of her credit cards. She didn't seem to understand that working people don't have the luxury of blowing $1,500 for a vet or $1,700 for rent.
But let's move away from the class argument.
A real writer sits in front of the computer and does the work. Every day. Or close to it. It does not matter if the writer is published or not. It does not matter if the audience is three, three thousand, or three million. A real writer is free and imaginative enough to take risks. A real writer writes when the chips are down. A real writer writes when she is hungry or when she is at her lowest point. A real writer doesn't even need an Internet connection. So long as there are pens, paper, electricity somewhere, functional computers, dictionaries, and grammar books, there are no reasons other than your own laziness not to write. Fifteen minutes, twelve hours, whatever you can spare each day.
Gould was not a real writer.
She was not a real writer because she could not listen to a man who wanted to tell her his sob story after she purchased him a kebab. She was not a real writer because she could not bring herself to fully feel a musical. She was not a real writer because she fantasized more about patrician coziness than the worlds she created on the page or the joyful people and iridescent details around her or the marvel and beauty of language. She was not a real writer because she cared too much about how people perceived her, about how her books were marketed, about where she was in the pecking order. She was not a real writer because she did not have the discipline to not pay attention to the people (in this case, Lena Dunham) preventing her from doing the work, even as she had the full financial and emotional support of her lover.
Most of all, she was not a real writer because the only person she could tap was the uncreative figure staring back in the vanity mirror.
* * *
"Amy had been sitting around the creepy loft all morning in front of her laptop, headphones on to foreclose the possibility of conversation with the hippies, telling herself she was gathering her strength and was just about to go to the cafe around the corner, where she'd disable her computer's access to the Internet and spend time revising her C.V. to reflect her newly adjusted set of goals. She wanted to position herself as someone who wasn't a writer so much as a "content creator" or, better, a "content strategy consultant" — someone who might be able to work for brands or ad agencies, not blogs like Yidster. It was getting close to noon now, she was hungry for lunch, and her limbs twitched restlessly because they craved motion, but somehow she couldn't stop mindlessly scrolling through Tumblr, liking photographs of food and animals. Her actual cat lay at her feet, occasionally pawing her and trying to engage her in play, but she fobbed him off with some desultory petting and then continued to ignore him in favor of the cats on the screen." — Friendship
Gould still managed to write a novel. It isn't a very good one, in large part because Gould has little imagination or insight. Emily became Amy. Her cat Raffles became Waffles. Keith became Sam.
Friendship tells the story of Beverly Tunney and Amy Schein, two white women both over the cusp of thirty. The book purports to be a vivid chronicle of their friendship, yet these two flat and uninteresting characters share nothing of consequence about themselves in their conversations or their experience. They do not talk about the world's bountiful wonders or their families and friends or the thrill of being alive. Their banter is largely comprised of trash-talking people they despise. They are the creations of a desultory demimonde who does not do a lot of listening.
It is possible to write about young and self-absorbed people living in Brooklyn without coming across as a turgid typist mining familiar white-collar territory. Adelle Waldman has done this tremendously well in her novel, The Love Affairs of Nathaniel P:
No matter how much he told himself that he had done nothing wrong with regard to her, not according to the standards that he and everyone he knew lived (if anything she was in the wrong in her clinginess and undignified hysteria, on some intuitive level, Nate began to feel culpable. A stentorian, Faulker-like voice within him insisted on seeing the relationship in stark moralistic terms. He'd been drawn — this voice intoned — to Elisa because of her beauty, because she seemed first-rate, because of her well-known father and shining pedigree, and he, nerd, loser that he'd been, had always suspected that people like her, people like Amy Perelman, with their good looks and popularity, had something he didn't, something impenetrable by intelligence alone, a sort of magic and grace, a wordless wisdom about how to live, and a corresponding access to unknown pleasures.
Waldman's phrases are neatly separated by commas, representing the jumbled torment of conflicting ideas colliding inside Nate's head. We see how literary aspirations and status anxiety — the "stentorian, Faulkner-like voice" — trigger a flood of qualitative nouns ("beauty," "looks," "popularity," "pedigree," "intelligence," "magic," "wisdom," and "grace") that Nate feels entitled to possess and how this, in turn, galvanizes his interest in Elisa and Amy Perelman. And because Waldman has given us an origin point for Nate's coveting (an inner self-reflective voice, one that could curb the selfishness and the neuroses if it didn't transmute into a chatty tendril warped by literature and superficial judgment), we become more curious about his personality. One year after the novel's publication, young people are calling a certain kind of a man "a total Nathaniel P."
But when we contrast Waldman's passage against Gould's representations of youthful struggle, it becomes very clear who the real writer is:
Amy stared at Sam, the cigarette cherry burning dangerously close to her clenching fingertips. They'd spent so much time together, breathing the same air, sleeping in the same bed, hearing each other use the bathroom and not really caring or even thinking about it. For the past few months it had seemed as if they were in each other's lives for real, maybe for good. But now it seemed that Amy might have made a mistake. Maybe she had assumed that what she and Sam had was veering in a permanent direction because they were at an age when people got married.
This train ride into the internal goes off the rails after four mere words, beginning with the irrelevant and awkwardly written detail of "the cigarette cherry." Gould's habit of imbuing meaningless objects with hollow language is a tic throughout the book, one that asphyxiates her characters before they get a chance to use their lungs, but the sheer waste here should have been caught by an editor. Where Waldman deftly deploys "had" throughout a sentence so that our attention gravitates to the chunky nouns, Gould clings to gerunds like a quavering literature student too terrified to push past the cover of a Henry Green novel. The result is banality ("not really caring or even thinking about it"), stilted greeting card copy ("they were in each other's lives for real"), extraneous declarations ("it seemed that Amy might have made a mistake"), and, above all, an absence and avoidance of real feeling, bulldozed for vapid and generalized notions of life ("they were at an age when people got married"). It is the work of someone who rushes to words much as a sorority clamors to a kegger. It is a strong sign that fiction writing is not Gould's true calling. Which is perfectly fine. Since Gould pines for affluence, there are more reliable modes of securing it. One does not write to become rich.
But let us give Gould's above passage some benefit of the doubt. It is also possible to use a woman's gaze to establish what her perspective is, even lassoing the smartly positioned adverb or two along the way, as Kate Zambreno does to great effect in Green Girl:
Her eyes feast on the rows and rows of color, like a neatly ordered painter's palette, the pyramid of tubes of lip gloss, gilted compacts bearing a prism of tiny mirrors. Occasionally she would smooth one finger over a glittery palette of eyeshadows with enigmatic names. Types of flora and fauna. Names of movie stars, presidential wives, ordinary girls. Marilyns and Audreys and Sophias and Jackies and Julies and Kathys.
In five sentences, Zambreno unlatches the trap designed to ensnare many women, illuminating how consumerist allure forces them into an almost Ramesean ideal, converting ordinary names into monuments, with the scarring cartouches just outside the public eye. If Gould had possessed even a whit of Zambreno's talent or awareness, she could have forged a more fluid take on how influence shapes women and how women, in turn, shape influence. But instead of letting Bev and Amy talk or act upon these feelings, they came off as passive characters who meet up in bars to deride co-workers or anyone living a happy life, watch TV, and eat constantly. This pair is so poorly realized that, aside from Bev's "Irish tolerance" and Amy's spendthrift ways with money, they are practically indistinguishable from each other. There's one late point in the book when Amy transforms into a kind of chick lit Smeagol when she learns of another character's engagement:
Amy felt a visceral, impulsive pang of desire, the kind that could make someone grab food off a stranger's plate. She wanted the ring so badly. She thought, crazily, of stealing it. She wanted to take it off Jackie's finger and put in her mouth.
One almost expects Amy to seethe, "My precious," with Andy Serkis waiting in the wings to perform a cross-cutting colloquy between Amy and Bev. It's almost as if Gould, impelled by the desire to become a "real writer," stared hard into the mirror until it shattered in half, with the two reflections spilling onto the page twice.
Gould has one atavistic emotion to fall back on. It's the same vicious impulse that sustained her at Gawker:
"For a moment, rage flickered through her tensed body."

"Amy felt a stab of genuine rage." (Later, Bev feels a "stab of terror that shot through her viscera." It is telling that Gould's crutch words can be traced to sharp knives.)

"a little bit of what probably sounded like anger out of her voice"

"she was so angry, suddenly, that she felt as if she might spontaneously burst into flames" (Someone alert Jarndyce and Jarndyce.)

"She had shower monologued so many scathing condemnations of his behavior and his personality so many times."
Moreover, when Bev springs a significant life-altering surprise upon an older woman named Sally Katzen, who lives in comfortable affluence and seems to exist solely as a target for Gould's childish jealousy (a continuation of her pointless animus towards Meghan O'Rourke?), we learn that Bev has not talked out her plan in advance with Amy, which is especially strange, given that they are supposed to be best friends. Contrary to the preposterous claim by Virginia Quarterly Review's S. Kirk Walsh that "the reader is presented with strong female characters in all their complexities and imperfections," Gould's friendship is remarkably pat and simplistic, carefully established to avoid any serious plunge into social dynamics or visceral risk:
It was weird that in their five years of best friendship, Amy and Bev had never discussed morality, or whatever you wanted to call the rules they, respectively, lived by.
That amorality also extends to Gould herself. Late in the book, Sally asks one of the two fictionalized Goulds to perform an act of mercy. When the character does not respond, Sally then offers to write a check. And the character refuses. It's the kind of blind cruelty that makes a reader with a conscience want to write a long and detailed debunking.
Bev becomes pregnant halfway through the book. Since Gould claims to be a feminist, one would think that Bev would consider abortion not long after, especially since Bev is experiencing financial difficulties. (An abortion typically costs between $300 and $950, while an uncomplicated pregnancy is anywhere from $6,000 to $8,000.) Gould, by her own admission, is terrible with money, and refuses to consider any perspective other than the privileged white woman's. She opts for a a bizarrely reactionary twist. Abortion isn't on the table, nor are any dimensional feelings. There are nebulous references to Bev's religion, but because the Middling Millennials never want to think too hard about touchy subjects that affect a wide swath of people outside New York, this spirituality is never explored, just as the Jewish culture guiding the Jewcy-like Yidster (both have offices located in DUMBO) is unpursued. Gould is a juggler of generalities. She'll never have the mettle to contend with live rotating chainsaws.
Gould is such a cowardly writer that she can't even coax her characters to speak at the times they need to. Late in the book, there is a key moment in which Amy needs to say something serious to her boyfriend Sam (like Keith Gessen, Sam is Russian, a cultural figure, a man who married and divorced in his early twenties, and about eight years older than his girlfriend), but Gould is so inept that she offers this description instead:
She was wandering around the way you do on the phone, reaching out and plucking leaves from low branches of the saplings at the yard's border, then crumpling them in her palm.
With Gould, there are always inconsequential objects for her characters to grab so that she can pad out her interminable 272-page novel with prolix description.
This is also bad storytelling, because Gould's failure to get at the truth leads any vaguely sharp reader to swiftly deduce where the story is heading. And because Bev and Amy aren't especially compelling figures, the book becomes an insufferable snoozefest. To add insult to incompetence, at novel's end, the heart literally says whatever.
* * *
Two lengthy Gould profiles published in June — one in Elle, another in the New York Times Fashion & Style section written by Ruth La Ferla — have served as image-boosting propaganda, suggesting that Gould has changed or "reinvented" herself. But she's still the same scabrous and manipulative opportunist that she was when she deflowered a 14-year-old boy at the age of seventeen.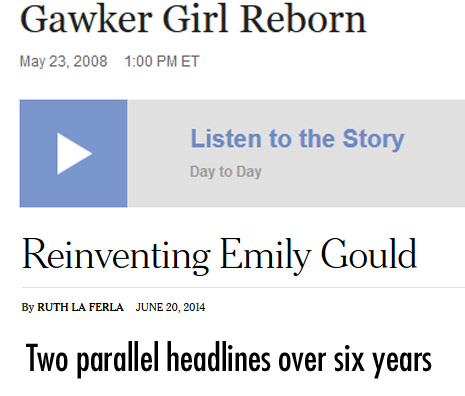 One of La Ferla's many whoppers include suggesting that "Ms. Gould's warts-and-all brand of self-exposure anticipated a wave of confessional writing that paved the way for Girls, Lena Dunham's quasi-autobiographical hit on HBO." This is not true. Dunham's first film, Tiny Furniture, was shown at SXSW on March 15, 2010 and firmly established the voice that she would push further with Girls. And the Heart Says Whatever was published on May 4, 2010. Perhaps La Ferla shouldn't be entirely blamed. After all, it was Gould herself who first perpetuated the Dunham parallel earlier this year, much as Gould compared herself to Chloë Sevigny in And the Heart Says Whatever. Should Dunham's star wane, there is little doubt that Gould will find some other pop figure to blame for her indolence and inconsequential output.
La Ferla's piece called Gould "resilient as a Slinky," with Gould claiming, "Attention is not a commodity I'm interested in," even as her friend notes, "The eye that she turns on the world she also turns on herself." Gould's determination to condemn anyone she can't use is evident in her remarks, especially with bloggers, which she described as "that tiny subset of outliers who are live-tweeting their mammogram the next day" — a veiled anti-feminist jab at writers like Xeni Jardin and Susannah Breslin, who have both bravely responded to their diagnoses of breast cancer by documenting it online and raising awareness for a disease that the American Cancer Society estimates will kill 400,000 women in 2014. Gould, being a Middling Millennial, has no desire to comprehend that truth. This is because Gould has the valiance and the moral conscience of a small vole.
Gould claimed that she's "mostly apologized personally to the people I've offended," but her attempt to paint herself as some online twelve-step program survivor is a lie. Three victims of Gould's shenanigans, including me, haven't heard so much as a word from her. Clearly, this simpering sicarian is "mostly apologizing" to people who will pull her slippery limbs up from the common pit. Even after the fair-minded La Ferla profile appeared online, Gould was on Twitter, caviling over the perfectly reasonable sentence "Before long she herself become a piñata, subjected to random bashings by readers who took issue with, among other things, her perceived status-chasing and shameless self-involvement" with the kind of intuitive persecution complex eager to coil around an incoherent ideology, much like a resilient Slinky:
When you feel the need to call a woman out for being "self-involved," I hear that you're terrified of women who don't hate themselves.

— Emily Gould (@EmilyGould) June 22, 2014
Media narratives that pit women creators against each other are a toxic trap. I'm disappointed in myself for falling for this tired trick

— Emily Gould (@EmilyGould) June 22, 2014
Hypocrisy and solipsism are not gender specific. One does not become a misogynist the minute that one begins examining a woman's history of self-absorption. The second tweet, mentioning the Dunham comparison in the Times story, is particularly confusing. Dunham created a successful television show that has lasted for three seasons. What was it that Gould created exactly? A novel, of course. One that she worked "very hard" on, "diligence" that was talked up in risibly extravagant terms in the Elle profile:
She's put in her time on both the California kind of work (getting to know yourself) and the East Coast variety (showing up every day to fill the blank page and generate creative projects). If carving out a fulfilling sui generis role that's sustainable, socially 
meaningful, and more or less on our own terms is the essential fourth-wave feminist project, Gould's okayness is a triumph.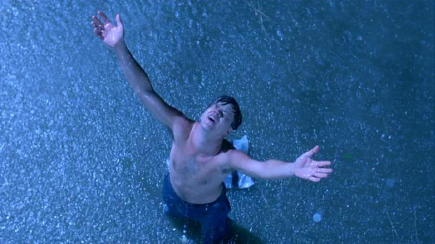 Gould won't be seen stretching her arms in the rain like Tim Robbins anytime soon (unless, of course, the FSG sales force determines that a stormy crucifixion motif will move a few units), but she found modest redemption working as editorial director at 29th Street Publishing, an electronic distribution outlet that includes The Awl, Harper's, The Rumpus, ProPublica, and more that presumably precludes many movers and shakers from speaking out. But that professional relationship ended on Monday, with opaque explanation and Gould out of a job. Before this, she attempted to combine her literary connections and love for food with a web series called Cooking the Books. The results were awkward and embarrassing. Tao Lin exploited the opportunity for some hilarious performance art ("I actually just bite little pieces off into it," muttered as Lin was "preparing" a salad) that Gould seemed utterly in the dark about. Then there was Chad Harbach's dudebro regressivism, as he mansplained about Wisconsin and creole with a glass of wine poking from his hand like a general's pointing stick as Gould did all the kitchen work. There is also the far less successful e-books venture, Emily Books, which boasts a mere 150 subscribers. Many Emily Books authors are worthwhile. But if Emily Books's professed goal is to "want authors, agents and publishers to get paid so they can continue creating and curating," the outfit is largely a bust. Still, I'm sure Sigrid Nunez appreciated the extra beer money, which has been known to keep authors "creating" — for one evening at least.
* * *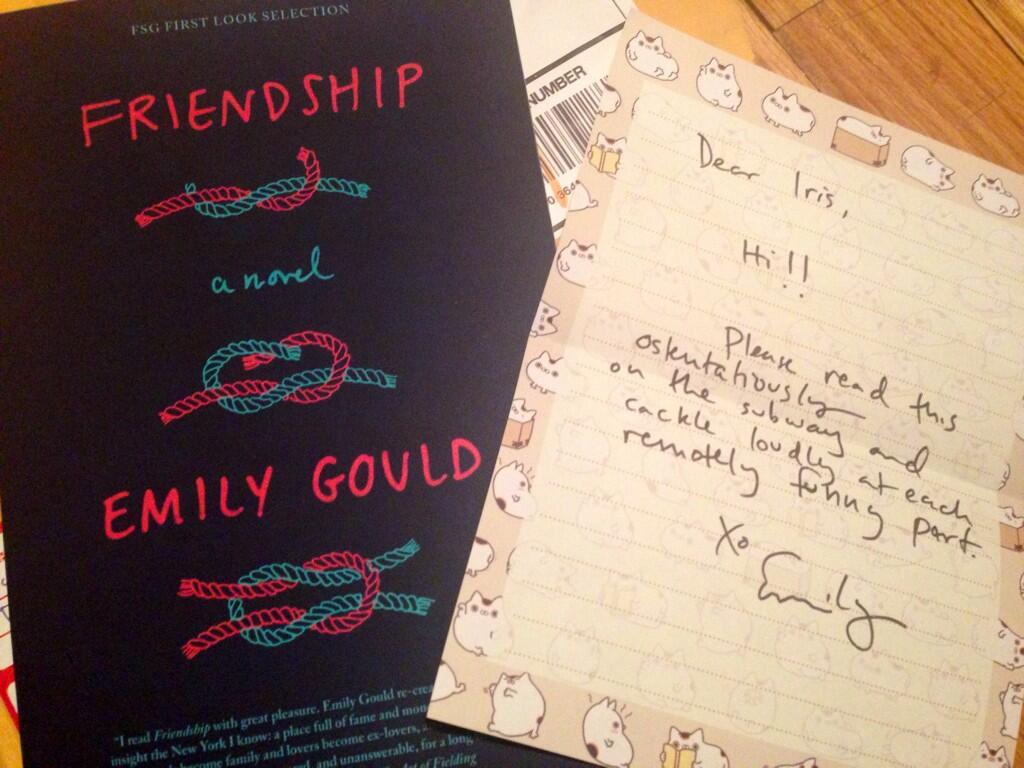 Gould continues to surveil Twitter for any mention of her name, sending handwritten notes along with her galley (such as the one pictured above, tweeted by Iris Blasi) to any potential influencer. The result has been a litany of people who are all over the moon about this heap of shit, for much the same reasons that they went gaga for Keith Gessen's mediocre book. It is an absolute replay of what Jessica Roy wrote about in 2008:
It just was all so fucking fake. These people that I had admired my entire New York existence — they all disappointed me. I don't understand how people can exist in such a dishonest way and still call themselves writers. Isn't it the responsibility of a writer to be honest? And why would you uphold a conversation with someone whom you're going to talk shit on while walking back to the G train? They're living in a box, where they only talk to others who have read Gessen's book and think it sucks but will tell him it's brilliant because they need his approval.

I did not move to New York to return to high school, but that's exactly what it felt like.
Roy went on to become a senior editor at the New York Observer and the editor of Time's NewsFeed. Thankfully, there are still some honest writers out there who can make it.
But the "high school" that Roy described in 2008 is even more prominent among the Middling Millennials, who will defame, traduce, or block someone over a perceived sleight. They are terrified of confrontation, conflict, or engagement with the real world. And like Gould's treatment of Pinter, they expect obeisance and a thank you note when they treat you with contempt.
This is not a healthy foundation for any cultural landscape. And if we truly had a robust and risk-taking literary culture, such gutless and treacherous yes men (and former publicists) like BuzzFeed's Isaac Fitzgerald would be widely reviled and laughed out of town for their "No haters" policy, a mealy-mouthed code for zero tolerance of any vibrant voice who rocks the boat. It isn't just smarm that is to blame for these developments, although Tom Scocca was right to point to Dave Eggers as one prominent example of the kind of rampant duplicity and ladder-climbing that is killing voices courageous enough to throw giddy Molotovs at the right institutions. A true cri de coeur should come from the knowledge that irredeemable scumbags like Emily Gould are not only rewarded for pushing honest heads under the water and fucking the right people, but are lavished with the kind of media attention incommensurate with their middling abilities.
And then there's the juvenile Middling Millennial culture. Why would anyone want to attend an overhyped event in which they are expected to become some slavish fan who didn't really read the book but who nevertheless feels compelled to announce what a "good friend" he is by dint of spending five minutes in close proximity to the author? Having witnessed first-hand the worst impulses of science fiction fandom a few decades ago and having a good sense of the hell that authors go through, it's distressing to see the same nasty and possessive tendencies happening on the literary scene, with authors reduced to mere projections of what childish audiences desire to see, rather than the complex and fascinating people they truly are.
I am not jealous or envious of Gould's success. I'm simply astounded that this is the dunce now being propped up. I'm deeply appalled that I have to write such a lengthy essay because nobody else has the time to remember history or the smarts to uphold standards or the balls to call her out. The relentless distaste expressed about the Middling Millennials in private must be voiced publicly if we have any shot at curing it. And I maintain a position of principled indignation because truly original and interesting talents, many of whom I've featured on The Bat Segundo Show, who are incapable of playing the game or who cannot sell out are increasingly being marginalized, ignored, and stubbed out by these vicious overgrown kids, even as craven, manipulative, untalented, clueless, and ungenerous assholes announce the latest status of their novels on social media (reviewed in the NYTBR, in third printing, hit the NYT bestseller list, seen in the hands of a major figure on a subway) with the self-centered glee of a bratty suburban tot constantly shaking his rattle.
Well, enough is fucking enough.
A society that holds up Emily Gould as a charitable person, a formidable intellect, or a knowing chronicler of our age is a diseased one. And an army of Middling Millennials recoiling at any risk memorialized or imagined on the page or flinching at unsettling developments in the real world must be outed, fought, and resisted until we get some part of our collective soul back. It's the only way we can make literature truly indispensable to the world again.