I'm stealing the idea from Tito. Here is an impromptu relistening of AC/DC's Back in Black.
1. Hells Bells — So Bon Scott is dead, as the track's opening bells suggest to us. Where does AC/DC go to from here? Well, the mike is placed squarely in Brian Johnson's hands and, well aware that he's on tender ground, he's not content to hog it. In fact, what strikes me listening to this many years later is how Johnson's vocals are buried in the mix beneath the guitars. The pacing of this opening track is languid, with Johnson settling into the new lineup quite subtly. "I'm coming on like a hurricane," he says, but you wouldn't know it from the way Johnson is now carrying himself. The gist here is that Johnson means business and, all tragedy aside, the band plans to kick some serious ass.
2. Shoot to Thrill And finally the amp's bleedover and the guitar chops at long last find their ground in the song's opening thirty seconds. The minute that Johnson sings, "Shoot to thrill / play to kill," the AC/DC we've known and loved has returned. How can you not love the moment where the chords that precede the mini-solo just before the three minute mark? And when Young and company go all Who-ish on us with that drumming and Townshend-like chord a mere thirty seconds later , it becomes immediately clear that this — AC/DC's best record — is a band that has a lot more going behind the minimalism. There's even a funny homage to Robert Plant's wails in the song's final seconds.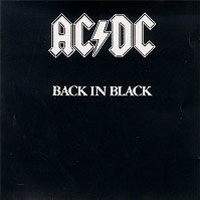 3. What Do You Do for Money Honey — Johnson finally finds his groove and the band boosts up his presence with the grand chorus crescendo. The verses and the subdued guitar here allow Johnson to screech with gusto. And it's clear that a mere three songs into Back in Black, he's at long last come into his own.
4. Givin the Dog a Bone — As odes to fellatio go, this is an okay but by no means totally compelling track — if only because this lacks the gravitas of "What Do You Do for Money Honey."
5. Let Me Pull My Love into You — The band plays up the bass and drums for this bluesy rocker. Sure, you can quibble with Johnson's fey assertions of his own masculinity ("Let me cut your cake with my knife"), but it's the mood here that matters most. The seven triplets that precede the smashing power chord and the "Don't you…" lines, the sense that AC/DC has deliberately created a song to have methodical yet languorous sex to, and the closing crashes, suggesting a pre-encore concert slot.
6. Back in Black — I've heard this song perhaps two hundred times, but every time I hear it while driving, I cannot resist singing like Johnson, particularly at the "Hey hey hey" mark — even when the car is filled with several people. Whatever its weaknesses, "Back in Black" shares a troubling catchiness with another overplayed (and inferior) FM radio song: Journey's "Any Way You Want It." This is also, hands down, the best guitar solo on the album.
7. You Shook Me All Night Long — The other major single from the album. I will confess that I never entirely warmed up to this song, with the exception of Johnson wailing the song's title over guitar. The song's arpeggios seem too easy for the boys. This was the tune clearly designed for the radio, but AC/DC were at least respectful enough to leave this near the album's closing. But the song's finale, suggesting an entirely new song just before fading out, is a nice freakout
8. Have a Drink on Me — Another great bluesy number great for pool halls and bars. A very nice use of fifth chords, complemented by AC/DCs trademark double two-power chord crash near the end, with Johnson offering a testimonial for the pros and cons of loosening up.
9. Shake a Leg — The song opens with a very deceptive snare-hi-hat combo with Johnson wailing his vocals off the track and settling into a new one, followed by the band. The lyrics, alas, offer little aside from "shake a leg" and the song begins to wear out its welcome about two and a half minutes in and it's comparatively pedestrian to the song's interesting opening.
10. Rock and Roll Ain't Noise Pollution — A relaxed way to close out the album, but it's extremely sad that the song was appropriated by Nike in a spirit that runs counter to the piss and vinegar comedown.