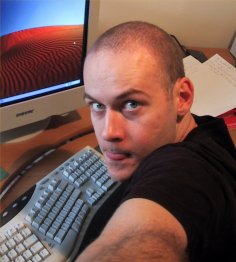 Dale Peck isn't just a bitch, but he's an hubric mofo who compares his Moody blues to both Edmund Wilson and Virginia Woolf. (And, of course, the standard Coleridge line.)
Judy Blume is on the defensive. Her book, Deenie, deals in part with masturbation. But Hernando County elementary schools are pulling the book from their shelves.
Chica has a nice roundup of author photos. Me? I'm still squirming over Max Barry's photo on Jennifer Government (see right). The book, which was so bad that I gave up on it (and I rarely do this), is terrible enough with its amateurish prose and failure to live up its central idea. But Barry himself looks instinctively like a new fraternity pledge who barely made it into the house. And I'd say the photo has helped me to hate the book more. Which isn't good. Because I'd prefer to just erase the book out of my mind and reclaim the time I invested.