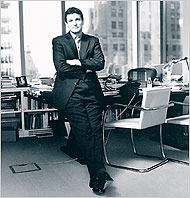 Benjamin Cohen has a gender breakdown of contributors to the New Yorker's "Shouts & Murmurs" section. The results are extremely troubling. It seems that only 17 of the 133 authors who have appeared in "Shouts & Murmurs" since 1992 have been women. Patricia Marx is the female author who has appeared most, at seven times, but her work is occluded by Steve Martin's 29 appearances.
So does Remnick subscribe to the Christopher Hitchens hard line? (It's interesting to note that Hitchens's essay also appeared in a Conde Nast magazine.) Why haven't women been assigned to this section? And while I'm on the subject, why does Steve Martin get an interview slot at the New Yorker Festival, but not Marx? Okay, so some chick named Susan Morrison is interviewing him, because this is the 21st century and some faces have to be saved. But I'm truly astonished that the magazine which frequently published Dorothy Parker, an inarguably funny woman, seems to have reverted to some backwards 19th century idea about gender on this subject.
© 2007, Edward Champion. All rights reserved.